Local
Merrimack Region youth conference encourages faith, reflection
By Mark Labbe Pilot Staff
Posted: 3/23/2018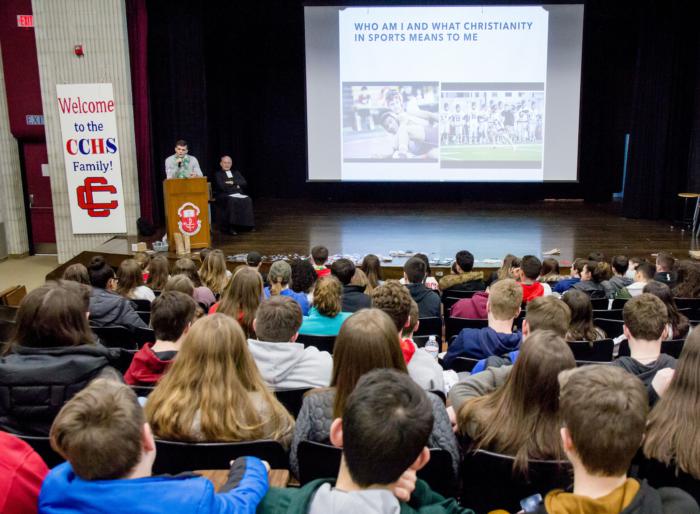 Students listen to a talk as part of the Merrimack Valley Youth Conference, March 17. Pilot photo/Mark Labbe
---
LAWRENCE -- For the third year in a row, hundreds of youth grades 8-12 gathered together for a day of prayer, socializing, and learning at the annual Merrimack Valley Youth Conference, March 17, held this year at Central Catholic High School in Lawrence.

The conference is an opportunity for young people to come together in a relaxed and fun setting, while at the same time deepening their relationship with Jesus, and learning more about themselves and their faith.

Speaking to The Pilot March 16, Father Chris Wallace, a leading organizer of the event and a parochial vicar of the Living Water Catholic collaborative of Amesbury and Salisbury, said the conference has grown each year by around 100 attendees, with over 500 young people attending this year's event.

Beginning at 11:30 a.m. with food and games, the conference included a welcoming rally and a short discussion of the day's theme, "Epic Love," before getting into full swing with a keynote presentation by composer, pianist, and Catholic speaker Eric Genuis.

Genuis, an international performer, spoke to the youth on topics such as the dignity and value of life, and the beauty of love and of God. But, for the most part, his message was delivered through music rather than words.

Playing an electric piano and accompanied by a violinist, a cellist, and a singer, Genuis played several of his original compositions for attendees, explaining some of the background of each piece and delving into the themes and emotions present in the music.

Youth were then asked to participate in two "Mercy Stations," one focusing on the corporal works of mercy, the other on the spiritual works.

During the corporal works of mercy station, attendees heard a short lecture on homelessness by Merrimack Valley Hope Mission founder Joe D'Amore, before they were asked to help make small packages of soaps, non-perishable food, and other items that would be later given to the homeless.

For the spiritual works of mercy station, attendees listened to a talk by Sister Christina Wegendt, FSP, on a number of merciful saints. Each attendee was invited to take rosaries, saint medals, and prayer cards.

The youth were also able to participate in one of a number of workshops on topics including vocations, overcoming anxiety, building a stronger relationship with Christ, and how to live the faith in college.

Dinner was served, and the day concluded with a Holy Hour followed by a Mass celebrated by Merrimack Regional Bishop Robert Hennessy.

Several attendees, a number of who participated in the conference with their religious education classes, said the conference helped them better understand their faith.

Claudia Crowe of the Methuen Catholic collaborative, said she enjoyed the event because it allowed her and other youth to "open up, and see how you feel, and understand why God is here, why you are Catholic."

Adult chaperone Dennis Lucia of Salisbury called the conference "necessary."

"With the way life is so busy now, we need things like this to kind of talk more about life issues that go on," he said.

"Life is so busy, life is so fast, and this is a perfect opportunity for (young people) to learn how to help themselves," he continued.

Speaking to The Pilot March 21, Bishop Hennessy said he was "impressed" by how hundreds of youth "were able to maintain a reverent silence during the time of adoration," and by how many were "really participating in Mass."

"These were kids that wanted to be there," he said, "and that's what makes (the conference) such a good thing."