Obituary
Obituary: Father Dennis Dever, missionary and former Somerville pastor
By Father Robert M. O'Grady Pilot Staff
Posted: 3/30/2018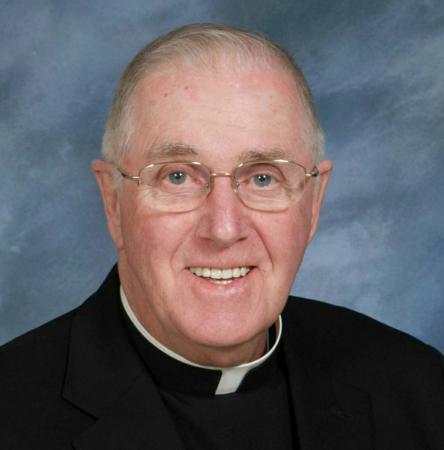 Father Dennis Dever Pilot file photo
---
A Woburn native, born there on July 2, 1934, he was the sixth of the seven children of the late William and Mary (Gilgun) Dever. He was raised in St. Charles Borromeo Parish and baptized there by Father James A. Garrity -- a priest who would have great influence on Father Dennis Dever as he grew up. He attended the parish grammar school and then Boston College High School from which he entered the archdiocesan seminaries as a member of the class of 1960.

Father Garrity was and remains a legend in the Woburn parish most especially for the number of vocations to the priesthood both diocesan and religious which he encouraged. He preached at Father Dever's First Mass and was especially proud of the fact that he had baptized, prepared for First Confession and First Communion the then recently ordained Woburn native son.

Following ordination on Feb. 2, 1960 by Richard Cardinal Cushing at Holy Cross Cathedral, he was assigned as an assistant at St. Joseph Parish in Quincy Point. In 1966 he joined the Missionary Society of St. James the Apostle and was assigned to Ecuador. Five years later he was back home in Boston for two years (1971-1973) as Executive Secretary and for six years as Director/Superior of the St. James Society. During those eight years he lived at St. Stephen Rectory in Boston's North End and served at the same time as administrator of the parish.

In 1979 he returned to full time parish ministry, briefly as an associate and then in August 1979 as pastor of St. Mary of the Annunciation Parish in Cambridge. His facility in Spanish was immensely helpful as the Cambridge parish was beginning to experience steady stream of Spanish speaking immigrants. After almost a full six year term there he was appointed to neighboring Somerville as pastor of St. Clement Parish encompassing parts of West Somerville and West Medford.

Both the Cambridge and Somerville parishes were significant responsibilities -- in addition to the parish church and rectory; each had, during the course of its recent history, an elementary and a high school and a sizable convent. The administration of those alone would fill and priest's weekly schedule. Add to it the regular weekend Mass schedule, the daily Mass schedule peppered with numerous funeral; weekends dotted with weddings; and religious education programs for parish children and teens.

Father Dever was an avid golfer, enjoying being out on the links with brother priests on days off and on an annual winter "pilgrimage" south to Florida.

Father Dever died on March 20 at Massachusetts General Hospital following cardiac surgery and subsequent complications. He is survived by two sisters: Mary Gorman and Marjorie Dever, both of Woburn.

His Eminence, Cardinal Seán P. O'Malley, OFM Cap. was the celebrant of the Funeral Mass for Father Dever at St. Clement Church on March 28. One of Father Dever's former parochial vicars at St. Clement and a close personal friend since those days, Father Kevin G. Toomey of St. Mary of the Annunciation, Melrose served as the homilist.

Following the Funeral Mass Father Dever was buried in Calvary Cemetery, Winchester.