Obituary
Obituary: Father John F. O'Donnell, former Pastoral Planning Director and Cambridge pastor
By Father Robert M. O'Grady Pilot Staff
Posted: 3/30/2018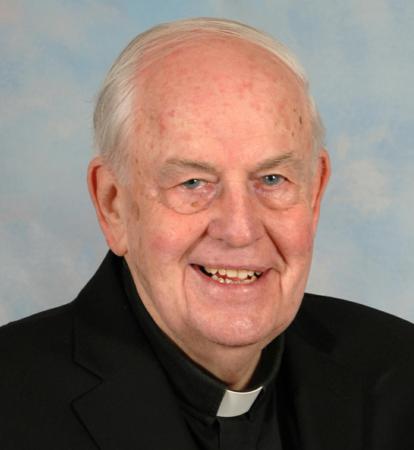 Father John F. O'Donnell Pilot file photo
---
With his pipe as a prop, seated or standing, one on one or preferably with several others, Father John O'Donnell loved to talk. He was interesting and interested; he was obviously widely read; up on the latest developments in multiple fields either directly or indirectly related to the Church or current affairs. He also loved to weave recollections from his various assignments starting with what seemed like his favorite, his first assignment at Our Lady of Sorrows in Sharon.

The youngest child of the late Henry and Maude (McManus) O'Donnell, he was born in Salem on Aug. 13, 1936, baptized and raised in Immaculate Conception Parish, he attended the parish grammar school and then went to St. John Preparatory School on nearby Danvers from which he was graduated in 1955. He entered the archdiocesan seminaries and Richard Cardinal Cushing ordained him to the priesthood at St. Anne Church, Gloucester on Feb. 1, 1963. That year, there were so many to be ordained that there were five ordination Masses. He would joke that "we were ordained in Gloucester the day before everyone else because there not enough bishops to celebrate the ordinations on February 2." Indeed, the rest of the class was ordained in four ceremonies the next day: Cardinal Cushing at the Cathedral; Auxiliary Bishop Jeremiah Minihan, St. Colman, Brockton; Auxiliary Bishop Eric MacKenzie, Holy Name, West Roxbury (the five ordained there were all sons of Holy Name parish); and Auxiliary Bishop Thomas Riley, St. Agnes, Arlington.

His parish assignments were as an assistant, associate, or parochial vicar at Our Lady of Sorrows, Sharon (1963-1969); St. Clare, Braintree (1970-1971); St. Monica, Methuen (1971); St. Mary of the Hills, Milton (1971-1976); and St. Gregory, Dorchester (1995-2009); he was pastor at Sacred Heart, Cambridge (1985-1993) and at St. Anne, Littleton (1993-1995).

In 1976 he was elected President of the Priests' Senate of the archdiocese which was his full time assignment from 1976 to 1979. Following that he was on the staff of the Archdiocesan Office of Pastoral Development (1979-1984) working in that office with then Auxiliary Bishop Daniel Hart. During those years he lived in residence at St. Paul Rectory, Cambridge.

Always trying to keep his mind working he obtained graduate degrees in counseling: a masters from Salem State University and a doctorate from Andover Newton Theological Seminary.

His wide and varied interests included membership for many years in, and for several years as convener of, the Boston Ministers Club an interdenominational clergy association centered in Boston and dating from the 1800s.

He was granted senior priest status in 2009 and resided initially in his home in Goffstown, N.H. whence he regularly assisted at St. Mary Magdalen Parish in Tyngsborough and St. Lawrence Parish in Goffstown.

He died on March 21, 2018 at Regina Cleri where he had been residing for the past few years.

Father O'Donnell's Funeral Mass was to be celebrated at Immaculate Conception Church, Salem on April 4; Merrimack Regional Bishop Robert Hennessey was to be the principal celebrant with Father Robert Connors, presently administrator of St. James and St. John the Baptist parishes in Haverhill, as the homilist.

He is survived by his sister, Marie Keller of Reading. Following the Funeral Mass Father O'Donnell was buried in St. Mary Cemetery, Salem.