Local
From Cardinal Seán's blog
By
Posted: 6/15/2018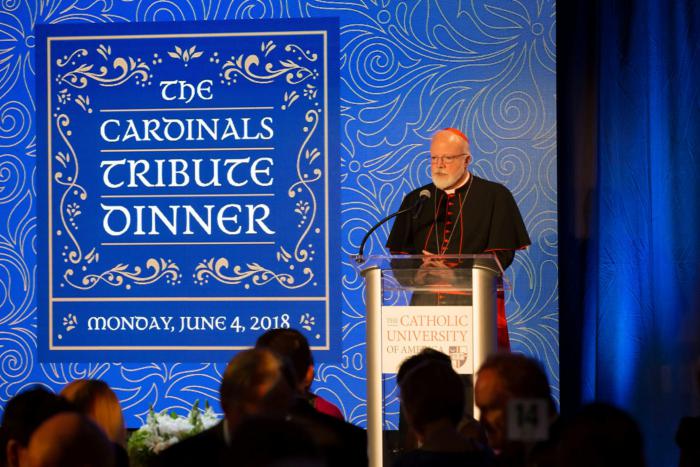 Cardinal O'Malley speaks at the Cardinals Tribute Dinner in Washington D.C. on June 4. This year the dinner was held at the Catholic University of America. Pilot photo/CardinalSeansBlog.org
---
Eucharistic Congress in Atlanta

Last Friday (6/1), I went to Atlanta to participate in their annual Eucharistic Congress.

This is a 24-year tradition for the Archdiocese of Atlanta. It was started by Archbishop John Donoghue and Archbishop Wilton Gregory has continued and augmented this wonderful event, which has grown to about 30,000 participants.

It is a two-day event that includes different language tracks, exhibitors and a number of different speakers, which this year included Bishop Robert Barron, our own Mother Olga, and Catholic author and speaker Stephen K. Ray.

It certainly is the largest Eucharistic Congress in the country and it is very encouraging that it is held annually. As soon as one Congress is completed, they begin the planning for the next year's event.

I was there as part of the Eucharistic procession Saturday morning, after which led adoration and benediction.

The procession was quite impressive; it took about an hour-and-a-half for everyone to make their way into the convention center because the crowd was so huge.

Corpus Christi Procession

Sunday (6/3), I returned to Boston to take part in the Corpus Christi Mass and procession at St. Mary's in Waltham.

These processions put me in mind of the great Corpus Christi procession in Port of Spain, Trinidad, which I participated in many years ago when I was bishop in the Virgin Islands. There, they have the largest Eucharistic procession in the Caribbean, with hundreds of thousands of people. It goes on for hours with thousands and thousands of people.

They had a canopy that was on rollers with a shelf for the bishop to rest the Blessed Sacrament on, because he would have never been able to carry the monstrance for that long. They told me that when the British invaded Trinidad, the Spanish refused to surrender the island to the British until they promised that they would guarantee the continuance of the Corpus Christi procession!

It was an extraordinary sight, and I always think of it on the Feast of Corpus Christi.

Annual Cardinals Dinner

Monday (6/4), I went to Washington D.C. to participate in the annual Cardinals Dinner to support the Catholic University of America. In the past, it has been held in different dioceses around the country but now is being held at Catholic University. The six cardinal-archbishops of the United States were all part of the celebration.

During the evening, they talked about a number of recent positive developments at the university, including the fact that this has been a record fundraising year. They also spoke about the increasing enrollment, and I was particularly pleased that Hispanic enrollment at CUA has doubled.

President Garvey has made outreach to the Hispanic community an important goal in his tenure, and clearly, those efforts are paying off. For example, every year they seek out a prominent Hispanic leader to include among those receiving honorary degrees. They also plan to establish satellite campuses in the Southwest that will combine instruction with distance-learning. This is part of the university's effort to reach Hispanic students in that area, many of whom will be the first in their family to attend college. So, there was a lot of good news and joy...