Books
Author recounts unconventional life of 16th-century Italian noblewoman
By Brian Welter
Posted: 10/12/2018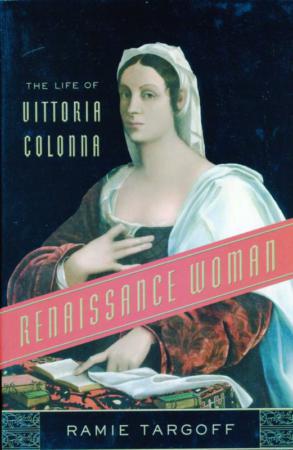 This is the cover of "Renaissance Woman: The life of Vittoria Colonna" by Ramie Targoff. The book is reviewed by Brian Welter. (CNS)
---
"Renaissance Woman: The Life of Vittoria Colonna" by Ramie Targoff. Farrar, Straus and Giroux (New York, 2018). 342 pp., $30.

With "Renaissance Woman," Ramie Targoff, a professor of English and co-chair of Italian studies at Brandeis University, offers readers not only an intimate portrayal of the life of Vittoria Colonna (1492-1547), but a wide-ranging and detailed background to her life.

From one of the leading Roman families, married until the untimely death of her husband, Ferrante, Colonna personified much of 16th-century Italy. Neither Colonna nor her deeply Catholic Italian society adhered to tradition as much as modern readers might assume.

In what amounts to a spiritual biography, Targoff brings out this slightly rebellious aspect to Colonna, the Marquise of Pescara, including her openness to Luther and other reformers from both Protestant lands and from within the Catholic Church. For instance, she was captivated by Father Bernardino Ochino, an Italian priest and a famous preacher who later ran off to French Protestant Reformer John Calvin's Geneva. Colonna would follow her favorite preachers from church to church and even town to town.

Targoff conveys well the unconventionally independent lifestyle of Colonna after her husband's death. Wealthy, childless and well-connected throughout Italy and beyond (she corresponded with some of the leading individuals of her time), she made the most of her freedom without abusing it.

This development of her Catholic spirituality did allow expression for her natural curiosity. She often spent time with rebels, such as the French Protestant Renee of France, Duchess of Ferrara, who caused her own Catholic Italian husband much trouble by openly flaunting her reformist beliefs in their court. This never dissuaded Vittoria from spending time there.

"Renaissance Woman" focuses on the development of Colonna's sonnet writing, which Targoff closely analyzes throughout, providing English translations with the Italian original in footnotes.

Targoff makes a convincing argument that Colonna's spiritual progress went hand in hand with her advancement as a poet. She shows that Colonna's sonnets provided an open window into the widow's soul and psychological condition. Targoff therefore weaves these sonnets in with her discussion of Colonna and her spiritual growth and travels around Italy.

When introducing this poetry, Targoff first spends time acquainting readers with the Italian sonnet, referring to Petrarch, the late medieval master. In general, "the sonnet was a highly restricted and inflexible form: its rhyme scheme and meter had to follow certain patterns, its length of 14 lines was non-negotiable."

Colonna initially wrote poetry as a way to deal with her husband's death, starting one sonnet, "I write only to vent my inward pain." Targoff notes how much this differed from Petrarch, thereby illustrating how Colonna's writing served a very personal purpose of expressing this pain.

Yet even at this time of grief, we see Colonna's faith and hope: "May the purity of my faith, the depth / of my passion serve to justify me / since neither time nor reason relieves my grief." Her faith never wavered.

Not surprisingly, then, after a time of grief, Colonna turned entirely to spiritual writing. Targoff includes the sonnet that expresses the fresh life: "Since my chaste love long kept my soul inflamed / with hope of fame, and nourished a serpent / in my breast, so that now I turn in pain / to our Lord, who is my only remedy, / may the holy nails now be my quills, / and may his precious blood now be my ink, / may my paper be his lifeless sacred flesh."

Colonna's renown spread throughout Italy because of this spiritual writing, not because of her mourning sonnets.

Even readers not particularly interested in literary history will find this book an enjoyable read, as we are introduced to the leading individuals of 16th-century Italy, including popes, cardinals, courtiers and artists.

Targoff traces Colonna's bond with Michelangelo, who was devastated when his friend died. Her long and close connection with the famous painter contrasts with her relationship with the English Cardinal Reginald Pole, toward whom she was much more needy, according to Targoff.

Targoff uses many primary documents, mostly letters, in addition to Colonna's sonnets, to bring this era and its characters to life. While she refers many times to Colonna's brother Ascanio, perhaps more on the fascinating Colonna family -- including its historical background and Vittoria's extended family -- would have given us an even greater sense of Vittoria Colonna.

In any case, "Renaissance Woman" is sure to whet readers' appetites for more on this era and these individuals.

- - -

Welter has degrees in history and theology and teaches English in Taiwan.