Local
Forming the Future: Immaculate Conception, Revere, students send saint dolls to the missions
By Jacqueline Tetrault Pilot Staff
Posted: 6/21/2019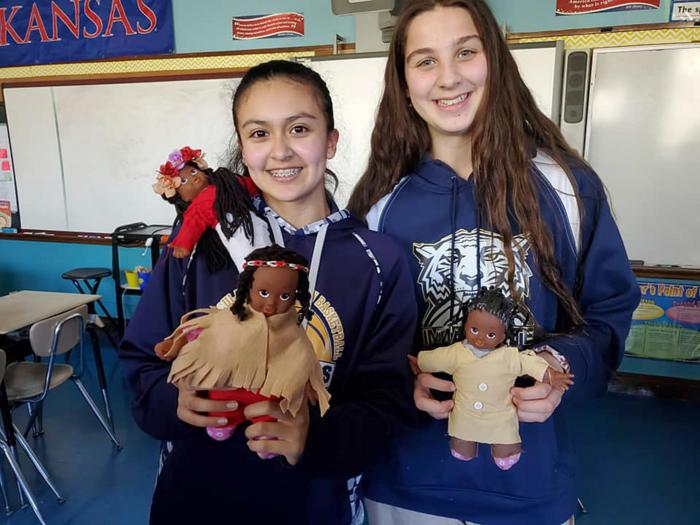 Seventh-grade students at Immaculate Conception School Sofia Velastegui and Mary Turco pose with saint dolls created by the students. Pilot photo/courtesy Immaculate Conception School, Revere
---
REVERE -- The religion curriculum for seventh grade at Immaculate Conception School focuses on the Creed. But this year, ICS academic coordinator and middle school religion teacher, Donis Tracy, took the topic in a new direction.

"When we got to the Communion of Saints, realizing that they didn't really understand what the Communion of Saints means, I decided to give each of them a saint that I chose for them," Tracy told the Pilot in a May 16 interview.

Each student had to research their saint and complete a project about them. One part of the project was giving an oral presentation about the saint. The other, done partly in class, was making a doll representing that saint. The dolls would then be sent to the missions through the Missionary Childhood Association.

"It's sort of to pay it forward," Tracy said.

She added, "The children see that their works can do more than just educate them, they can actually help a child that they'll never know."

Seventh-grade student Cierra Johnson said she wrote a letter to her doll's recipient because "it really made me feel special."

"It made it so much more special knowing that I could impact the life of someone I don't know," she said.

Another seventh-grader, Daniel Catano, said that "knowing what the saints dolls were going to made it so much more impactful."

Tracy supplied the dolls purchased at a dollar store, and the students crafted outfits for them.

"It was an in-class project for two days of sewing and chaos and fabric and glue guns," Tracy said.

The students then took the dolls home to add final touches.

"Every single child, without one exception, turned it in with as much love as you could ever see. It was great," Tracy said.

She deliberately assigned saints that had something to do with each student. For example, she assigned the patron saint of disbelievers to a student that struggles with self-doubt. The students could receive extra credit if they deduced why Tracy assigned them their particular saint.

"Everybody got really excited about it, and everybody got to learn about at least one saint and what they were and why they were and what they were the patron saint of and everything, but also it was more of a challenge to see if they could figure out an aspect about their personalities that this saint spoke to," Tracy said.

The students presented their saint projects at the school's STREAM fair on May 29, giving guests and students of other grades the opportunity to see them and ask questions about them.

"This project shows the heart of the school and the passion our school shows to those in need. That's what our school is all about," Daniel Catano said.