Obituary
Obituary: Father John L. Doyle: missionary, pastor, social advocate
By Father Robert M. O'Grady Pilot Staff
Posted: 1/24/2020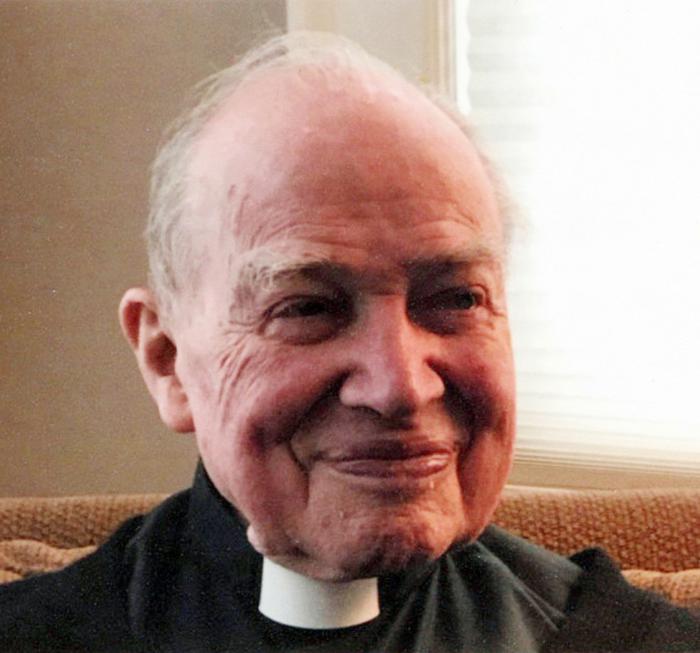 Father John L. Doyle Photo courtesy/Timothy Andes
---
Father John L. Doyle, the eldest of the six children of the late Donald and Mary (MacDonald) Doyle, died at Regina Cleri Residence, Boston, on Jan 12, 2020. He had just celebrated his 93rd birthday the day before.

A son of St. Mark Parish, Dorchester, he attended the parish grammar school with the Sisters of Notre Dame de Namur as his teachers. He was an alumnus of Boston Public Latin School, class of 1944 --just about six months ago he celebrated the 75th anniversary of his graduation from the nation's oldest public school.

After completing his college and then seminary studies at St. John, Brighton, he was ordained to the priesthood at Holy Cross Cathedral on Jan. 10, 1952, the day before his 25th birthday. His ordaining bishop, Archbishop Richard Cushing, named him an assistant at St. Theresa of Lisieux Parish in North Reading. The parish then was small and must have seemed a far cry from the hustle and bustle and teeming Catholic Dorchester of St. Mark's. He moved closer to home and to more familiar parish "type" in 1956, being named assistant at St. Rose of Lima, Chelsea, and the following year as assistant at St. Vincent de Paul, South Boston.

In the heady years of the 1950s, there were literally more priests available for service in the archdiocese than Archbishop Cushing knew what to do with them. With many sent for graduate studies in various theological disciplines, biblical studies, canon law, and philosophy; as well as social work, sociology and psychology; there were still more than a few "extras." The archbishop had always encouraged his bulging seminary student body to consider service in other priest poor dioceses in the United States; some took up the offer during seminary studies; others afterwards via the "lend lease" program the archbishop had instituted.

Father Doyle volunteered in 1957 for a five-year stint in the Diocese of Salt Lake City. Although the tiny Catholic presence had been there long before the arrival of the Mormons, with whom we almost instinctively associate the Beehive State, the Catholic community was still small but tightly knit and the state wide diocese was truly missionary land.

Father Doyle returned to the archdiocese in 1962 and served for several months as an assistant at Immaculate Conception, Salem, before taking up another "lend lease" opportunity provided by Cardinal Cushing -- the Missionary Society of St. James the Apostle. In February 1963, he found himself assigned to Bolivia, where he served for the next two dozen years.

There is an interesting "missionary thread" running through Father Doyle's assignments prior to Bolivia. St. Therese of Lisieux is the patroness of the missions; St. Rose of Lima hailed from the city where the St. James Society first settled; St. Vincent de Paul was founder of the Vincentians -- the Congregation of the Mission; and his experience in Utah as priest in a 3,500-square-mile parish -- one-and-half times the size of the archdiocese; and thousands of square miles larger than most archdiocesan parishes, then and now.

When he returned to the archdiocese from Bolivia, an experience he always fondly recalled, he was named parochial vicar at St. Patrick, Brockton. His fluent Spanish was put to good use as there were already a slow but steady stream of Spanish-speaking newcomers to the Boxer City. With all the activity of the parish, Father Doyle also realized that service to the wider and increasingly poor local community was paramount and got his first taste of the importance of what is called community organizing. The goal was to get people involved in shaping their own future and to make the wider community aware of the needs of the poor and the immigrant.

At an age when most would be looking to retire or certainly scale back activity, Father Doyle returned to Dorchester as pastor of St. Peter Parish. He was then just six months shy of his 70th birthday. Diminutive in height, and only in height, he was a powerhouse of activity in the Meetinghouse Hill area of Dorchester. Once again, his fluent Spanish was much needed. He had also really returned to his roots because while assigned as pastor at St. Peter, he lived in residence at St. Mark Rectory.

And once again he took up the causes of the wider community as intimate part of his priestly ministry. Very active in the Greater Boston Interfaith Organization (GBIO), he was front and center, pleading causes of individuals and groups, parishioners and non-parishioners alike. He challenged politicians, great or small; a notable encounter took place during the 2000 presidential campaign when towering presidential candidate Bill Bradley standing 6'6" was questioned about his actual intentions regarding the poor by the (at least) one foot shorter Father Doyle.

In June 2002, Father Doyle reigned as pastor in Dorchester, having reached the customary retirement age of 75; though he was not finished either in his service to the Spanish speaking or the wider community. He was ever available as his health permitted to celebrate Mass in parishes.

During his retirement, he lived at Boston's Regina Cleri where he died on Jan. 12. His Funeral Mass was celebrated at St. Joseph Church in Boston's West End on Jan. 18, 2020, with Father Francis Cloherty as homilist. The night prior, there was a Memorial Mass at Most Holy Redeemer, East Boston, with the parish's pastor, Father Thomas Domurat, a former St. James Society member, as celebrant and homilist. There was also a Memorial Mass celebrated for Father Doyle in Lima, Peru, during the annual meeting of the Missionary Society of St. James the Apostle. Merrimack Regional Bishop Robert Hennessey was the principal celebrant and homilist and among the concelebrants were the Archbishop of Armagh and Primate of All Ireland, Archbishop Eamon Martin, Society Director, Father David Costello, as well as present and alumni members of the Society.

Father Doyle's immediate survivors are four siblings: Sister Mary L. Doyle, SNDdeN, Ipswich; Catherine Muirhead, Middleborough; Anne Kenney, Sharon and James, Gaithersburg, Md.

Following the Funeral Mass at St. Joseph, Father Doyle was buried in New Calvary Cemetery, Mattapan.