Local
Two Weymouth Catholic schools announce new partnership
By Jacqueline Tetrault Pilot Staff
Posted: 6/5/2020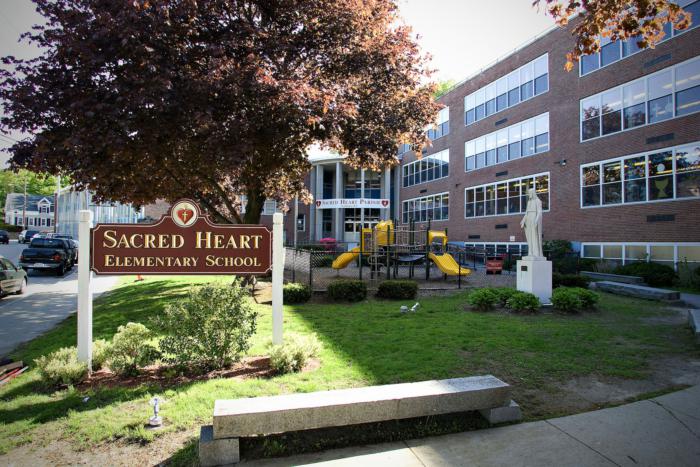 Sacred Heart School in Weymouth Landing and St. Francis Xavier School in South Weymouth will enter into a partnership for the coming year under which pre-k through grade four students will attend Sacred Heart School and students in grade five through eight will attend St. Francis Xavier School. Pilot photo/file photo
---
WEYMOUTH -- Sacred Heart School in Weymouth Landing and St. Francis Xavier School in South Weymouth have announced a new partnership between their schools.

Pre-Kindergarten through grade four will be housed at Sacred Heart School, while grades five through eight will be at St. Francis Xavier School.

In a June 1 statement, Father Sean Connor, the pastor of Sacred Heart Parish, emphasized that the new relationship is a "partnership," not a "merger."

"Each school will retain its name and remain the legal and Canonical property of its parish. This partnership will honor and continue the more than 100 year history of Catholic education in Weymouth and the greater South Shore community," Father Connor said.

According to schools, the distribution of classes across the two campuses will allow each grade level to follow proper distancing guidelines in learning spaces. The schools will also build in remote learning capabilities so that teachers and students can adapt to any future circumstances that require them to be separated for an extended period of time.

Robert Murphy, the current principal of St. Francis Xavier School, said he is "thrilled that each of these schools will be able to specialize and focus on their respective student grade levels."

"It is a great response to a challenging time in our country and world. These students will be afforded a tremendous Catholic education, supported by two school communities and the surrounding area," he said.

The partnership will be overseen by Murphy, who will be the headmaster, and Shannon Mazza, a current teacher at Sacred Heart School, who will serve as vice-principal. It will be governed by a shared board, which will include Dr. Gretchen Hawley, current principal of Sacred Heart School, and Father Charlie Higgins, pastor of the Collaborative of St. Francis Xavier and St. Albert the Great Parishes.

Hawley said she believes this is "an incredible opportunity for Catholic education in this area."

"The use of these two campuses will maximize the potential for both schools during an uncertain time. It will capitalize on each of their strengths to provide a wonderful educational experience for each student," she said.