Local
St. Peter Parish responds to vandalism with prayer, forgiveness
By Jacqueline Tetrault Pilot Staff
Posted: 7/24/2020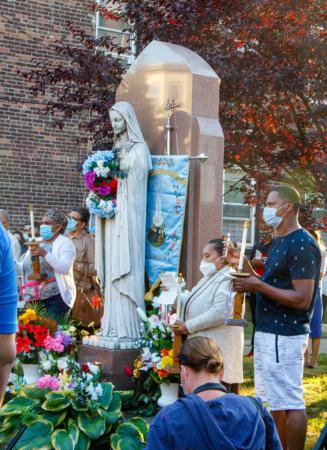 People hold candles at the vigil held at a statue of the Virgin Mary at St. Peter Parish in Dorchester that was vandalized July 11. Pilot photo/Jacqueline Tetrault
---
DORCHESTER -- Dozens of people gathered around a vandalized statue of the Virgin Mary at St. Peter Parish in Dorchester July 15, not to demand vengeance or punishment but to pray for and forgive those responsible.

At about 10 p.m. on July 11, Boston police responded to a call about the statue, which is located near Catholic Charities' Teen Center at St. Peter. Fire investigators said that someone had set fire to the plastic flowers in the statue's hands, causing smoke and flame damage to its face and upper body.

Father John Currie, pastor of St. Peter Parish, said he and his parish were "shocked" and "saddened."

"We don't have a lot of trouble like this. Our neighbors and the community are very respectful of our parish and also the other faith communities in the area," he said in a July 15 interview.

Father Currie said that when he looked at the statue, he immediately thought that "a troubled soul did this, someone who's just not in a good place."

He said he and the staff talked about how they should respond, and they felt it appropriate to do more than just make statements through the media or the archdiocese.

"We decided to gather as a community and pray the rosary, and to pray for this person, or people, whomever did this, and in praying for them let them know that we love them, we forgive them, and we're here to help them in any way that we can, if that's what they need. Because that's what Our Lady would want," Father Currie told The Pilot before the event.

The vigil took place at the site of the statue, which by then had been cleaned and adorned with candles and new flowers. Dozens of people from various faith communities attended, including members of local religious orders. Over the course of the hour-long event, some passersby also stopped to join in the prayers. Candles were distributed for participants, along with programs containing the words of the prayers.

Father Currie began the vigil by speaking about why they were there and what message they wanted to send to the vandal or vandals.

"Mary's response, which is our response, is to call out in love, and with mercy and forgiveness, to whomever did this. Mary does not want us to respond in anger, but rather to offer kindness and compassion to someone who clearly is a troubled soul. In essence, this is what Mary does every day. She brings us, her children, to encounter the abundant love and mercy found in her son, Jesus. So, in her spirit and in the name of Jesus, we prayerfully say to this person or persons: we love you, we forgive you and we are here to serve and help you in any way you may need," Father Currie said.

There was a recitation of the rosary in the three languages of the parish, English, Spanish and Portuguese. The vigil closed with singing the "Salve Regina."

"We will continue to pray, and also continue to be light and love to the world," Father Currie said in his closing remarks.

Lou Murray, a parishioner of St. Theresa Church in West Roxbury, who used to volunteer at the former St. Kevin Church in Dorchester, attended the vigil after learning about it through the media. He knew Father Currie and decided to attend the vigil to support him.

"I thought it was awesome. It was just a perfect Catholic response to an act of violence, uplifting our hearts to God and making reparations to the Blessed Mother," Murray said after the vigil.

Father Currie said he was "very pleased" with how the event went. He noted that the attendees included people from throughout the archdiocese and even people of different faiths.

"I think that's Our Lady saying she's happy with our prayer and also saying to us that what we're doing is very important -- to spread the message of peace and hope and love," he said.

Various Catholic institutions across the country have been targeted for vandalism in recent weeks. On July 10, someone spray-painted the word "idol" on the statue of the Virgin Mary at Cathedral Prep School and Seminary in the Queens borough of New York City. A statue of the Virgin Mary was beheaded at St. Stephen Catholic Church in Chattanooga, Tennessee, and several statues of St. Junipero Serra have been torn down in different locations, including Sacramento and San Francisco.