Obituary
Obituary: Father Arthur Flynn, longtime pastor in Reading
By Father Robert M. O'Grady Pilot Staff
Posted: 10/16/2020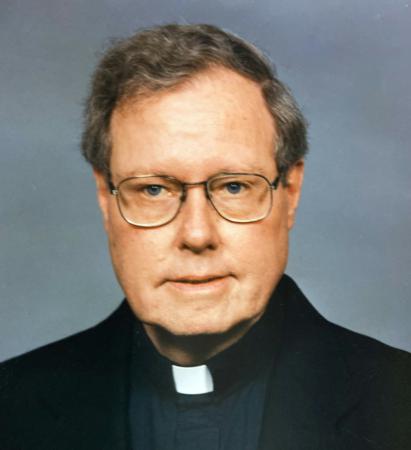 Father Arthur C. Flynn Pilot file photo
---
Father Arthur C. Flynn, who served for more than 32 years of his 54 years of active priestly ministry at St. Agnes Church, Reading, died on Oct. 7, 2020, at Regina Cleri Residence in Boston. He was 92.

The only child of the late Arthur and Florence (Brown) Flynn, he was born in Peabody on Dec. 27, 1927. His father was the chief of the Fire Department in the Tanner City and he was raised in St. John the Baptist Parish, attending the parish elementary school, and then St. Mary Boys High School in nearby Lynn before entering the archdiocesan seminaries at Brighton.

A member of the class of 1952, he was ordained at Holy Cross Cathedral on Jan. 10, 1952, by Archbishop Richard Cushing; his death leaves two classmates, both residing at Regina Cleri: Msgr. John P. McDonough and Father Thomas P. Donohoe.

His first as well as his subsequent assignments was to an archdiocesan parish. Between ordination and his pursuit of graduate studies, he was either an assistant or an associate at St. Mary, Quincy (1952-1955); St. Michael, Bedford (155-1958); St. Charles Borromeo, Woburn (1958-1968); and St. Mary of the Annunciation, Melrose (1968-1971).

In 1972, he was again a student, this time at Boston College, where he undertook graduate studies leading to a master's degree in education and then CAES, or Certificate of Advanced Educational Specialization -- dubbed by some wags by different initials, ABD -- meaning that all the classroom requirements for a doctorate had been fulfilled, and only the approved dissertation was needed -- thus "All But Dissertation."

During his student days, he remained in residence at archdiocesan parishes: Our Lady of the Assumption in East Boston and then at St. Jerome in Arlington, which was much closer and eliminated the Callahan Tunnel back and forth to the Heights.

In 1974, he was assigned as an associate at St. Agnes Parish in Reading and, two years later, he was named its 10th pastor. Before his retirement in 2007, he would rack up an astonishing 33 years of service in one parish, almost half of his active priestly ministry.

During his tenure at St. Agnes, which was then and remains now a very busy and active parish, he directed the celebration of the centennial of the parish in October 2004. Just two years prior, he himself had celebrated the 50th anniversary of his own priestly ordination.

He was named a senior priest on June 1, 2007, by Cardinal O'Malley and retired to his own residence in Beverly. In 2016, he joined other senior priests, including a number of his ordination classmates, at Regina Cleri, Boston.

In the past several months, he had been experiencing a decline in his health and he died at Regina Cleri on Oct. 7, 2020.

Cardinal Seán P. O'Malley was scheduled to be the celebrant of Father Flynn's funeral Mass at St. Agnes Church, Reading, on Oct. 13, 2020. One of Father Flynn's former parochial vicars, Father James Hickey, now pastor at Holy Family, Rockland, was to be the homilist. Among those concelebrating the funeral Mass were North Regional Bishop Mark O'Connell; Father Stephen Rock, and Father Victor Vitug, pastor and parochial vicar respectively of St. Agnes; Father James Hickey, homilist, and Father Ronald St. Pierre, both former parochial vicars at St. Agnes; and Father Edward Malone and Father John Farrell, both senior priests of the archdiocese.

Following the Mass, Father Flynn was buried with his parents in St. Mary Cemetery, Salem.