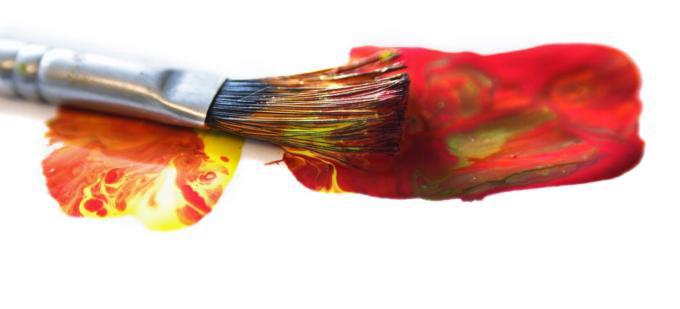 I can do a number of things reasonably well. But like everyone else, I've dreamed about being able to do the things I'm not very good at. Painting has always been at the top of that list for me. "Good singing voices are a dime a dozen," I like to say, but how I wish I could draw and paint!

In my mind's eye, I've created all kinds of colorful canvases. My inner gallery is filled, mostly with landscapes or religious subjects in oils or acrylics with lots of contrast and texture. But whenever I've actually tried to execute any of my ideas, it seems I always manage to pick up a "defective brush"--you know, one that won't paint anything vaguely like what I've imagined!

Every once in a while something I make with my hands comes out nicely. More often than not, however, I'm caught in the realm of dissatisfaction that occupies that all-too-wide space between what I imagined and hoped for, and what I was actually able to make or achieve.

That's mostly why I don't attempt to draw or paint much myself any more, and choose to admire those gifts in others instead.

Still, once you've made up your mind to let go of the result, art is fun. A week or so before she moved to New York City, our daughter Katerina got a small group of female family and friends together for a Paint Nite. The restaurant and painting were chosen from a list of website options. We all met there to spend a couple of hours painting "Blue Twilight" with an instructor and about 30 other people.

Over the course of the evening, we were led through the project step by step, with demonstrations of brush technique and commentary about how to address any mistakes along the way. Some people had participated in numerous evenings like this before, a few of us had done one or none. Everyone in that room had the same paint, brushes, and canvas. We all had the same completed sample painting for reference, and the same instructor. The experience and the completed works couldn't, however, have been more different.

Some people learned that they were better artists than they had expected to be; others discovered the contrary. Some struggled to keep up with the instructor. Other people had plenty of time to spare. There were those who approached each step with confidence, and those who were intimidated by just about everything. Lots of people found it difficult to let go of imperfections, and many just didn't know when to stop trying to "fix" something they weren't satisfied with. Most were their own harshest critic, at least until they were able to walk around and see that their work wasn't really all that bad. Overall, it was a lot of fun.

I may not hang my painting up anywhere, but I was happy to see that each of the four "Blue Twilights" that came home had something unique and especially nice about it. It was also a surprise to realize that when they were lined up in a particular order, the foregrounds all met at the edges to form a single landscape. If hung together, the four panels just might be wall-worthy!

At this point in my life, I'm more willing than I've ever been to admit that I can't do everything I wish I could. I'm not the wife or mother or musician or writer or woman I'd like to be. And more importantly, I'm not the Christian I'd hoped to become. But there is consolation in knowing that the canvas isn't dry yet. The image is still wet and incomplete. The Artist is not finished.

Jaymie Stuart Wolfe is a wife and mother of eight children, and a disciple of the spirituality of St. Francis de Sales. She is an inspirational author, speaker, musician and serves as an Associate Children's Editor at Pauline Books and Media.
Jaymie Stuart Wolfe is a Catholic convert, wife, and mother of eight. Inspired by the spirituality of St. Francis de Sales, she is an author, speaker, and musician, and serves as a senior editor at Ave Maria Press. Find Jaymie on Facebook or follow her on Twitter @YouFeedThem.
Recent articles in the Faith & Family section