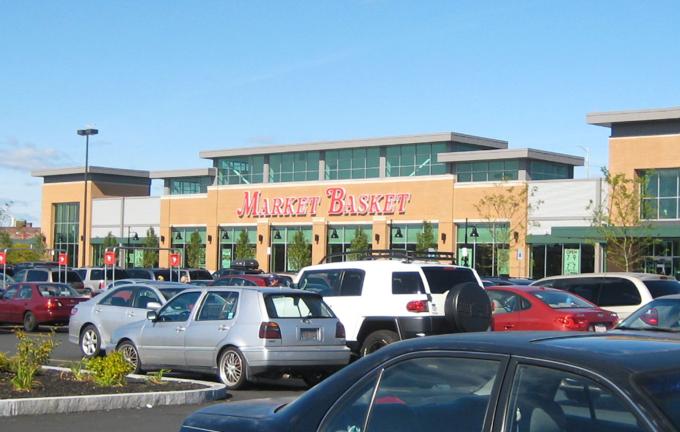 People way beyond New England are following the Market Basket story because we all need to remember what true solidarity looks like, and how very powerful -- and beautiful -- it is to be part of something larger than yourself.
Full disclosure: seven members of my family have worked -- or are currently working -- for Market Basket. In fact, we've often joked that our family was going to take over the company one associate and one store at a time.

It began when my mother moved in with us 28 years ago and discovered she had breast cancer. After she recovered, she applied for a job cashiering -- something she had never done before. She's been on the job, often wearing her trademark beret, at three different Market Basket stores since.

Our oldest two children worked at McDonalds and a movie theater. Number Three got his first job as a lifeguard; though there was that one summer during college when he was glad to make sandwiches at Market Kitchen because it was impossible to find a job anywhere else. The remaining five of our kids, however, have applied for their work permits with an offer from Market Basket in hand.

There are things only your very first, entry-level job can teach you. While one of them might be the value of staying in school, I know our kids have gained a great deal from working during their teenage years. They've realized that there is something to be learned from everyone, that every job is important, and that each of us has our contribution and our place. They've seen that you don't have to be best friends to be able to work together. And too, they've become acquainted with the idea that you get what you work for, and that hard work doesn't actually kill you, but it usually does pay off.

Work unites people. The shared experience of working at Market Basket has been a bond among our kids as well as between them and their grandmother. Over the past 28 years, I've seen my mom teach our kids how to count back change, how to detect a counterfeit bill, and how to handle a demanding customer. And as you might imagine, what happens at the register has been a perennial part of our family's dinner table conversation. We've played countless rounds of produce code bingo (bananas are 4011), and discussed the way-too-public Demoulas family discord at length.

Needless to say, our household is very much interested and engaged in what has been happening in the news. But like everyone else in Massachusetts, New Hampshire, and Maine, we've been reminded that courage means being willing to stick your neck out for what you believe; that when doing the right thing is the hardest thing to do, maybe it just got easier. People way beyond New England are following the Market Basket story because we all need to remember what true solidarity looks like, and how very powerful -- and beautiful -- it is to be part of something larger than yourself.

It's mind-boggling how fast an institution in which everyone wins can be turned into something in which everybody loses. It's disheartening to see how easy it is to be more concerned with a business's bottom line than with a struggling family's last dime. And, of course, it is jarring to see how consuming and self-destructive the desire for revenge can be.

But it's also inspiring to know that everyday people count, and are often willing to risk counting on each other. In the last two weeks our youngest two children have learned a lot about labor unions (Market Basket doesn't have one or want one), boards of directors, protests, and boycotts. They've joined their managers, coworkers, and customers in defending Artie T., the CEO who, though perhaps not a saint, has a longtime reputation for treating both employees and customers with respect. And they've witnessed how social media and the internet can connect and mobilize a community, and take a very local story thousands of miles away.

Our culture actively encourages us not to trust bankers and businessmen. Despite the sharks and vulture capitalists, however, we ought not lose sight of the fact that it is possible to do business in a way that benefits others, genuinely serves communities, and is still wildly profitable. In other words, there is -- or could be -- such a thing as a holy CEO. And that's why I, for one, was thrilled to see the largest Market Basket rally begin with prayer. We should all be Market Basketeers in spirit.

JAYMIE STUART WOLFE IS A WIFE AND MOTHER OF EIGHT CHILDREN, AND A DISCIPLE OF THE SPIRITUALITY OF ST. FRANCIS DE SALES. SHE IS AN INSPIRATIONAL AUTHOR, SPEAKER, MUSICIAN AND SERVES AS AN ASSOCIATE CHILDREN'S EDITOR AT PAULINE BOOKS AND MEDIA.
Jaymie Stuart Wolfe is a Catholic convert, wife, and mother of eight. Inspired by the spirituality of St. Francis de Sales, she is an author, speaker, and musician, and serves as a senior editor at Ave Maria Press. Find Jaymie on Facebook or follow her on Twitter @YouFeedThem.
Recent articles in the Faith & Family section