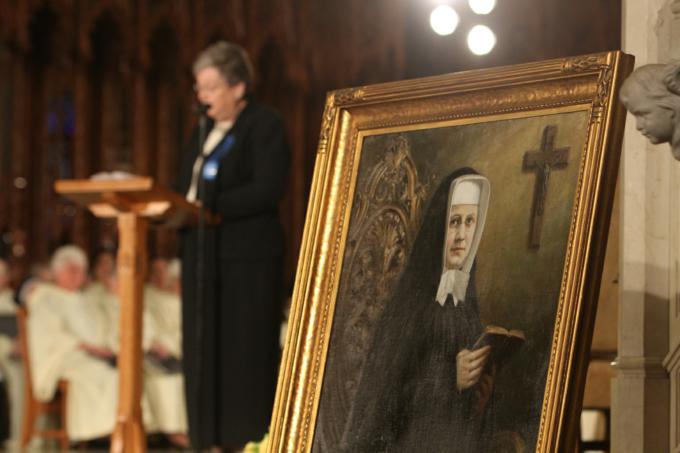 These lessons and experiences all came back to me very early last Saturday morning as I was driving to concelebrate the first beatification in the history of the United States
One of the most defining moments during my seminary formation happened on December 3, 1995, the day Bishop Eugene de Mazenod, the founder of the Oblates of Mary Immaculate, was canonized.

From the time Bishop Sean O'Malley had told me several months earlier that he was sending me to complete my seminary studies at the North American College in Rome, I became excited that I would be able to be present at the canonization of the saint whose relics I had venerated countless times at the Oblate-run St. Joseph's Shrine in Lowell.

I had presumed that, living a stone's throw from St. Peter's Basilica, the whole seminary would shut down for beatifications and canonizations. I was wrong.

At the beginning of November, the rector put a note on the board stating that on December 3, the first Sunday of Advent, a bishop from Illinois would be preaching a retreat day for all seminarians.

I spoke to a priest on faculty about the odds I could get permission from the rector to miss the first half of the day of recollection to attend the canonization. "Not a chance," he emphatically replied.

For a month I debated about whether I could actually get kicked out of seminary for missing a retreat day without permission to attend the making of a saint. Eventually I decided to risk it, counting on St. Eugene's intercession if I had to ask for forgiveness later! After an exhilarating canonization, I slipped back into seminary -- happily without anyone's seeming to have noticed I was gone.

That began a habit of regularly descending the Janiculum Hill to attend beatifications and canonizations. Sometimes the NAC attended as a community. Sometimes we were given a choice. Sometimes I needed again to escape mandatory seminary events.

Over the course of my studies I attended dozens of ceremonies raising people to the altar, including Katherine Drexel, Theodora Guerin, Francis Xavier Seelos, Padre Pio, Teresa Benedicta of the Cross, Faustina Kowalska, Josephine Bakhita, John XXIII, Pius IX, Cristobal Magallanes, scores of martyrs and many others.

I like to think that these liturgies were among the most important parts of my priestly formation. They reminded me --more indelibly than any theology classes or spiritual conferences -- that the purpose of Christian life is to become a saint, the goal of priestly formation is to become not just a priest but a holy one, and the point of all future priestly apostolate is to strive to sanctify others.

These lessons and experiences all came back to me very early last Saturday morning as I was driving to concelebrate the first beatification in the history of the United States, Sr. Miriam Teresa Demjanovich's in Newark's stunning Cathedral Basilica of the Sacred Heart.

The ceremony was more moving than any beatifications or canonizations I had attended at the Vatican. The beauty of the Basilica, the most beautiful Gothic Cathedral in our country, surely had something to do with it. Concelebrating the ceremony -- something only bishops do in the Vatican -- was a great joy. Attending a beatification Mass in English was more special that I had anticipated. But the main reason it was so powerful, I think, was because sanctity was being celebrated not in a far away land but "close to home."

The most heartwarming part of the liturgy was when 58-year-old Michael Mencer, who 50 years ago was cured of juvenile macular degeneration through the intercession of now Blessed Miriam Teresa, brought her relics into the sanctuary. He was a living, walking testimonial to her sanctity and spiritual closeness.

The homily, given by Bishop Arthur Serratelli of Paterson, was worthy of the celebration.

Linking images from world history to their spiritual analogues, Bishop Serratelli said, "Sr. Miriam belongs to that circle of chosen souls whom God himself elects for special graces, not merely for themselves, but for all his people. When she was born in 1901, the very year Marconi received the first telegraph signal, God was preparing her to show us the way to be in constant conversation with him through prayer. And by the time she died in 1927, the year Lindbergh made the first flight between America and Europe, she had left behind, both in her life and in writings, the lesson that doing God's will in all things bridges the distance between heaven and earth."

"The Church is slow, patiently slow, in making saints," he continued. "But not God, who calls all to holiness. Sr. Miriam Teresa's life spanned only 26 years. … But God does not need much time to draw us to himself, only our will to please him in all things."

Her beatification, he said, is a summons for all of us to follow her on that path of seeking to please God in everything.

"Sr. Miriam once said that 'the saints did but one thing -- the will of God. But they did it with all their might. And this Sr. Miriam Teresa herself did" and encouraged others to do the same.

"By God's grace, she knew and understood, she spoke and lived, the universal call to holiness, later to be formally taught by the Second Vatican Council. For as Sister Miriam Teresa teaches, 'The imitation of Christ in the lives of saints is always possible and compatible with every state of life.'"

That imitation is not only the highest form of devotion but the surest path, no matter our state in life, one day to share Blessed Miriam Teresa's eternal joy.
Father Roger J. Landry is a priest of the Diocese of Fall River, Massachusetts, who works for the Holy See's Permanent Observer Mission to the United Nations.
Recent articles in the Faith & Family section