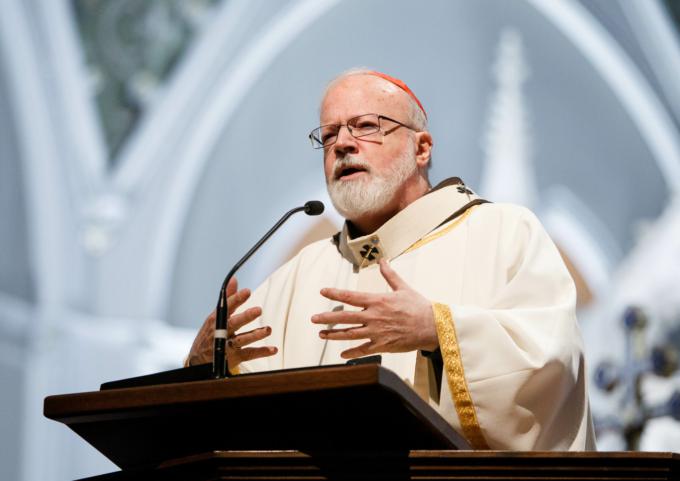 Mayor Menino cared deeply about Boston and its very diverse population, and worked tirelessly to make this city the very best place possible.
Following is the text of the homily delivered by Cardinal Seán P. O'Malley at the Mass for All Souls celebrated Nov. 2, 2014 at the Cathedral of the Holy Cross.

Today is All Souls Day, the day when Catholics gather in churches, visit the graves of their loved ones, and offer prayers for our faithful departed.

Today the city of Boston is in mourning, on this All Souls Day, for Mayor Thomas Menino, the longest-serving mayor in Boston. He was a man devoted to his family, and to his extended family of the people of Boston. He cared deeply about people, especially the poor and disenfranchised. He was very close to the people, especially in times of trouble or tragedy, like the Marathon bombings.

Our paths would cross often at groundbreakings for low-income housing, and homeless shelters and in neighborhoods convulsed with street violence. Mayor Menino cared deeply about Boston and its very diverse population, and worked tirelessly to make this city the very best place possible.

He was especially devoted to the young people of our community, and did so much on their behalf. We are all grateful for the many good things that he accomplished. We are offering this All Souls Day Mass for Mayor Menino, his wife Angela, for his children, grandchildren and family. He was so devoted to them all. Our prayers are united with those of people of Boston, and from all over, who offer supplications for the eternal rest of Mayor Thomas Menino, who lies in state today at Faneuil Hall and will be buried tomorrow from the parish church where he received the sacrament of baptism.

Tom Menino was very faithful to Sunday Mass and had a very special devotion to St. Joseph. He once told me he prayed to St. Joseph every day. In Catholic piety, Joseph the Carpenter is the patron saint of a happy death because Joseph died in the arms of Jesus and Mary at his home in Nazareth. Tom died having received the sacraments of the Church and surrounded by his beloved Angela and their close knit family. Pope Francis reminds us that we are all sinners, and on all souls day we implore God's loving mercy and pardon for all our faithful departed, both those we knew and loved as well as those who have no one to pray for them.

One of my earliest recollections of childhood was being taken by my grandmother to the Poor Clare convent in our town for the Feast of the Portiuncula, which is on August 2. It is a custom to go to Franciscan churches on that day and pray for the indulgences. We would go in and out of the church after saying the prayers, and each time we would reenter the church my grandmother would announce which relative we were getting out of purgatory. And I said, "Nana I think we got him out last year." She said, "That one needs a lot of help."

Praying for the dead did not begin with my Nana, however. For thousands of years we have prayed for the dead. We have a maxim that says "lex orandi, lex credendi," which means our theology is seen in the way that we pray, and the fact that we pray for the dead has helped us to develop a theology of purgatory, a process of purification during which prayers benefit the decease -- the Jews, the Greek Orthodox, Catholics all pray for the dead.

The first reading we listen to today is from the first book of Maccabees. He is the one who led the revolt against the Syrian invaders and is considered one of the greatest leaders of Jewish history, like Gideon and David. He removed the pagan statues from the Temple and rededicated it to Yahweh. That is where the feast of Hanukkah comes from, to commemorate Maccabees' rededication of the Temple.

In today's reading, we see how he is offering sacrifices for his soldiers who died in battle and he offered them because of his belief in the resurrection. Besides these Jewish prayers for the dead, we find inscriptions on the tombs of the early Christians asking for prayers for them. Likewise, there is a very moving passage in the Confessions of St. Augustine written back in the 300s where St. Monica, his mother, on her deathbed says she does not care about where they bury her, as long as they celebrate Mass for her. And Augustine offered Mass on her grave.

We consider praying for the dead a duty. In fact, in every Mass that is celebrated, in the Eucharistic Prayer there is always a prayer for the dead. Offering prayers and Masses for the dead is an important part of our Catholic piety -- an expression of our faith in the Resurrection and our connectedness in the Body of Christ. All Souls Day is a very important celebration in our liturgical year. Along with Christmas Day, it is the only feast where a priest is allowed to celebrate three Masses, even without pastoral necessity.

When I was a child the cowboy movies we went to see every Saturday afternoon always ended with the hero riding off into the sunset. In today's gospel, the two disciples are walking from Jerusalem to Emmaus, a town west of Jerusalem. They were quite literally walking into the sunset. In their journey toward darkness they encounter a stranger, who turns the sunset into dawn.

As we celebrate All Souls Day it is comforting to hear this gospel story about these two disciples who were saddened and confused by Jesus's death, and quite frankly, they were very fearful for their own lives. This is precisely why they were getting out of town. Suddenly, they are joined on the way by a stranger who breaks open the word of God. Jesus's words to them helps them to make sense of things. The whole situation suddenly seems to have an explanation.

We can almost hear the pain and the regret in their words when they told Jesus, "We were hoping that he would be the one to save Israel." Then Jesus came and talked to them, and the meaning of life became clear, and the darkness became light. And then something very curious happens in this gospel -- when Cleopas and his buddy, along with their mysterious stranger arrived at Emmaus, Jesus makes as if he is going to continue on his journey. The two disciples immediately pick up on the queue and press him to stay with them and have supper. Now if they had said, "So long, nice talking to you. See you around," well, this gospel would never have been written.

Jesus makes as if he is going to continue on his journey because he wants to be invited into our lives and into our hearts. (We should never stop inviting the Lord to come into our hearts.) When Jesus sits down at the table with them, he takes the bread blesses it and breaks it. At that moment the disciples recognize Jesus, but at that very moment Jesus disappears. Jesus vanishes but the bread remains and the bread is the Body and Blood of Christ. Perhaps Cleopas and the other disciple had been present for the multiplication of the loaves, when Jesus fed 5,000 in the wilderness. They recognized Jesus in that same gesture of the breaking of the bread.

The gospel shows us how these two disciples, when they receive such great joy to experience the risen Christ -- to know that Jesus has conquered death -- they hasten to share that good news. It was a seven mile journey to return to Jerusalem, but they did not hesitate. They set out immediately; they could not keep the good news to themselves. (The Christian message is never fully ours until we have shared it with someone else.) They rush back to tell their friends, "Jesus is alive, we have seen him. We recognized him in the breaking of the bread!"

Our task is the same, to experience the Risen Lord and then take the good news to others. The Risen Lord is the Good Shepherd who comes to gather the scattered. When Jesus wept over Jerusalem he said, "I would have gathered you as a hen gathers her chicks." But Jesus also says, "They shall strike the Shepherd and the sheep will scatter." The risen Christ returns as the good Shepherd to gather the scattered.

We are gathered around this Eucharist where Christ strengthens us for the life of the Resurrection. Faith is the light that can dispel darkness, that darkness that accompanies death. Discovering Christ's Resurrection helps us to begin to understand how to face our own mortality.

In these days, we celebrate Halloween. Halloween presents so many scary associations of death -- the skeletons and ghosts -- but in the gospel death is presented a much different way. Death is presented as a grain of wheat that falls to the ground and dies, but then springs up in new life and bearing fruit. Death is presented in another way, "In my father's house there are many mansions," Jesus says, "and I shall return for you and carry you back with me."

For the believer, death is ultimately like Sister Death in St. Francis's Canticle of the Sun, where Sister Death is there to accompany us into God's presence.

At this stage of my life I assiduously follow the "Irish sports page" to check the scores -- how many of the obituaries are about people younger than I am, and how many are older. I have seen so many loved ones who have passed into eternity, and I think that helps to make death more palatable, the prospect of being reunited with loved ones. We pray for them today. In this age of individualism and isolation, the Church gives us this wonderful opportunity to know that we are a part of a larger community, which includes those who have gone before us marked with the sign of faith. Yesterday, we celebrated All Saints, today we celebrate All Souls, those who are on the way to sainthood but who could use our prayers.

May the divine assistance remain always with them and may their souls, and the souls of all the faithful departed, through the mercy of God rest in peace. Amen.
Cardinal Seán P. O'Malley, OFM Cap. Is Archbishop of Boston
Recent articles in the Spirituality section