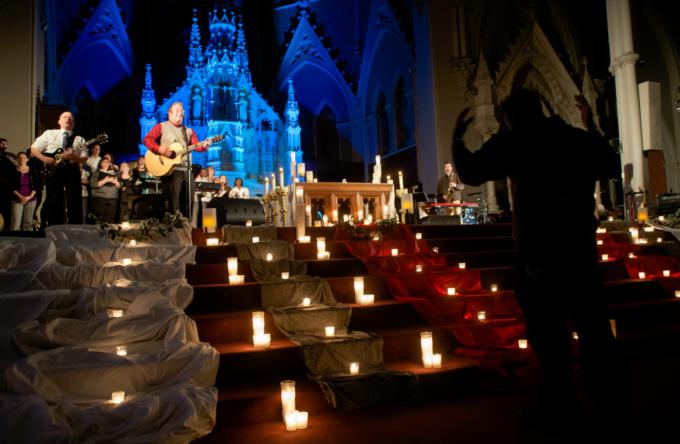 … isn't it wonderful that God is still calling, still moving, still building something new. He is building not just a city that never sleeps, but one that never sinks, never falls into ruin.
This week, the Church in Boston, once again sponsored its Advent eucharistic pilgrimage: The God of This City tour. For me, what LIFT and the Office for New Evangelization offers is the youthful successor to what many of us in the over-40 set experienced in the Charismatic Renewal. And while my deepest prayer is almost always alone or in liturgy, I love the dynamic of worship and the beautiful way its ebb and flow builds community through prayer.

St. Teresa of Avila wrote of her interior castle and St. Augustine had his city of God. For Teresa, each soul was meant to be a grand and glorious house for the divine lover of all souls. For Augustine, the kingdom of heaven was the shining civilization of the redeemed that reflects the sovereign reign of the Merciful Father.

One thing is clear: both within us and among us, our God is always building. God dreams and designs, gathers and fits together each piece. He sees each part in light of the whole, and the whole in light of each part. Nothing is random or without purpose. Every human heart is meant to be his castle, and every city is intended to be the city of God. Nothing is left unfinished or incomplete. All things are brought to perfection by his will.

It was wonderful to witness the parish I used to work at host the first night of this year's tour. As one greeter put it, "This isn't your grandmother's St. Maria Goretti!" No, as a matter of fact, it isn't. And isn't it wonderful that God is still calling, still moving, still building something new. He is building not just a city that never sleeps, but one that never sinks, never falls into ruin.

Surrounded by praise, (and colored lights, and teens, and music just a bit too loud for my ears), I reflected on all the things I've tried to build over the years. I thought about the times I had chosen a cornerstone other than the one God intended, or modified the blueprint he had planned, or rushed the work, or substituted lesser materials for the ones he'd had in mind. But I also thought about how God has managed to build even when I got in the way, even when I refused to cooperate, or lost interest in the project, or miscalculated the cost. Maybe that is why Jesus grew up as the son of a carpenter.

In the end, faith is always more simple than we want to admit. When we welcome the God whose city it is, we become its citizens. When we allow him to inhabit our hearts, we find that he has prepared an eternal home for us, a city with room for us all. Even more, we ourselves become that city, where the real presence of Christ not merely enshrined -- but alive at the center of all we are. Prayer lifts each one of us out of the infertile soil of our selfishness and makes us skyscrapers reaching upward to the one who loves us and outward to one another.

God is most assuredly the God of this City of Boston, and the Lord of every other city, too. He is the creator of the universe, the architect of the Church, the savior of our souls. Whether or not we are willing workers and surrendered stones, his unstoppable kingdom is forming. A new and eternal Jerusalem is rising around him. And at the very center of that city is a lowly manger, a poor family, and the sound of bleating sheep.

JAYMIE STUART WOLFE IS A WIFE AND MOTHER OF EIGHT CHILDREN, AND A DISCIPLE OF THE SPIRITUALITY OF ST. FRANCIS DE SALES. SHE IS AN INSPIRATIONAL AUTHOR, SPEAKER, MUSICIAN AND SERVES AS AN ASSOCIATE CHILDREN'S EDITOR AT PAULINE BOOKS AND MEDIA.
Jaymie Stuart Wolfe is a Catholic convert, wife, and mother of eight. Inspired by the spirituality of St. Francis de Sales, she is an author, speaker, and musician, and serves as a senior editor at Ave Maria Press. Find Jaymie on Facebook or follow her on Twitter @YouFeedThem.
Recent articles in the Faith & Family section