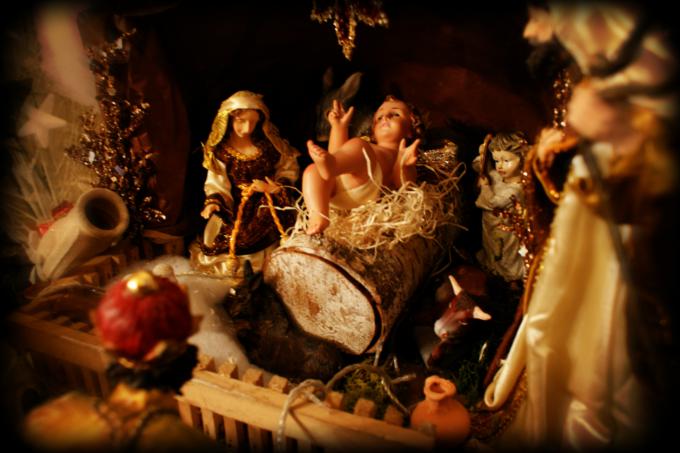 On Christmas morn the young man ventures outside in the light snow to see a brand new Infiniti car in his drive. Small gestures reap big benefits. Or nostalgia sells cars.
It isn't plenty that enriches the season. Sometimes the lack of it focuses the heart. Maybe this idea was in the mind of a priest who gave an Advent homily on "unexpected graces" -- those little surprises that come our way around Christmas. We try to make it happen, carrying out the seasonal preparations. But some things are beyond our control.

The halls are decked with holly, the tree shimmers in her special alcove, but we ponder the meaning of Christmas. Three reflections stand out. First, Christmas is nostalgic. In the era of rapid change it might be comforting to dwell on memories of past Christmases and the first Noel. There were uncles wreathed in smoke; aunts knitting stockings; grandmothers baking traditional breads and placing gold coins in shoes for St. Nicholas Day. A Boston College economics professor remembers a Depression Christmas and receiving an erector set. He didn't become an engineer, but he relished the toy. There were 8 children, so not many gifts. The country coming out of war, turned its production to consumer items. Shiny ornaments, and carved creches and electric tree lights were available in Woolworths.

A mother stayed up late sewing cowgirl shirts in the time of cowboys like Roy Rogers, Dale Evans and Gene Autry. Our mother recalls she made 17 one year for all the neighborhood kids. Others mothers made doll clothes for American girl dolls or knitted Fair Isle sweaters and argyle socks for teens.

It seems nostalgia is back in vogue this year. This season's Coca Cola cans present a plump Santa in his red suit and dazzling cap and beard. A television advertisement selling cars has a narrative of a young man watching Santa. Seeing a rent in his cap, he stitches it together and leaves it at Santa's hotel door. On Christmas morn the young man ventures outside in the light snow to see a brand new Infiniti car in his drive. Small gestures reap big benefits. Or nostalgia sells cars.

Bethany Lowe Designs, a small family owned business begun in 1985 with a vision of creating vintage holiday and folk art designs, is now a worldwide company. Bethany herself likes to capture memories of farm childhoods where families went for horse-drawn sleigh rides, ice skating on nearby ponds and caroling from door to door. Her ornaments capture those long ago memories. She travelled to Europe to research traditional designs immigrants were bringing with them.

Our tree has ornaments from our travels. From the Holy Land is an olive wood carving of a Baby Jesus in his cradle and from the Mission of San Juan Capistrano we have a crown. Italian decorations show the Babe with beams of light radiating from his head. A few ornaments remain from our parents' trees, ones having survived several tree tip overs.

Small boys likely have visions of tanks and trucks in their dreams rather than sugar plums dancing in their heads. One older boy never quite got over his Christmas disappointment that there was never -- or going to be -- a pony in the back yard of his suburban home.

Often we have assumed most American Christmas traditions came from England. Certainly, the holly decked halls, plum puddings, as well as Dickens' Scrooge came from the British Isles. However Clement C. Moore, a New Yorker, wrote "'Twas the Night Before Christmas," as long ago as 1822. From thereafter, Santa with his team on roofs tops, slid down chimneys and delivered the goods. An American greeting card company, Hallmark, convinced us to send Christmas cards. After all, it's the thought that counts.

"It's getting to look a lot like Christmas," is the best news a Boston University scholar can hear. As a researcher on belligerent countries, he finds his stride this time of year and becomes "the Professor of Christmas." He decorates the trees, sometimes three or four and rereads his collection of Christmas books. No doubt he can recite "A Child's Christmas in Wales."

Next, Christmas is communal. Parishes draw together, assembling gifts destined for unknown people. It could be children in Lawrence, Lowell, and Dorchester or around the corner who will receive a Christmas gift they asked for.

Having decorated the house, it seems right to invite guests for punch, caroling and to see the tree. Families will gather, even if it means long travel. Gifts will be exchanged, and exchanged again. There is the lingering doubt that each child received something he would cherish.

The Vigil Mass is by candlelight and carols are sung. Families who grew up in the parish bring their own back to the home church. The pews are crowded. (Get there early!) Velvet dresses and red coats are visible as it is a time to wear your best. After Mass there are family parties with egg nog, a break the fast meal. If Advent has been observed as a mini-Lent, the gathering is savored even more. Traditional ethnic foods have been prepared, reminding us of dear ones who are not present.

Lastly, Christmas is lovely. "Winds through the olive trees softly did blow round little Bethlehem long, long ago." The infant Jesus, no crying he made, lies in a crude cradle which is surrounded by love. Under the starry sky a tender scene plays out the prophecy. Shepherds and sheep stand guard. There is a rumor of angels. And Mary and Joseph witness the miracle of life. Soon the world will know that the Son of God has come to earth.

KEVIN AND MARILYN RYAN, EDITORS OF "WHY I'M STILL A CATHOLIC," WORSHIP AT ST. LAWRENCE CHURCH IN BROOKLINE.
Kevin and Marilyn Ryan, editors of "Why I'm Still a Catholic," worship at St. Lawrence Church in Brookline, Mass.
Recent articles in the Faith & Family section