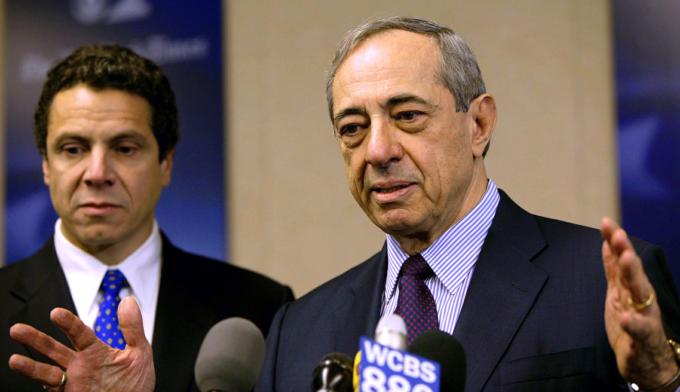 WASHINGTON (CNS) -- While many tributes to former New York Gov. Mario Cuomo reference the impact of his 1984 keynote speech at the Democratic National Convention, for many Catholics, it was a different speech the same year that defined his political legacy.

Cuomo, who died Jan. 1 at age 82, served three terms as governor and was sought after as a possible candidate for president, though he never took the plunge.

Those two 1984 speeches may well have helped define both why he was sought after and why he chose not to run.

The son of Italian immigrants who spoke no English when they arrived, Cuomo was raised in a multicultural area of Queens, New York. He never shied away from being proudly Catholic and proudly a Democrat. His position that he could personally accept the church's teaching about abortion being sinful, while politically supporting keeping abortion legal in a secular society where it was protected by the Constitution still is the model cited by many Catholic politicians and still is derided by some church leaders.

Cuomo famously clashed with then-Archbishop John J. O'Connor of New York over the governor's support for state funding of abortions for the poor and his explanations of why he thought that was not a conflict for a Catholic politician.

Cuomo's 1984 speech at the University of Notre Dame provided the basis for Catholic politicians since then who have described themselves as "pro-choice" and distinguish their personal acceptance of church teaching from their public role as legislators. With some variations in phrasing, the gist of their argument is: "I'm personally opposed to abortion, but I don't believe I should legislate my beliefs when abortion is legal in this country."

In 1990, then-Cardinal O'Connor said such justifications from Catholic politicians put them at risk of excommunication by "treating church teaching on abortion with contempt." He said such an approach is "helping to multiply abortions by advocating legislation supporting abortion, or by making public funds available for abortion."

However, on another life issue important to the Catholic Church -- the death penalty -- Cuomo was something of a political trailblazer on the side of doing away with capital punishment.

As governor, he blocked multiple attempts to resume capital punishment in New York. His successor, Gov. George Pataki, a Republican, reinstated the death penalty. There were no executions held in New York before a 2004 court ruling declared it unconstitutional.

Once out of office, Cuomo regularly participated in debates on the topic and in campaigns to do away with it.

It was his speech at the 1984 Democratic convention that defined Cuomo more broadly in politics. In it, he attacked then-President Ronald Reagan's vision of a "shining city" of prosperity for neglecting to see the people who live in despair.

New York's current archbishop, Cardinal Timothy M. Dolan, said he that although Cuomo's term as governor ended long before he arrived in New York, "I had the pleasure of meeting and corresponding with Mario Cuomo on numerous occasions, and always found him to be a keen observer of the issues facing our city, state, and country."

Cardinal Dolan's statement said he found the former governor always willing to share his insights about the church as well.

"It was obvious to me that he was intensely proud of his Catholic faith," the cardinal said. "My prayerful condolences go out to his loving wife, Matilda, and the family. We thank them for sharing their husband and father with the city, state and nation, and we praise God for the 82 years we had him."

One thread of Cuomo's religious interests lay with St. Francis of Assisi, whom he regularly cited. As syndicated columnist E.J. Dionne noted in a tribute to Cuomo, in that keynote at the Democratic convention he observed that St. Francis was "the world's most sincere Democrat."

Cuomo also was among contributors to a 2006 documentary, "Reluctant Saint: Francis of Assisi."

A native of the Briarwood section of New York City, Cuomo attended public elementary school and St. John's Preparatory School before going on to St. John's University, where he played baseball. He signed a contract with the Pittsburgh Pirates, playing for its minor league team in Brunswick, Georgia, briefly. After being hit by a pitch and injured seriously enough to be hospitalized, he quit baseball and returned to St. John's to finish his undergraduate degree, and then a law degree, also at St. John's.

Besides his terms as governor from 1983 to 1994, Cuomo served as New York's secretary of state and ran unsuccessfully for mayor of New York in 1977, before being elected lieutenant governor in 1978. Coincidentally, each of his elected terms of state office began on Jan. 1 of the years in which he served, the same date on which he died.

Cuomo's funeral was scheduled for Jan. 6 at St. Ignatius Loyola Church in Manhattan. Vice President Joe Biden and former President Bill Clinton were among those who said they would attend the funeral Mass.

In addition to his wife of 60 years, Matilda, he is survived by five children, including current New York Gov. Andrew Cuomo, Dr. Margaret I. Cuomo, Maria Cuomo Cole, Madeline Cuomo O'Donohue, and Christopher Cuomo, a journalist at CNN; and several grandchildren.


Recent articles in the In Depth section