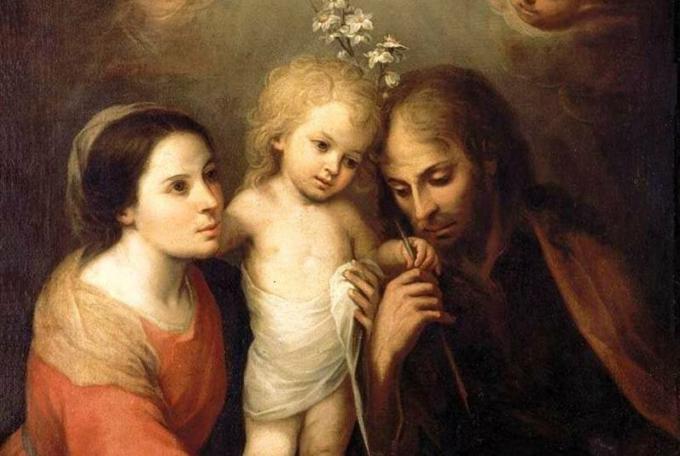 We can find great comfort in knowing that Jesus lived many uneventful days.
The weeks between Christmas and Ash Wednesday usually feel exactly like what most of us think they are -- a liturgical breather between more significant feasts and fasts. Exhausted by Christmas celebrations in their full glory and not quite up to the demands of Lent, these next several Sundays of Ordinary time are a welcome chance for us to rest and regroup.

But isn't it interesting that the events commemorated by Epiphany and the Baptism of the Lord -- events separated by decades when they actually occurred -- are observed only seven days apart? How strange it is that the bulk of the life of Christ on earth passes unnoticed between the first two Sundays in January each year. Last week, he was an infant adored by the magi; this week, he is a grown man on the precipice of public ministry.

And isn't that as it should be! The hidden life that Jesus led in Nazareth, the years of obscurity still mostly undocumented, remain as mysterious for us now as they were to anyone who lived in Palestine when Quirinius was governor of Syria or Pontius Pilate was procurator in Judea.

By mysterious, I mean imbued with the mystery of the Incarnation. Jesus is God-with-us eternally because he dwelled with us in time. None of us thinks twice when someone reminds us that God died on a cross for our salvation. But because Jesus lived these quiet years of daily human activity, we can also say that God outgrew his clothing and scraped his knee; that God had a favorite song and a food he didn't like much; that God couldn't keep his eyes open at the end of a long day, or was bored by a long-winded rabbi's lesson at synagogue. We don't need to know much about what happened to Jesus in those years because it happens to us and everyone every day.

No matter how much excitement any of us has managed to squeeze in, for most of us, the vast majority of our lives is secretly mundane, even dull. But Jesus came to share the entirety of our lives, not just the parts that are memorable because they stand out against the backdrop of the ordinary. We are saved not only by the miracles of Galilee or the cross of Calvary, but by the familiarity of Nazareth.

We can find great comfort in knowing that Jesus lived many uneventful days. He woke and walked and worked as we do. He ate and washed and slept like us. He dreamed and prayed, grieved and laughed. And in sharing all the burdens and blessings of ordinary human life, Christ sanctified them all.

More often than not, the Holy Spirit uses these dumb little things to sanctify us. If I stop long enough to think about what I do all day, I realize just how many opportunities to grow in holiness I miss. By grace, maybe I can do better. The truth is that I want God to be with me on my long commute, and there when I empty the dishwasher or fold the laundry. I want Jesus to teach me not to sweat the small stuff, but show me how to live it well instead. And more than anything else, I want to learn the value of being present to his presence in all things, especially the ones I fail to notice or take for granted.

The Gospels record all the words and deeds that make the life of Jesus unique and divinely different from my own. But all that is missing, all the things not worthy of mention that filled those 30 years before anyone knew of him at all, are the same little nothings that fill most of my days and years. The secret life of Jesus means that God is with me even when it doesn't count, and the fact that he is with me makes it worth counting.

JAYMIE STUART WOLFE IS A WIFE AND MOTHER OF EIGHT CHILDREN, AND A DISCIPLE OF THE SPIRITUALITY OF ST. FRANCIS DE SALES. SHE IS AN INSPIRATIONAL AUTHOR, SPEAKER, MUSICIAN AND SERVES AS AN ASSOCIATE CHILDREN'S EDITOR AT PAULINE BOOKS AND MEDIA.
Jaymie Stuart Wolfe is a Catholic convert, wife, and mother of eight. Inspired by the spirituality of St. Francis de Sales, she is an author, speaker, and musician, and serves as a senior editor at Ave Maria Press. Find Jaymie on Facebook or follow her on Twitter @YouFeedThem.
Recent articles in the Faith & Family section