This openness and accountability will ultimately result in a higher level of confidence in Church leaders by faithful Catholics. That is the pope's challenge.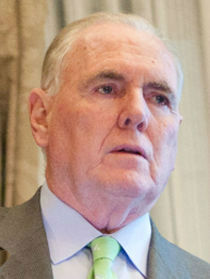 When Pope Francis was first elected pope less than 2 years ago, just after the surprising and historic resignation of Pope Benedict XVI, I recall being asked on national television, "So what's the number one issue facing the new pope?" My immediate response was, "Well, there are many important concerns that Francis will have to deal with, but if I'm limited to just one, I'd say, conducting a thorough independent audit of Vatican finances and making the results public."

The veil of secrecy about the Vatican Bank and its financial situation has been a never ending source of speculation, sensationalism and even scandal going back to World War II. Movies have been made, numerous books written and thousands of sensational expose type newspaper articles have been composed about secret accounts by corrupt dictators and political officials, as well as money laundering by the Mafia and wealthy international corporations. Living there as a non-Church official, I kept my eyes open to any such news. However, I found out that much of it was speculation, inaccurate and sketchy, because the Vatican never issued complete financial accounts -- a less than perfect system in presenting an image of transparency and accountability. They fell back on the fact that the Vatican is a sovereign country and they enact their own rules, just like any other country.

But Pope Francis stepped in and called for far sweeping reforms, particularly in the area of disclosure and openness. These reforms are good for the Church as Cardinal Sean is proving in his leadership in dealing with the clergy sex abuse crisis. This openness and accountability will ultimately result in a higher level of confidence in Church leaders by faithful Catholics. That is the pope's challenge. Faithful Catholics have not lost faith or confidence in the teachings and traditions of Jesus Christ. They remain strong throughout much of the world. When thousands of Christians are willing to be tortured and beheaded rather than renounce their belief in Christ, well that says it all.

But there is yet another notion to full financial disclosure which Pope Francis and Cardinal Pell, the so called "Financial Czar at the Vatican," are committed to, which in my opinion is just as important. Cardinal Pell disclosed on Friday that the initial findings of his one year study have concluded that the Vatican is sitting on a surplus far greater than they ever expected. You can make of this what you want and speculation is justified by outsiders. But this news provides a unique opportunity for the pope to reaffirm the Church's important mission worldwide and that it is providing hope and love in our chaotic and troubled world.

The pope can make a new beginning by getting back to basics. Start by directing some of those recently announced surplus Vatican funds to help children receive a good Catholic school education that is affordable to poor and working class families. These children and families are essential to our future. There is never enough money to do all the important things, but all children need a safe, disciplined and quality learning environment. The pope should also recommit to keeping churches, as well as schools, open. Maybe reopen some churches which have meant so much for people in their communities.

If my proposals sound too utopian and optimistic, then this is exactly what we need today. Remember, with God, all things are possible.

RAYMOND L. FLYNN IS THE FORMER U.S. AMBASSADOR TO THE VATICAN AND A MAYOR OF BOSTON.
Raymond L. Flynn is the former U.S. Ambassador to the Holy See and Mayor of Boston.
Recent articles in the Culture & Events section