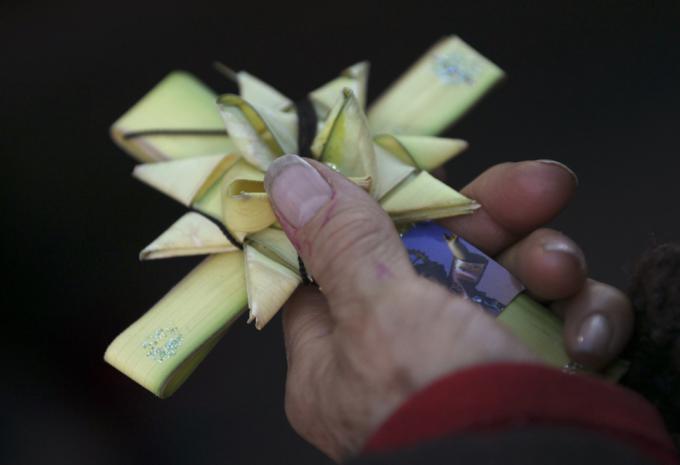 But Holy Week is holy because it's also supposed to make us holy -- if we follow Jesus up close, if we enter into the mysteries, if we receive within us all he won for us during this time.
In a Plan of Life, the spiritual game plan designed to form us toward holiness, there are practices recommended to be done at different frequencies, daily, weekly, monthly, yearly or "always." As we draw near to the end of Lent, it's fitting to think about one of the most important annual practices: living Holy Week in a holy way.

Holy Week is holy, first and foremost, because of all Jesus Christ did during this week, from the triumphal entry into his city on Palm Sunday, to his teaching in the Temple, to the Last Supper, to his prayer in Gethsemane, to his arrest, torture, crucifixion, preaching and death on Good Friday, to his rest in the tomb, and his glorious resurrection on the third day.

But Holy Week is holy because it's also supposed to make us holy -- if we follow Jesus up close, if we enter into the mysteries, if we receive within us all he won for us during this time.

Holy Week ought to be our most faith-filled week of the year.

One of the biggest shocks for me as a parish priest has been relatively how few Catholics, including regular Sunday Mass-going Catholics, live Holy Week in that faith-filled way.

As a young boy growing up in a practising Catholic family, we always spent the Sacred Triduum of Holy Thursday, Good Friday and the Easter Vigil attending the Church's most solemn liturgies. It was, frankly, unthinkable that we wouldn't.

When I got to college, I kept up the practice and actually intensified it. On Holy Thursday, with friends, I would make the indulgenced practice of the "Seven Churches," visiting seven altars of repose in various Boston parishes and spending time in adoration of Jesus until midnight. On Good Friday, I would head to Boston's Cathedral of the Holy Cross for the Seven Last Words Meditations from noon to three followed by the Commemoration of the Lord's Passion, with the chanted account of St. John. On Holy Saturday, I would return to the Cathedral for the beautiful, three-and-a-half hour celebration of the Easter Vigil. On Easter Sunday, I would head to Mass in my parish, celebrating Easter again with the joy of seeing the Church packed."

I never believed I was doing anything special. I thought that this was what basically every practicing Catholic did. For disciples of Jesus to miss any of these principal celebrations events of our faith would have been as incomprehensible for me as a Red Sox fan's skipping the fifth, sixth and seventh games of the World Series with the Sox in it.

Yet when I returned from Seminary to parish life, anticipating that the Holy Week liturgies would be mob scenes, I discovered that they were, in contrast, rather sparse affairs, in some cases even less well-attended than Holy Days of Obligation. Fewer than half of Sunday Mass goers would come to any of the liturgies of the Sacred Triduum.

I was startled by how many people, greeting me at the end of Palm Sunday Mass, would say, and mean to say, "See you next Sunday!" Coming to Church during the Triduum was just not on their spiritual radar screen.

Occasionally I've been asked, "Why aren't Holy Thursday, Good Friday and the Easter Vigil considered Holy Days of Obligation?" I think for the same reason why there have never been civil or ecclesiastical laws passed mandating the celebration of a loved one's birthday: because it would be unfathomable that such a law should be needed. Obliging attendance at the principal events of Jesus' life by which we enter into his Passover from death to life would be totally to miss the point of the interior motivation that should bring one there.

About Holy Thursday, Jesus said to the apostles at the beginning of that most precious meal of all time, "I have eagerly desired to eat this Passover with you." Jesus says the same thing to us: with great eagerness, he wants to eat that Passover with you and me. The summons he gives us to enter into his celebration of the Last Supper is the most important dinner invitation we have ever received. During it, we celebrate with him the institution of the Eucharist and the priesthood that makes that perpetual gift possible. Could we possibly have a more important invitation on Holy Thursday night?

If there's ever one day during the year on which every Christian should think about taking a personal day, it's Good Friday. Most of us would naturally take time off of work or school to be with a family member who was dying. We need to be just as practical about being with Jesus on Good Friday. If we were present in Jerusalem the day he was on Golgotha, would we have wanted to be with him as Mary and the other faithful disciples were or busy about other -- far less important -- matters?

The Easter Vigil is by far the most important and beautiful Mass of the entire year, in which we thank God for the supreme gift of his Resurrection and what it means for us and the world. There are Masses on Easter morning that certainly fulfill our "obligation," but, candidly, they're not the same as the Easter Vigil, in which we enter with faith into all the central events of salvation history, see how they're all fulfilled in Christ, and rejoice in faith for the new life that God gives us. It's the most important liturgy in Catholicism. It's the Mass that has the power to change us most as we celebrate it, because it helps us to push ourselves to the liturgical limit of love and gratitude to God in celebration of Jesus' resurrection and what it means for each of us.

Voluntarily missing the events of the Triduum is often a sign of lukewarmness in the faith. Attendance -- not out of obligation but out of faithful gratitude and love -- is an indication of zeal.

Holy Week is the week that contains within it the power to make us holy. For those living a plan of life geared toward training in holiness, it's circled on the calendar months in advance and lived with prayerful intensity and profound joy.
Father Roger J. Landry is a priest of the Diocese of Fall River, Massachusetts, who works for the Holy See's Permanent Observer Mission to the United Nations.
Recent articles in the Faith & Family section