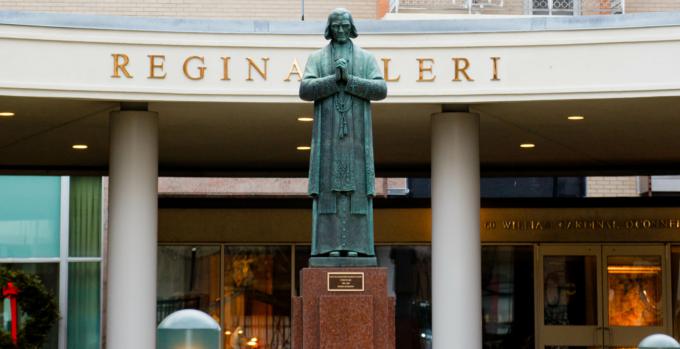 Never in my life have I experienced the level of care I received at Regina Cleri.
In 1964 Richard Cardinal Cushing opened the Regina Cleri residence in Boston's West End to house retired Boston archdiocesan priests. Until that time, priests had simply stayed in assignments despite the infirmities of age. Regina Cleri was founded not only to provide housing but a community of fellowship, prayer, and support while maintaining good health in "the golden years" of priests' lives. Over the past five decades, hundreds of senior priests have called Regina Cleri their home thanks to funding and support from the Clergy Health and Retirement Trust.

Thank God for Regina Cleri.

This prayer would rise in my heart every day during the three months I lived in that singularly graced community. Building on its mission to care for priests, Regina Cleri offers respite care for active priests recovering from surgery or regaining mobility after serious accidents. In December 2014, I had to undergo major cardiac surgery at nearby Massachusetts General Hospital and my brother priests had urged me to go to Regina Cleri for my recuperation. After my operation, I arrived in a wheelchair to what is known as the "infirmary floor" -- my home for the next 12 weeks.

Never in my life have I experienced the level of care I received at Regina Cleri. In the earliest days, meals arrived at my room, and nurses and aides popped in and out "just to check in." But the greatest blessing was yet to come. After a few days, I was able to join the community for daily Mass and then for meals, which were fantastic thanks to the dining staff.

It's hard to adequately describe the spirit of support and mutual care the 56 priests of Regina Cleri showed for me and for one another. Every resident finds a daily routine suitable for his age and physical capacity -- daily walks in the city are a regular discipline for some as well as a weekly exercise class. Movies, discussion groups, group excursions for lunch, sightseeing, social hours, birthday observances, and ice cream socials are part of life at the Regina Cleri residence.

Regina Cleri is, before all else, a community of priests centered on the celebration of the Eucharist. There is a daily concelebrated Mass, adoration of the Blessed Sacrament, an afternoon rosary, and evening benediction. Some of the priests pray morning and evening prayer with the wonderful Sister Disciples of the Divine Master who have served and cared for the priests for several decades at Regina Cleri.

Thank God for Regina Cleri.

Kudos to its director, Stephen Gust, and to his remarkably dedicated and caring staff. We should never forget that Regina Cleri's existence and life are made possible by the support of the Clergy Health and Retirement Trust which largely depends on parish collections -- especially the upcoming Easter collection.

In addition to Regina Cleri, the Clergy Health and Retirement Trust supports the health and retirement needs of all our 628 priests who have given their lives in service to our parishes and institutions in the Archdiocese of Boston.

May you have a blessed Easter and many thanks in advance for your generosity to our Easter collection from all our priests.

MSGR. SHEEHAN SERVES AS PAROCHIAL VICAR TO THE NEWTON COLLABORATIVE OF OUR LADY HELP OF CHRISTIANS AND SACRED HEART PARISHES. HE IS VICE CHAIR OF THE CLERGY HEALTH AND RETIREMENT TRUST BOARD OF TRUSTEES.
Recent articles in the Spirituality section