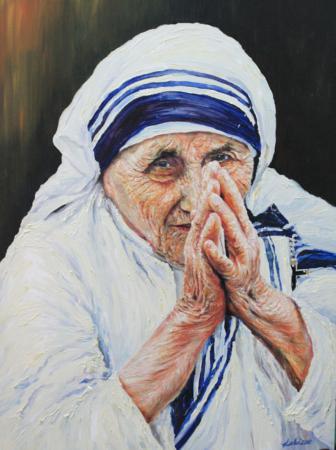 Blessed Mother Teresa used to pray the Memorare constantly. She also turned to it in what she termed an "Express Novena," something she taught to her Missionaries of Charity and they conveyed to me.
The month of May, which is traditionally dedicated to Mary, is a fitting time to look at Marian practices in a plan of life designed to help us unite our entire day and life to God.

Last week we examined the greatest of all Marian devotions, the Rosary. We've already looked at the Angelus and the Regina Caeli. Today we can turn to one of the simplest, popularized anew by Blessed Mother Teresa of Calcutta.

The prayer is known by its first word in Latin -- "Memorare" for "Remember" -- and helps us to focus with great filial trust on Mary's loving intercession:

"Remember, O most gracious Virgin Mary," we pray, "that never was it known that anyone who fled to your protection, implored your help, or sought your intercession, was left unaided. Inspired by this confidence, I fly to you, O Virgin of virgins, my Mother. To you do I come, before you I stand, sinful and sorrowful. O Mother of the Word Incarnate, despise not my petitions, but in your mercy hear and answer me!"

The prayer goes back, in a much more extended form, to at least the early 1500s. Later that century, St. Francis de Sales tells us that he repeatedly prayed a simplified and truncated form of it during a severe spiritual crisis in his youth.

It was a prison chaplain, Fr. Claude Bernard, who universalized it in the early 1600s. He had been near death as a young man and, having been taught this prayer by his father, recited it and was healed. Eventually he grasped that in gratitude and charity he should teach it to, and pray it for, the criminals he was serving on death row. He began to see dramatic conversions and so he began to share it with other prisoners as well. Eventually he printed an astonishing 200,000 copies of it in various languages and started to distribute it. It quickly spread around the world and became so popular that Blessed Pope Pius IX attached a special indulgence to it and included it in a Vatican approved collection of prayers (the Raccolta) in 1846.

The Memorare is my preferred prayer whenever a need comes up for which people ask me to pray with urgency. When I get the news, for example, that someone has just been in a car accident, or is about to go in for emergency surgery, or can't be found, or is about to die, it's the prayer to which I turn. I recite it immediately whenever anyone asks me to pray with them or for a loved one in need. I pray it whenever I have a pastoral need that cannot be solved with human means. I have also prayed it on those thankfully infrequent occasions when I've been pulled over for driving too fast, asking Mary to fill the state trooper's heart with mercy. And she's never left me unaided!

In one association of priests to which I belong, we have the tradition of praying an extra Memorare each day for the member most in need that day of prayers. I've always loved that spiritual solidarity and I anticipate on some days I've been the recipient of all of that Marian recourse. Out of that tradition, I've begun to pray a Memorare as well for my family member or friend most in need that day as well as for the parishioner Mary knows is most in distress.

Blessed Mother Teresa used to pray the Memorare constantly. She also turned to it in what she termed an "Express Novena," something she taught to her Missionaries of Charity and they conveyed to me. Whenever a huge need came up, like a child dying, or a sister needing a visa immediately, or a cease fire having to be declared in a war zone in which she was caring for the wounded, instead of nine days of prayer -- the traditional novena, which would take too long -- she would devoutly pray ten consecutive Memorares on the spot, the first nine for the novena, and the tenth confidently to thank our Lady for having successfully interceded for the favor to be received.

I've been with the Missionaries of Charity as they've prayed such Express Novenas successfully for torrential downpours to cease so that kids could come to a summer program, for donors to arrive with food when more poor people than expected showed up hungry, and for permission to be granted when unheard of exceptions were being requested.

Many others have been turning to the Memorare in preserving prayer for big intentions.

The leader of Relevant Radio, Fr. Rocky Hoffman has started a Memorare Meter at the network for the end to abortion in America. As of the beginning of this week, listeners had prayed 2.71 million Memorares.

Likewise President Steve Minnis of Benedictine College in Atchison, Kansas has started a Memorare Army, in which the students, faculty, alumni and others commit themselves to pray together in union when important needs arise. Right now, for example, the Army has 3,000 members of the Church militant who have committed to praying 1,000 Memorares each for religious freedom in our country. That's 3 million Memorares. Many more spiritual soldiers are being enlisted.

Kansas City Archbishop Joseph Naumann penned a column saying that back in 2010, when he was heading to Benedictine College to bless its new Marian Grotto, the forecast was for uninterrupted downpours. As he was driving through pounding rain to the campus, the Archbishop called President Minnis to ask him to get the Memorare Army praying for good weather. The President rallied the troops ... and there was sunshine for the dedication. An air traffic controller afterward said that the severe storm had steadily progressed across Kansas, only to stall inexplicably outside of Atchison for 5 hours.

Memorares work.

A typical plan of life normally features at least one Memorare a day, but as inevitable needs arise more can be prayed. As we run in recourse to Mary, like children to their loving mother, we do so with the trust that she never ceases to hear and answer us, taking our petition with a strong maternal recommendation to the Word Incarnate. Such filial confidence is part of any Catholic's plan of life.
Father Roger J. Landry is a priest of the Diocese of Fall River, Massachusetts, who works for the Holy See's Permanent Observer Mission to the United Nations.
Recent articles in the Faith & Family section