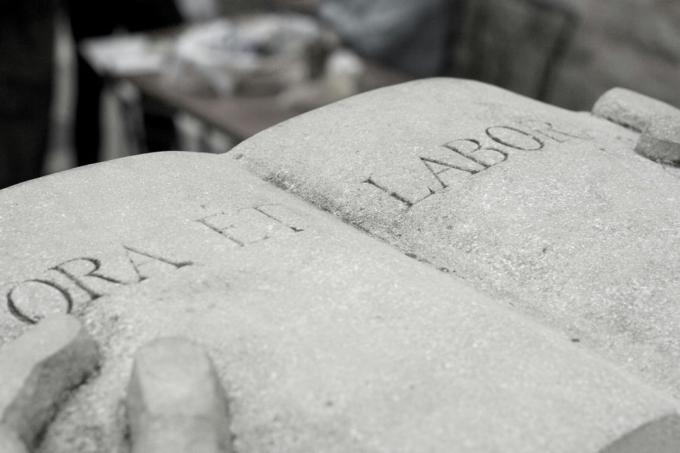 Many today are confused about how important work is for our growth as disciples and apostles. Some behave as if work is merely a necessary evil to endure until we've earned enough dough or arrived at the magical age when we can spend the rest of life on the golf course or at the pool.
On July 11 we celebrated the Feast of St. Benedict, which annually provides an occasion for the Church to focus on the Benedictine principle of ora et labora, "prayer and work," in the path of holiness taken by so many Benedictine monks, nuns and oblates.

Within the context of our series on the Plan of Life, focused on the path to holiness for all of us, the crucial significance of ora is rather obvious. The pivotal importance of labora is not so straightforward. But insofar as most us will spend at least 40 hours a week, from the age of five through 65 or older, doing some form of intellectual, manual or interpersonal work, it's key that we learn how to unite our work to God.

Many today are confused about how important work is for our growth as disciples and apostles. Some behave as if work is merely a necessary evil to endure until we've earned enough dough or arrived at the magical age when we can spend the rest of life on the golf course or at the pool. Others fail to see the crisis of unemployment not just an urgent economic problem, but a profoundly dehumanizing one that can gradually deprive millions of a sense of moral worth through feeling useless. And sometimes we can see a combination of both of these situations when those who can work refuse, choosing instead to take advantage of the generosity of family members or other workers in society so that they can basically remain on perpetual vacation.

But the Lord who gives us the vocation to be saints also gives us the vocation to work and to cooperate with him in the perfection of ourselves and of all Creation. Before the Fall, he commanded us to "increase and multiply," "fill the earth and subdue it," and "have dominion" over all living creatures. After Original Sin, this three-fold work would become arduous: there would be pangs in childbirth, working the fields would become toilsome and sweaty, and animals would often rebel. But the vocation to work remained and would now become a means of our redemption, helping us to overcome our selfishness by laboring for others, for the family we're supporting, and for the persons receiving the fruits of our efforts.

There's no greater illustration of the importance of work in the pursuit of holiness than Jesus' own example. Jesus spent the vast majority of his saving life as a construction worker -- the Greek word tekton (Mk 6:3) means much more than "carpenter" -- in St. Joseph workshop. He built houses, made tables and wheels and produced lots of other needed items. Jesus entered the world of human work not as a "cover" until his "real work" of preaching, miracles, and leading us through the new and eternal Passover would begin, but precisely to redeem noble human work in his process of redeeming the human person. The early saints taught that whatever Jesus didn't assume he didn't redeem, and he assumed our human work in order that we might be able through our work to participate in the work of redemption.

So great is the importance of human work in God's saving plan that Jesus could not stop using it as an analogy for the kingdom he had come to establish. Jesus praises the work of shepherds, farmers, doctors, sowers, householders, servants, stewards, merchants, laborers, soldiers, cooks, tax collectors and scholars. He compares the work of evangelization to the manual work of harvesters and fishermen. He calls us as his disciples to be "laborers" in his vineyard.

Most of us are called to live out our Christian lives not in monasteries, convents and rectories but in the family and the workplace, through "increasing and multiplying," "subduing" and "having dominion" in a holy way. One's desk, sewing machine, keyboard, stove, classroom, operating room, workbench, or boat is meant to become an altar that sanctifies not only what is given to God in work, but the giver as well. Honest work done well in any of those settings is an opportunity for a triple sanctification: the sanctification of the work itself by offering it to God like the sacrifice of Abel; the sanctification of the worker doing the work virtuously; and the sanctification of others through contact with one's coworkers, clients, customers and vendors.

Work is not principally about earning a paycheck, but about serving and loving God and others. It's meant not only to produce something but to perfect someone, by bringing out the various hidden talents and potentials God has implanted in the worker, which are far greater than the hidden potentials God has inscribed in things. The interior effect of work is even more important than its external outcome; St. Gregory of Nyssa would even say that through our work we become our own parents, through forming our character through work well or shoddily done.

There are various tips to sanctifying work. The first is to try to pray it, doing it for God and consciously with God, beginning each hour with an aspiration invoking God's help and consecrating the hour to him as an oblation. The second is to offer different hours of work for specific people who need prayer; this really helps us to do work better. The third is to imagine Jesus, or St. Joseph, or the Blessed Mother or a favorite saint doing what we need to do, and work as we imagine they would do it. The last is to do it with all the love and human excellence we can for those who will benefit from the fruits of our labor, whoever they may be.

God gave us the vocation to work because through labor we can become more and more like him, who himself worked in creation and, as Jesus would later say, "works still" (Jn 5:17). And each day a diligent construction worker from Nazareth, who came to save us and build us up in holiness, waves to us with calloused hands and says, "Come, follow me!" and "Let's get to work."
Father Roger J. Landry is a priest of the Diocese of Fall River, Massachusetts, who works for the Holy See's Permanent Observer Mission to the United Nations.
Recent articles in the Faith & Family section