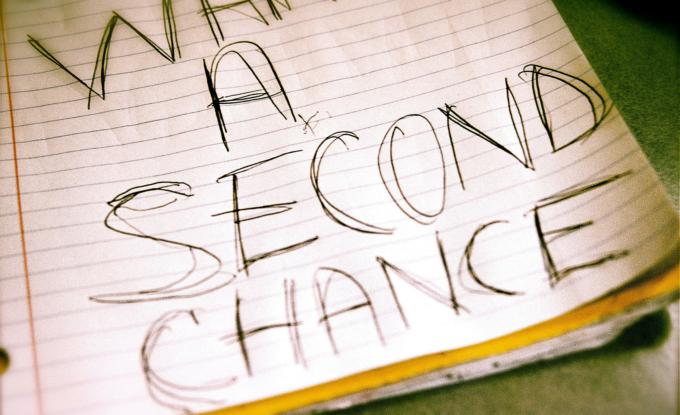 While my patience wears thin and out, God's does not.
Second chances. We all need them. And even if we don't want to admit it, we need them more than just once. I don't know exactly why it's so hard to get through even a single day without messing up something. Honestly, sometimes it seems that the harder I try, the worse I do. I expect that by the time I die, the number of second chances I'll need will be well into six figures.

The amazing thing, though, is that the God we believe in believes in second chances even more than we do. So much so, in fact, that every one of us can count on him to give us as many second chances as we need. Plus one.

There are times I think I'm doing better. Those usually come right before I take a particularly hard fall. But I've also known seasons of extended slumps, when it feels as if all I can do is falter and sin. When I'm stuck in a cycle like that, it can seem as if every new day is just another occasion for failure.

Ironically, the prophesy of Jeremiah in the Book of Lamentations teaches us otherwise. "The steadfast love of the Lord never ceases, his mercies never come to an end; they are new every morning; great is your faithfulness" (Lam 3:22-23).

Imagine! While my patience wears thin and out, God's does not. I can get irritated and annoyed, disappointed and let down. God does not. Even when I am sick and tired of myself, the Lord does not lose his love or affection for me. No matter how many times we fall, God is ready and waiting to help us up to begin again. Day after day after day, his mercy never ends. It is never exhausted or exhaustible. As certain as the morning that follows each night: God is faithful -- even, and especially, when we are not.

The Almighty Holy One could squash every one of us poor sinners like a bug. The fact that he chose to hang on a cross instead shows us what it means to follow him. God's mercy should inspire us to be more merciful both to ourselves and to one another.

Still, it is very tempting to focus our discipleship on personal spiritual development. We often tell ourselves that God wants more from us: more piety and prayer, more excellence and virtue, more knowledge and spiritual prowess. Those are the kinds of things we tend to label as holiness. But I think that may cause us to miss something deeper.

God doesn't really want more from us. He wants more for us, much more than we deserve. That's what mercy is. And if we're going to receive it ourselves, we've got to get comfortable with seeing others receive it too. In fact, we ought to be inspired to give it.

Every person I meet today is just another sinner like me. She is no better or worse than I am; he doesn't deserve God's mercy any more or less than I do. Whether or not any of us asks God for mercy, all of us will receive it. We may not be humble enough to admit it, but every one of us relies completely on God's willingness to give us his mercy freely -- not just once or twice, but every day of our lives.

And that is how God sees each new day. Every morning brings a fresh outpouring of mercy. Another day is just another second chance, and there is always one more.

JAYMIE STUART WOLFE IS A WIFE AND MOTHER OF EIGHT CHILDREN, AND A DISCIPLE OF THE SPIRITUALITY OF ST. FRANCIS DE SALES. SHE IS AN INSPIRATIONAL AUTHOR, SPEAKER, MUSICIAN AND SERVES AS A CHILDREN'S EDITOR AT PAULINE BOOKS AND MEDIA.
Jaymie Stuart Wolfe is a Catholic convert, wife, and mother of eight. Inspired by the spirituality of St. Francis de Sales, she is an author, speaker, and musician, and serves as a senior editor at Ave Maria Press. Find Jaymie on Facebook or follow her on Twitter @YouFeedThem.
Recent articles in the Faith & Family section