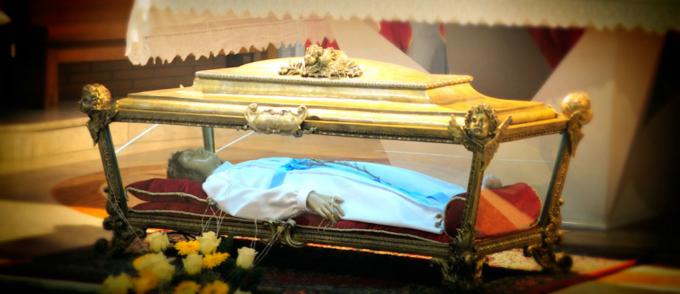 Another visitor will be coming who in an even humbler way may help people even more than the Pope of Mercy to learn how to experience and share God's forgiveness, someone who will help us to focus more on chastity, the foundational virtue for a loving family, than anything Pope Francis may say along his travels.
American Catholics, especially in the Northeastern United States, are all getting excited about the visit of Pope Francis -- and justifiably so. It's his first trip ever to our country. He'll celebrate the first canonization ever in the United States. He'll be the first Pope ever to address a joint session of Congress. He'll celebrate Mass with more than a million people in Philadelphia at the World Meeting of Families. And he'll be giving what might be the objectively the most significant address in the history of the papacy, at the United Nations, before the leaders of more than 190 nations in the world and all the peoples they represent, perhaps the most noteworthy audience the Pope has addressed since Christ built his Church on Peter. It will be a momentous visit and we ought all to be praying that there will be many profound conversions as a result of it, beginning with our own.

But Pope Francis may not be the most significant visitor coming from Italy this September.

Another visitor will be coming who in an even humbler way may help people even more than the Pope of Mercy to learn how to experience and share God's forgiveness, someone who will help us to focus more on chastity, the foundational virtue for a loving family, than anything Pope Francis may say along his travels.

And you won't need to ticket to see her, or connections to get up close to her, or trouble in spending as much time praying with her as you like.

She's Saint Maria Goretti and she -- or more specifically, the great part of her relics -- will be coming to the United States as a result of the hard work of the Treasures of the Church apostolate, in collaboration with her shrine in Nettuno and the Congregation for the Causes of Saints in the Vatican.

She'll arrive in New Jersey on September 21, the day before Pope Francis. She'll then go to prepare the way for the Pope in Philadelphia. Then she'll come to New York City where I'll have a chance to pray with her at St. Patrick's Cathedral September 28-29. She'll be at the Cathedral of the Holy Cross in Boston on October 5. All the dates of her itinerary can be found along with much more information at mariagoretti.com.

During my years in Seminary in Rome, I would often make a pilgrimage to Nettuno to pray at her tomb and since my return I have often led pilgrimages to her shrine during trips to Italy. It's never ceased to amaze me how great the impact this simple little saint -- who gave her life for Christ at the age of our 11 year-old children, grandchildren, nieces, or sisters -- can have.

I would urge you to approach her visit as the truly special, once-in-a-lifetime event it is and to make plans with your family and friend to come to meet her. I would especially urge you to lead young people in your families and parishes on pilgrimage to her.

Maria was born into poverty in 1891. Eleven years later, she was murdered in Ferriere di Conca, about 40 miles south of Rome, by an 18 year-old, Alessandro Serenelli, who had been unsuccessfully trying to seduce and rape her for weeks, threatening her with a ten-inch dagger. One day while she was baby-sitting her infant sister Teresa, Alessandro entered, waved the dagger, and threatened to kill her unless she slept with him. She refused to submit. He didn't take no for an answer. When he tried to rip off her clothes, she began to scream, "No! It is a sin! God does not want it!," and he began to choke her. Failing to silence her, he began to strike her with the dagger, stabbing her eleven times, and three times more as she tried to escape to the door. Eventually the cries of little Teresa drew the attention both of Alessandro's father and Maria's mother, who discovered Maria in a pool of blood. She was rushed to the hospital, where the doctors tried to save her life, but their efforts were futile. The wounds had pierced her lungs, heart and diaphragm. Surgeons were amazed she was still alive.

Maria awakened during the surgery, done without anesthesia. Through tremendous pain, she told everyone what had happened and how and why she had long feared Alessandro. When those present asked her to pray for them in paradise, she realized that she was about to die. In the presence of the doctors and her family, she expressed her forgiveness for her murderer and said that she would pray for him one day to join her in heaven. She died the following day, gazing at an image of the Queen of Heaven.

Alessandro was sentenced to 30 years in prison. For about six years, he was hardened and unrepentant, physically attacking priests who had come to visit. Then one night, he had a dream in which Maria appeared gathering lilies and offering them to him. When they were placed in his hands, they melted. The dream had an enormous impact on him, convincing him that Maria was in fact praying for his conversion, that he, too, one day come to what lilies symbolize, the Resurrection. He turned his life around and began to pray each day to Maria, referring to her as "my little saint." He became so exemplary a prisoner that he was released from prison three years early.

His first action upon being released was to visit Maria's mother to beg for her forgiveness. Assunta Goretti said that if Maria had forgiven him on her deathbed, then she could do no less. The next day they attended Mass together, receiving Holy Communion side-by-side. In the midst of a stunned congregation, he acknowledged his sin, and asked for God's forgiveness and theirs. He would spend the rest of his life doing penance as a gardener at a Capuchin monastery and was present with Assunta, many of those parishioners and others, when Pope Pius XII canonized Maria Goretti in 1950.

This great martyr of chastity and model of forgiveness is coming to visit us, to teach us the lessons she learned at such a young age, lessons that never fade in importance.

May this visit help her to become for us what she was for Alessandro: "our little saint."
Father Roger J. Landry is a priest of the Diocese of Fall River, Massachusetts, who works for the Holy See's Permanent Observer Mission to the United Nations.
Recent articles in the Faith & Family section