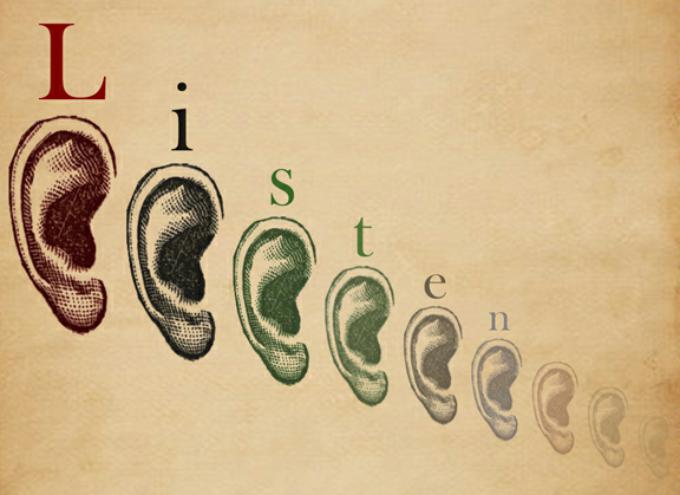 For us, Pope Francis' visit will be full of challenge as well as joy. For while we may be convinced that we are listening, many of us will only hear the parts of the Gospel we've already accepted.
The Gospel from a couple of weeks ago is ringing in my ears. That's particularly appropriate because it was Mark's account of Jesus healing a deaf man with a speech impediment. It's a great story to be sure, but not a passage that has stood out to me in any way or one I've found especially inspiring.

This time, though, when I heard this Scripture read I noticed something I hadn't paid attention to before. In order to restore the deaf man's hearing, Jesus does something rather odd and counterintuitive. He puts his fingers in the man's ears.

Suddenly, my mind was flooded with memories of our kids when they were young. At one time or another, I think every one of them put their fingers into their own ears. They'd do it when they suspected they were not going to like the answer they were about to get. Often accompanied by humming, the gesture clearly communicated, (usually to an adult or older sibling), the child's absolute refusal to listen. If I think about it long enough, I remember doing it myself.

It seems to me that there's a cultural epidemic of refusing to listen to what we don't feel like hearing. When we don't want to hear it, we simply block it out. With fingers placed firmly in our ears, we hum -- loudly enough to excuse ourselves from responsibility. We tell ourselves and each other that we won't be held accountable for what we cannot hear.

And what we don't want to hear could be just about anything, or anyone: the Truth for example. Far too many of us have become comfortable with choosing to be deaf to anything that could come between us and our easy chairs. That might mean silencing the needs of others. But it may also mean drowning out the voice of conscience that speaks quietly in our hearts.

Refusing to listen to some things, however, doesn't mean we're not listening to anything at all. Frankly, that's another part of the problem. The music of our times is blaring. And, at the risk of sounding much older than I am, there isn't a lot of it I'd not even call "music." But whether you find yourself attracted or repulsed by them, the incessant messages of our times are difficult to tune out. They are the voices of egotism, consumerism, sensuality, and utilitarianism.

When Pope Francis lands in the United States next week, the message he brings will be spoken amidst that barrage of noise. Some of us may want him to make himself loud or insistent enough to be heard by non-believers. Others will hope that his visit will launch a cultural crusade in which the line between the good guys and the bad guys is as clear as the line between "us" and "them."

In the meantime, our Holy Father's words are likely to up the ante those who already believe -- those of us who sincerely try to live our faith. For us, Pope Francis' visit will be full of challenge as well as joy. For while we may be convinced that we are listening, many of us will only hear the parts of the Gospel we've already accepted. What of all the rest?

I know very well what I'd like to hear from the Holy Father. What I don't know is what I will hear from him in Washington, New York, and Philadelphia. I can only pray for the grace to take my fingers out of my own ears, and let Jesus open them -- not just to what I want to hear, but to all he wants to say.

JAYMIE STUART WOLFE IS A WIFE AND MOTHER OF EIGHT CHILDREN, AND A DISCIPLE OF THE SPIRITUALITY OF ST. FRANCIS DE SALES. SHE IS THE AUTHOR OF "ADOPTION: ROOM FOR ONE MORE?", A SPEAKER, MUSICIAN AND SERVES AS A CHILDREN'S EDITOR AT PAULINE BOOKS AND MEDIA. FOLLOW HER ON TWITTER @YOUFEEDTHEM.
Jaymie Stuart Wolfe is a Catholic convert, wife, and mother of eight. Inspired by the spirituality of St. Francis de Sales, she is an author, speaker, and musician, and serves as a senior editor at Ave Maria Press. Find Jaymie on Facebook or follow her on Twitter @YouFeedThem.
Recent articles in the Faith & Family section