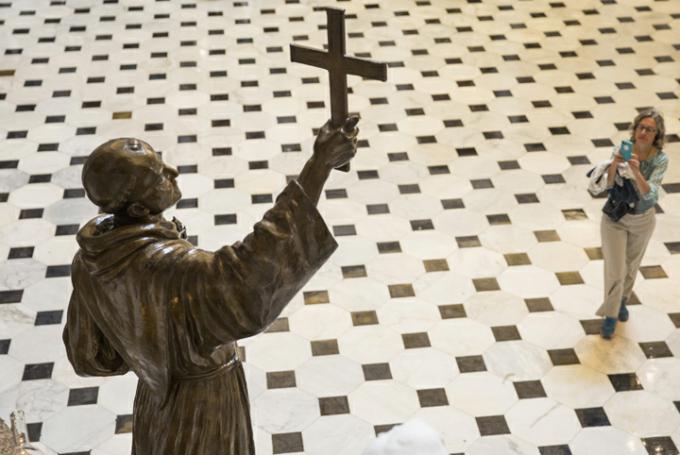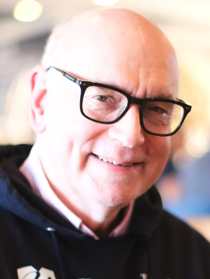 When Pope Francis formally declared Junipero Serra to be a saint on Sept. 23 at Washington, D.C.'s Basilica, the National Shrine of the Immaculate Conception, the first pope to be called Francis chalked up at least three other significant firsts for the Catholic Church in the United States: It was the first time a saint was canonized in this country, the first time a Hispanic-American was canonized for the United States, and the first time Pope Francis ever celebrated Mass here.

Ever since Pope Alexander III in 1170 decreed that no one could be venerated as a saint in the Catholic Church without the approval of the pope, papal canonization has been a prerequisite to the public recognition of someone's holiness. Usually, canonizations occur in Rome, for obvious reasons. And, indeed, all the previous canonizations of Americans have taken place in Rome.

Vatican II stressed that everyone is called to holiness, no matter who you are or where you're from. About that time, 50 years ago, the popes began to travel in journeys around the world, notably Blessed Paul VI and St. John Paul II and their successors. Thus the possibility arose of canonizations occurring in places other than St. Peter's, bringing the possibility of canonization home to local audiences. St. Junipero's was the first to occur in the United States.

A logical choice, Junipero Serra was the Father and Apostle of California. For 15 years between 1769 and 1784, the Franciscan friar worked tirelessly to establish a string of missions from San Diego to San Francisco, instructing and baptizing thousands of Native Americans. He lived, died, and is buried at Mission San Carlos in Carmel that he founded.

The second first is that St. Junipero is the first Hispanic-American to be canonized from here. It also seems entirely appropriate that our first Hispanic American pope should canonize our first U.S. Hispanic American saint, and that the Mass of Canonization should be celebrated principally in Spanish.

Not only does this highlight the true ethnic and cultural diversity of the Catholic Church and the universal call to holiness, but it also fills a historic gap. For it was the Spanish that first brought the gospel to the New World, starting with the Spanish expedition led by Christopher Columbus. There were Spanish missions in Florida, for example, well before the first English-speaking Catholics landed in Maryland in 1634. And while the heroic evangelization of America by French Jesuits was honored by the official recognition of their martyrdom and raising their Native American convert Kateri Tekakwitha to the altars, their mission's center of gravity was actually Canada, where French is still the official language of Quebec.

Father Junipero's canonization looks south to Mexico, where he spent his 15 years as a missionary prior to coming to Alta California. Originally from the beautiful island of Mallorca, Spain, he left a prestigious university professorship to embrace a life of hardship on the frontier as a missionary to the Native Americans. He had a great devotion to our Lady of Guadalupe.

St. Junipero walked thousands of miles with a badly injured and infected leg, in the service of souls. As Pope Francis said in his homily, "He was the embodiment of a Church which goes forth, a Church which sets out to bring everywhere the reconciling tenderness of God."

Hispanic Americans are an increasing portion of the Catholic Church in this country, and it is about time that one of their own was formally recognized as a saint. Also, up until now, the West Coast has not been represented among our saints: all have lived and worked either in the East Coast or the Midwest or in Hawaii. California is now not just the home of Hollywood, it's also the home of a saint. Indeed, it was founded by a saint.

The third first is that this was Pope Francis' first Mass celebrated in the United States -- ever. He had never before visited this country, being somewhat allergic to "airport bishops." The canonization was inserted into the sacrifice of the Mass, the re-presentation of Christ's sacrifice on Calvary for the redemption of humanity. People become saints by virtue of Christ's love for them and their successful attempt, with his grace, to imitate him. Canonization is the Church's recognition that someone has successfully followed Christ to heaven. Now that we have had our first American canonization, may there be many more!

One final thought: Often, media focus on St. Junipero Serra has centered on the criticism that some Native Americans make of the entire Spanish colonization effort, which was sometimes violent and cruel. Since Saint Junipero and his missions were a part of that colonial saga, there is a kind of broad-brush guilt by association. I think that careful focus on Native Americans and their treatment is fair, and something that the newly minted saint would probably look favorably upon. Much of his story was concerned with fighting the excesses of the Spanish military and protecting the Native Americans from rape and murder and other forms of exploitation. Even saints can make mistakes, of course, and St. Junipero authorized the practice of corporal punishment. Native American activists could not devise a better platform than this canonization to be heard on their grievances.

But in general, the popular historical narrative in the United States has not been Hispanic versus Indian. It has been Anglo versus everyone else. In that regard, I think, the Spanish approach of conversion and intermarriage with the Natives compares favorably with the dominant American narrative of exiling and exterminating Native Americans. In California, for instance, it was the Gold Rush and statehood that entailed the virtual end of Native American culture, rather than the Spanish missions. In that regard, the canonization of Junipero Serra represents a significant blow to the Black Legend of Spanish Catholicism. St. Junipero, pray for us!

Dwight G. Duncan is a professor of constitutional law at Umass School of Law Dartmouth.
Dwight G. Duncan is professor at UMass School of Law Dartmouth. He holds degrees in both civil and canon law.
Recent articles in the Culture & Events section