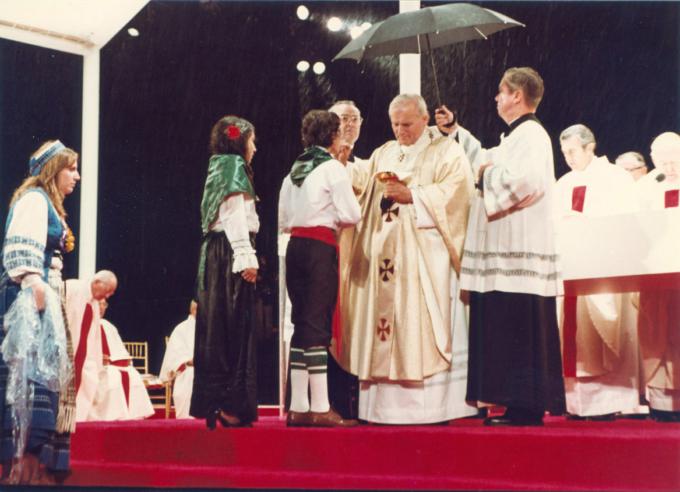 In the spirit of Pope Francis' recent visit to the United States, let us remember the last time the Roman Pontiff visited the City of Boston.

In fact, it was this month, 36 years ago, that Pope John Paul II arrived here to begin his first tour of the United States. On Oct. 1, 1979, his plane, the Shepherd One, touched down at Logan International Airport to start his much anticipated visit. After being welcomed at the airport by Mrs. Rosalyn Carter, wife of President Jimmy Carter, the Holy Father departed the airport by way of open-top limousine, passing throngs of people gathered along his route to the Cathedral of the Holy Cross. After stopping at the cathedral, he continued to the Boston Common where he held a rain-soaked Mass for an estimated crowd of 100,000, no doubt the highlight of his stay here.

The Holy Father addressed the crowd, remarking that he was "deeply pleased to be here ... on Boston Common. In you, I greet the City of Boston and all its people, as well as the Commonwealth of Massachusetts and all its civil authorities. With special warmth, I greet here Cardinal Medeiros and the whole Archdiocese of Boston. A special remembrance links me with the city, for three years ago, at the invitation of its Divinity School, I had the opportunity to speak at the University of Harvard."

His homily, directed toward the youth of the world, warned that "faced with problems and disappointments, many people will try to escape from their responsibility" to follow Jesus's example, exclaiming "it is not difficult to see how today's world, despite its beauty and grandeur, despite the conquest and technology, despite the refined and abundant material goods that it offers, is yearning for more truth, for more love, for more joy." His words, relevant to "today's world" in 1979, in many ways are timeless, and remain relevant still in 2015.

The following day, he continued his week-long visit to the United States by stopping in New York, where he would address the United Nations and hold Mass at Yankee Stadium. He then followed with stops in Philadelphia, Des Moines, Chicago, and, finally, Washington, D.C. to meet President Jimmy Carter.

While Pope Francis did not visit Boston during his recent tour of the United States, many local residents went on a pilgrimage to see him in Washington, New York, or Philadelphia. For those who could not make the journey, television and live streaming provided live updates throughout the day. In either case, the Holy Father's recent visit certainly gave us a glimpse into excitement and importance surrounding the events which took place 36 years ago this month.

THOMAS LESTER IS THE ARCHIVIST OF THE ARCHDIOCESE OF BOSTON.
Recent articles in the In Depth section