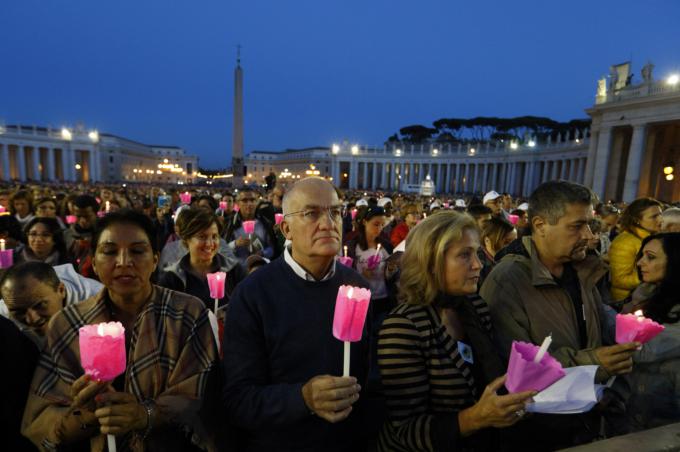 What we are seeing, I think, is the continuation of a deep struggle to answer what may be the Big Question for the Church in our times: How can the ideals of holiness coexist with genuine mercy?
I don't know about anyone else, but I'm getting a bit impatient with all the "news" surrounding the Synod on the Family. Why? Because almost all of it focuses on disagreements. Frankly, the pressure to take sides on hot-button issues is building. That isn't just wrongheaded; it's wronghearted. The word synod means walking together. Regardless of the path we are on, that is what we are called to do.

Yes, there are some pretty big things at stake. What the Church has to say about family life at this time in history -- and how we choose to say it -- is important. What flows from this synod will most definitely affect those who are trying their best to live their vocation to family life according to their Catholic faith. But I also believe that what's going on in Rome right now will have impact on families who oppose our ideals, see them as irrelevant, or have had no exposure to them at all.

One thing is clear: there are a lot of people with a lot of agendas. This reality makes the synod appear to be a rancorous and chaotic circus for ideological competitors. That, however, is precisely what it isn't.

What we are seeing, I think, is the continuation of a deep struggle to answer what may be the Big Question for the Church in our times: How can the ideals of holiness coexist with genuine mercy? That is, how can the Church -- both institutional and domestic -- reach for sanctity without becoming sanctimonious; strive for righteousness without being self-righteous; clearly discern actions without judging actors? The answer lies in being able to keep hold of a few key distinctions.

The first thing we ought to keep in mind is that God has, in fact, called everyone into relationship with him. That means we've got to be willing to open the doors of our parishes to those we don't like, don't approve of, and don't feel comfortable with. In other words, our churches should take a cue from our families and learn how to live in a way that says, "All Sinners Welcome."

On the other hand, we cannot allow a radical openness to all people to be turned into a de facto stamp of approval for all actions. The familiar as-long-as-you-live-under-my-roof-you'll-live-by-my-rules perspective is useful. It doesn't apply, however, to those who aren't living under your roof. For this reason it may not be wise or effective to make it our primary approach to those we'd like bring back home, or embrace as part of our family for the first time.

Second, Pope Francis has reminded us that the Church is a "field hospital for sinners." But that's not the same as suggesting that we are or should be a hothouse for sinning. The purpose of every hospital is to relieve suffering and facilitate recovery. A hospital in which one person's disease spreads to others cannot remain open.

Third, holding ideals is a tricky business. It becomes a bit less tricky, though, if we live with the awareness that we have all fallen short. There is no such thing as a perfect parent, perfect child, or perfect family. Those who attempt to be perfect often end up bitter, or fearfully crouching behind an image of what they desperately want others to think of them.

Still, we also need to keep ourselves from conclusion that our failures are an indication that the ideal is either wrong or unattainable. Grace is, after all, transformative. It is also stronger than dysfunction.

I know that there are a whole lot of nervous Catholics out there. I'd suggest that if we took the long view and put the work of this Synod into perspective, we'd see the level of tension (and our bloodpressures) come down. God keeps his word, and we are to pray, but not worry.

In 2,000 years, the Church has struggled but she has not failed. Through persecutions, plagues, heresies, invasions, corruption, reforms, revolutions, anti-popes, and wars, we have somehow managed to defend and preserve the faith that was handed down to us by the Apostles. Despite what may appear to be a long list of irreconcilable differences, we really can exhale and breathe again. Today as always, there is room in the Church for most of what people stand for -- just not what they fall for.

JAYMIE STUART WOLFE IS A WIFE AND MOTHER OF EIGHT CHILDREN, AND A DISCIPLE OF THE SPIRITUALITY OF ST. FRANCIS DE SALES. SHE IS THE AUTHOR OF "ADOPTION: ROOM FOR ONE MORE?", A SPEAKER, MUSICIAN AND SERVES AS A CHILDREN'S EDITOR AT PAULINE BOOKS AND MEDIA. FOLLOW HER ON TWITTER @YOUFEEDTHEM.
Jaymie Stuart Wolfe is a Catholic convert, wife, and mother of eight. Inspired by the spirituality of St. Francis de Sales, she is an author, speaker, and musician, and serves as a senior editor at Ave Maria Press. Find Jaymie on Facebook or follow her on Twitter @YouFeedThem.
Recent articles in the Faith & Family section