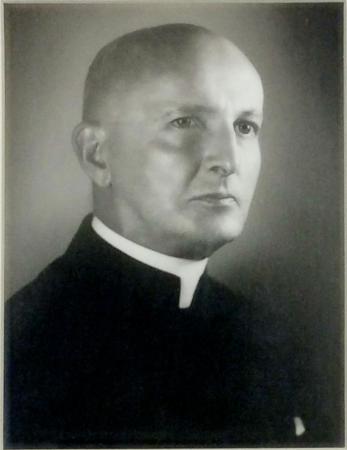 ... despite his success as a historian, his calling to serve the Catholic Church proved preeminent.
Msgr. Robert H. Lord was born in Illinois on July 20, 1885, to Dr. Frank Howard and Julia Marie (Custin) Lord, both Episcopalians. In 1906, he received a bachelor's degree from Harvard College, and four years later, in 1910, received a PH.D. from the Universities of Vienna, Berlin, and Moscow. Following the completion of his graduate studies, he returned to Massachusetts as an instructor of history at Harvard College. He would later be elevated to assistant professor in 1915, the same year he published his first major work titled "The Second Partition of Poland."

At the conclusion of World War I, President Woodrow Wilson personally selected him as an advisor of the American Peace Commission as a member of the Inter-Allied Commission on Polish Affairs at the Paris Peace Conference of 1919. Following the conference, Lord resigned from diplomatic work, and later co-authored "Some Problems of the Peace Conference" (1920), which was based on a series of lectures he delivered at the Lowell Institute.

It is noted that "Lord's friendly attitude toward Poland and his contribution to the Polish cause during the Paris Conference were well-known in Warsaw." He was awarded with a membership to the Historical and Philosophical Section of the Polish Academy of Sciences, and granted an honorary PH.D. from the University of Lemberg, Poland.

Lord's inclination towards the Catholic faith became evident when he converted and was subsequently baptized at the Cathedral of the Holy Cross on May 29, 1920. While some of his contemporaries believed he had wanted to become an Episcopalian minister, his friend, Msgr. Mark Keohane, suggested this was untrue, and that "he was always searching for the true religion." His search came to an end one year earlier, when one Sunday morning, while walking the Tuilleries Gardens in Paris, "like a bolt from the blue came a thought: the Catholic Church is the true Church -- then and there he decided to become a Catholic."

Two years after his conversion, back at Harvard College, he was promoted to associate professor in the history department and became president of the American Catholic Historical Association, "but teaching and research did not satisfy him." Lord continued to excel, completing "The Origins of the War of 1870" in 1923, and was elevated to chairman of the history department the following year, but, despite his success as a historian, his calling to serve the Catholic Church proved preeminent.

In 1926, he resigned from Harvard College to study at St. John's Seminary, Brighton, and was ordained a priest by Cardinal William O'Connell on April 5, 1929. He was briefly appointed assistant of St. Cecilia's parish, Boston, but shortly afterward was reassigned as a professor of history at the seminary, and later, in 1933, vice-rector.

Lord continued to write and publish during his time at the seminary, completing "Archibald Coolidge: Life and Letters" in 1932, and, in 1945, co-authored a three-volume "History of the Archdiocese of Boston." He was also a trustee of the Boston Public Library from 1936 to 1952.

Msgr. Lord passed away on May 22, 1954, at St. Elizabeth's Hospital. The following day, the Boston City Council resolved to acknowledge "with deep regret the loss to the people of Boston and New England of a great priest, a learned and profound author, an able and wise statesman, and a kind and generous gentleman."

Msgr. Lord's papers, currently held in the Archdiocesan Archive, consist of several cartons of notes on historical and religious topics, as well as personal correspondence, newspaper clippings, and other materials. In addition, there is correspondence and notes compiled by Msgr. Keohane, now retired, which contain biographical information about Msgr. Lord. The materials were processed by archive intern Sheila Rachels, and a complete collection guide is now available for those wishing to learn more about the fascinating life of this priest and historian.

THOMAS LESTER IS THE ARCHIVIST OF THE ARCHDIOCESE OF BOSTON.
Recent articles in the Culture & Events section