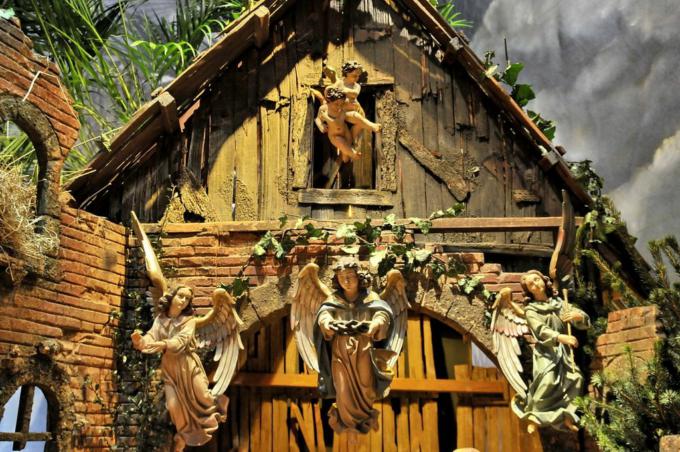 "'Hark!' The Herald Angels sing glory to the newborn King!," we'll bellow in our homes, Churches and Christmas parties.
Ecclesiastical holy years are meant to have an influence on everything the Church does. Therefore the extraordinary Jubilee of Mercy ought to make this year's celebration of Christmas different from every other Christmas. Looking at Christ's birth from the prism of God's mercy will greatly enhance our understanding and appreciation of the great event of Bethlehem.

At Christmas Vigil Masses, Catholics will hear St. Matthew's account of the Nativity in which the boy to be born of Mary is given two names: Emmanuel, from Isaiah's prophecy (Is 7:14) which means "God-with-us"; and Jesus, from the angel's instructions, which means "God saves" (Mt 1:21). These are not just random sounds or empty monikers, but point to the way God wants us to understand and relate to him in his Incarnation. God is with us in order to save us from our sins. He has come as the Lamb of God to take away the sins of the world. He has come, in short, on a life-saving mission of mercy.

As Pope Francis said on Monday, "Christmas is truly the feast of God's infinite mercy."

This is a reality of which we'll sing heartily on Christmas. So many of our great Christmas hymns are theology in poetry, but we have become so used to them that sometimes the words have lost their impact. It's fitting this year that we pay attention to the way they mark the real reason for the season.

"'Hark!' The Herald Angels sing glory to the newborn King!," we'll bellow in our homes, Churches and Christmas parties. "Peace on earth and mercy mild, God and sinners reconciled." The sweet little boy wrapped in swaddling clothes, being held by Mary and Joseph, is "Mercy mild," the incarnate reconciliation of God and sinners.

"O Holy Child of Bethlehem," we'll melodically pray to Jesus before crèches, actualizing the Christmas mystery, "descend to us we pray. Cast out our sin and enter in, be born in us today." Jesus indeed comes to cleanse us from the inside out and make us his dwelling place, his manger. He comes not merely to be born in the world but in each of us, lifting us by his birth to true spiritual rebirth.

My favorite Christmas hymn -- from happy service for a decade in parishes full of Franco-Americans -- is Minuit Chrétien, from which the English "O Holy Night" derives. In the English, we ponder, "Long lay the world in sin and error pining till he appeared and the soul felt its worth." As beautiful as the loose translation is, the original French lyrics are so much richer. Instead of the focus on the "O Night Divine," there is a concentration on Jesus the Savior: in the chills inducing climax we sing, "Noël! Noël! Voici le Rédempteur!" ("Christmas! Christmas! Behold the Redeemer!") and rejoice that our Redeemer has broken all our shackles, liberating the earth and opening for us the doors of heaven. The word "Redeemer" means the one who has "paid the price," "bought us back," "ransomed us," from slavery -- real slavery to sin -- and set us free.

With the Shepherds, Magi, and Mary and Joseph, we behold our Rescuer. When we adore Christ in the presepio and on the altar, we're worshipping the one who took on our nature so that he might take our place on death row, who loved us so much that he came to die so that we might live forever. For our soul to feel its worth, we have to grasp that God loved us so much that he himself came to deliver us. He didn't even send a legion of archangels. He came personally, taking on our nature to pay the price of our sins and liberate us from the enslavement to which they led. There's no greater manifestation of who God is and what our dignity is in his eyes.

The whole purpose of Advent is to prepare us anew to meet Christ as Emmanuel and Savior. John the Baptist's Advent mission is to help us to prepare the way by calling us to profound conversion, lowering the mountains and hills of our pride and vanity, filling in the valleys of a shallow prayer or moral life, straightening the tortuous roads that distract and delay us from growth in holiness, and smoothing those paths that remain rough and inconsistent.

Our Advent hymns have announced this need for conversion and divine mercy. We've prayerfully sung, "Come, thou long expected Jesus, born to set thy people free, from our fears and sins release us, let us find our rest in thee." We've chanted, "Then cleansed be every heart from sin, make straight the way of God within, prepare we in our hearts a home, where such a mighty Guest may come." We've turned to him, in the original Latin lyrics of "O Come, O Come Emmanuel," and implored, "O Come, O Come, King of the Nations, Come Redeemer of all, to save your servants conscious of their sins against you." We've intoned, "O Flower whose fragrance tender with sweetness fills the air, dispel with glorious splendor the darkness everywhere; true man yet very God, from sin and death now save us and share our every load!"

The long-expected Jesus born to set his people free is coming to cleanse our hearts from sin. The King of the Nations is coming to dispel with glorious splendor the darkness of sin and death. The Fruit of Mary's womb is coming to change the world, to change our world, by his Mercy. Let us, therefore, behold and adore our Redeemer, Mercy mild, who wants that mercy to be born in us on Christmas day. Let us come to receive that Mercy. And filled with the forgiving love that restores our true dignity, let us go out to sing and share in all its depth this Joy to the World!
Father Roger J. Landry is a priest of the Diocese of Fall River, Massachusetts, who works for the Holy See's Permanent Observer Mission to the United Nations.
Recent articles in the Faith & Family section