Culture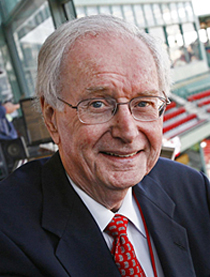 If you are the Boston Red Sox, the chances are that the player you most want to keep on your roster for an extended period of time is Mookie Betts. And who could blame you? He was the American League MVP last year, won the batting title with a .346 average, was a 30-30 man with 30 stolen bases and 32 home runs, and collected his third consecutive Gold Glove Award.

If, on the other hand, you are Mookie Betts, the chances are that you'll want to test the free agent market once you become eligible after the 2020 season. And you couldn't blame him, either. After all, Manny Machado has signed a ten-year deal with the San Diego Padres worth $300 million, an all-time record. Just a week later, Bryce Harper put his name on a 13-year contract with the Philadelphia Phillies that pays him $330 million, topping Machado's record.

Here is the truth: Mookie is demonstrably better than either one of those guys.

Harper, for example, batted just .249 last year. That's 97 points lower than Mookie's average. His defensive metrics reveal him to be only average in that department, while Mookie is well established as one of the elite outfielders in the game.

Machado has two Gold Glove awards, but he has never hit .300 in his six years as a major leaguer, and he does not hustle on every play. In addition, he's picked up a reputation as a sometimes dirty player.

If those guys can break the $300 million barrier one shudders to think what kind of money Betts, or Mike Trout, who also comes up for free agency in 2020, will command. $350 million? $400 million? Infinity?

The Red Sox have tried to engage Mookie in talks to head off his free agency, but his representatives prefer to test the market. There is, of course, a certain amount of risk to that strategy. What if Betts should be seriously injured sometime in the next two years? What if, for whatever reason, his numbers should suffer a sharp decline? The stakes are high on both sides of the ledger. From the Red Sox (or any team's) point of view, long-term contracts are a recipe for disaster.

Exhibit A is Albert Pujols. In 11 years with the St. Louis Cardinals, Pujols had established himself as one of the greatest hitters of all time. He had a lifetime batting average of .328 and hit an average of 40 home runs a year. So the Los Angeles Angels wooed him away with a ten year contract worth $240 million. Pujols has never even flirted with a .300 batting average since then. In seven years with the Angels, he's hit for an average of just .260 with only 29 home runs a year. His decline has become steeper each year; in 2018 he hit only .241 with 19 homers. He's become injury prone and he runs in slow motion. Clearly, the end is near for him as a player. But his fat-cat contract has three more seasons to go.

After the 2007 season, Alex Rodriguez signed a ten-year contract with the New York Yankees worth $275 million, but it wasn't long before he became a public relations nightmare for the Yankees and for himself over his involvement in the steroids scandal. He was suspended for the entire 2014 season. Age caught up with him, too, and the Yankees released him in August 2016, with more than a year to go on his very expensive contract.

Committing long-term big dollars to a player is a risky business; it's like jumping from a plane with an untested parachute. Remember Pablo Sandoval? The folks in the Red Sox accounting office certainly do; they're still cutting checks to him at the rate of $18 million annually until the end of this year. Then he'll get a $5 million buyout for next year.

Ten-year contracts are crazy, there can be no doubt. But what if it's Mookie Betts? Maybe, just maybe, he'd be the exception to prove the rule. After all, if Babe Ruth had been able to declare free agency after six years in the big leagues and signed a ten-year contract, he'd have been well worth the price. In 1929, which would have been the last year of his deal, he led the majors in home runs with 46, batted .345 and knocked in 154 runs. If Ted Williams had done the same, the final season of his ten year deal would have been 1957, when he only managed a batting average of .388! So it can be done, or at least it could have once upon a time.

Sam Kennedy, Dave Dombrowsky, and their minions have serious decisions to make even before confronting the issue of Mookie's free agency. What will they recommend that John Henry, Tom Werner, and their partners spend next year on J.D. Martinez? He has an opt out on his current deal that pays him $23.7 million a year. That's a whole bunch of money, but it's a bargain for what he produced last year -- .330 batting average, 43 home runs, and 130 runs batted in. If he does that again this season, he might command $35 million a year on the open market, which would be a record for an individual year for a non-pitcher. What about Chris Sale, who is up for free agency after this season? When he's healthy, he's as good as any pitcher on the planet. Let's not forget Rick Porcello, also in his free agency year; he might not be quite a Chris Sale, but he's dependable and very durable. To resign just Martinez, Sale, and Porcello after this year could cost $100 million per year. And then there is Mookie, to say nothing of Xander Bogaerts.

The Red Sox brass cannot and will not sign them all. They already have the highest payroll in baseball, and, even with limited resignings, it's going to get higher, much higher. This year's edition looks much like last year, which is fine by me, but down the road it's going to change.

Here's what I recommend we all do in the 2019 season: learn, or relearn the lyrics to that old song, "Enjoy Yourself, It's Later Than You Think."

- Dick Flavin is a New York Times bestselling author; the Boston Red Sox "Poet Laureate" and The Pilot's recently minted Sports' columnist.
Recent articles in the Culture & Events section