Culture
Such perfect synergy of talent and purpose is difficult to achieve and should be appreciated when it is.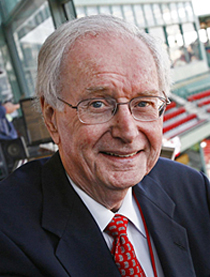 There is an old show business story -- perhaps apocryphal, but maybe not -- concerning the wife of famed Broadway lyricist/librettist Oscar Hammerstein II and the wife of the equally renowned composer, Jerome Kern. The two women had a famously adversarial relationship that was not shared by their husbands, who enjoyed a close friendship and working partnership (this was years before Hammerstein would team up with Richard Rodgers to form the most famous partnership in Broadway history). Kern and Hammerstein had just finished collaborating on the words and music for their ground-breaking play, "Show Boat," when they and their wives attended a glittering upper East Side cocktail party. As Dorothy Hammerstein was passing by a covey of women who were gushing over Mrs. Kern's husband having written "Ol' Man River," the iconic show's most dramatic song, she interrupted. "Excuse me," she firmly said. "Her husband did not write 'Ol'Man River.' Her husband wrote, 'Daa daa de-dum.' My husband wrote 'Ol' Man River.'" Then, executing a perfect spin-on-the-heel maneuver, she stalked off.

The story comes to mind after hearing several lively discussions over the winter as to who deserves the most credit for the historic success of the Red Sox last year. Was it the president of baseball operations, Dave Dombrowski, who put together the roster, piece by piece, essentially writing the script for the season? Or was it Alex Cora, the manager, who took what Dombrowski had given him and got the most out of the lineup each day, more or less putting music to the words? Each side has its advocates. The comparison with Jerome Kern and Oscar Hammerstein is not a perfect one; for one thing, there is no issue between the wives of Dombrowski and Cora. But there are enough similarities to make a point.

As far as Dombrowski and Cora are concerned, the whole issue is a non-starter. Theirs is a collaborative effort, which worked beautifully last year and hopefully will again in 2019. Such perfect synergy of talent and purpose is difficult to achieve and should be appreciated when it is. Both men worked hard to make the other guy better, and we got a season for the ages (maybe more than just one?) as a result.

Such close working partnerships are hard to come by and, unfortunately, they do not always end happily. We can only hope that the Dombrowski/Cora liaison will avoid such a fate.

The Bill Belichick and Tom Brady duo has worked for two decades and six Superbowl titles, but even that long-running partnership hit a very rough patch in the road a few seasons back over what to do, or not to do, about quarterback Jimmy Garoppolo. Brady appears to have won that power struggle, as Garoppolo was traded to the San Francisco Forty-Niners in October 2017, for a second round draft choice. Brady and Belichick seem to have survived the dust-up. Both have apparently moved on and the partnership endures, at least for now. We shall see.

Babe Ruth and Lou Gehrig formed a mutual admiration society when they first became teammates. The younger Gehrig idolized the already legendary Ruth when he first arrived as a New York Yankee and, for his part, the Babe greatly admired Gehrig's talent and tenacity. They would form the core of the famed Murderers' Row that terrorized pitchers throughout baseball, and there was never a hint of jealousy between them. The two men even barnstormed around the country together when the seasons ended.

But things happen. A misunderstanding between their wives led to a cooling of their relationship, which soon developed into a total rupture. Ruth and Gehrig did not even speak to one another over their final years as teammates.

Another twosome who made it all the way to the Baseball Hall of Fame in Cooperstown, New York, also broke up in acrimony. Bud Abbott and Lou Costello are not actual inductees in the hall, but their classic baseball bit, "Who's on First?" has a place of honor there, including its own plaque. Developed more than 80 years ago, "Who's on First?" still resonates with hilarity whenever it's viewed. Google it sometime; there are several versions of it readily available. Costello was the funny one, and he garnered most of the attention. One day, he announced that their 50-50 partnership was no longer in effect, that he was taking 60 percent of the profits and Abbott could either take the pay cut or leave it. Abbott, who had frittered away his money on gambling, had developed an alcohol problem in an attempt to control epileptic seizures and owed back taxes, took the new deal, but their partnership was forever fractured. Eventually the team split and neither one of them was ever the same again.

Interestingly, if you do watch "Who's on First?" it will be worth your while to keep your eye on Abbott. Although it is Costello who gets the laughs with his histrionics and frustrations, it is Abbott, with his masterly sense of timing and pacing, who makes the bit still resonate after all these years.

But back to Cora and Dombrowski. They don't tell jokes, write songs, or hit home runs, but they are, at least so far, a great team. They make themselves -- and the other guy -- better. The closest parallel to their working relationship was a decade and a half ago when Terry Francona and Theo Epstein forged a working partnership that resulted in two world championships. In that case, the manager was fifteen years older than the baseball ops guy. Cora is nineteen years younger than Dombrowski. Even the Francona/Epstien partnership frayed toward the end, a cautionary tale.

We thought the Sox might have another perfect partnership in 2013, when first-year manager John Farrell and Ben Cherrington combined to produce a championship, but the Red Sox fell to last place in the American League East in both 2014 and 2015. By then, Cherrington was gone and Dombrowski had come aboard.

In any case, the Red Sox seem to have a really good thing going with the men they have put in charge. As the new season gets underway, let's hope that it keeps going.

- Dick Flavin is a New York Times bestselling author; the Boston Red Sox "Poet Laureate" and The Pilot's recently minted Sports' columnist.
Recent articles in the Culture & Events section