Culture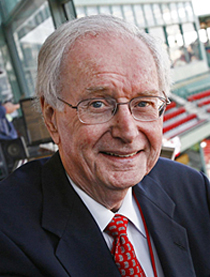 I went to a Red Sox/Astros ballgame recently with Al Hunt, my pal of more than half a century. Joining us was David Shribman, who recently retired as executive editor of the Pittsburgh Post-Gazette. All three of us love baseball, so it was a great opportunity to watch a meaningful game between two excellent teams and to just talk baseball for a few hours.

Al and I don't see nearly enough of each other these days. We have been friends since the 1960s (that's a long time ago, boys and girls), when I was the press secretary for candidate and then mayor of Boston Kevin White and Al was a young reporter in the Boston Bureau of The Wall Street Journal. We shared an apartment on Tremont Street in Boston where we spent an inordinate amount of time selecting coffee table books which we thought might impress young ladies we hoped to lure up to the place. It was, alas, all for naught. Too bad for those girls, we had a top-notch collection of coffee table books.

Anyway, it wasn't long before the Journal moved Al to Washington where he distinguished himself as a reporter, Washington bureau chief, and columnist. In 2005 he became a columnist for Bloomberg News from which he retired at the end of last year.

He's done a boatload of television through the years, and he's covered and analyzed everything from Watergate to Bill Clinton's impeachment to the roller-coaster ride of the Trump presidency. Oh, and along the way he married Judy Woodruff of PBS. Somehow through it all he managed to find time to keep our friendship up to date and vibrant.

So there we were, in our seats at Fenway Park where, after a rain delay, the game began and we set about the serious business of talkin' baseball. David (no slouch himself at the journalism game, he won a Pulitzer Prize while with the The Boston Globe in 1995), is a north shore native. He came of age as a Red Sox fan during the Impossible Dream season of 1967, and he was, and still is, a Carl Yastrzemski devotee. We wondered how the great Red Sox outfield of the '70s, Jim Rice, Fred Lynn, and Dwight Evans, would match up against the current triumvirate of Andrew Benintendi, Jackie Bradley, Jr., and Mookie Betts (consensus: Rice/Lynn/Evans on offense, Benintendi/Bradley/Betts in the field; Rice/Lynn/Evans overall; at least that's my take, but stay tuned). We talked about the fact that this seems to be an age of great third basemen (Nolan Arenado of the Rockies, Alex Bregman with the Astros, Matt Chapman of Oakland, and how Rafael Devers, with a little more consistency in the field, could move into that group (no one mentioned Vladimir Guerrero, Jr., who appears to be moving up fast on the outside). Then someone brought up that 20 years ago was an age of great shortstops, with Derek Jeter, a lead-pipe cinch to be elected to the Hall of Fame next year when he becomes eligible; Alex Rodriguez, who would have been a lead-pipe cinch had he not got entangled with steroids then compounded his sin by trying to cover it up; and Nomar Garciaparra, who might have been the best of them all until nagging injuries got the better of him.

It was wonderful, three old guys, sitting together in the ballpark, talkin' baseball on what turned out to be, once the rain stopped, a perfect Sunday afternoon. No one even mentioned Donald Trump, so that in itself made it a pretty good day.

Only one problem; none of us talked much about, or paid enough attention to, the game that was right in front of us, which was a really good one. The Red Sox broke on top when they scored a run in the first, but Houston came right back to tie it in the second. In the third Carlos Correa homered to center to put the Astros up by two. Then in the fifth Michael Chavis hit one of his patented long flies (it should be landing any minute now), and Bogaerts singled Mookie home to tie it up again. The three of us were all aware of what was was happening on the field but, to be honest, at least in my case, anyhow, we were paying more attention to ourselves and to our chatter than to the game.

By the end of the fifth inning it was getting late because of the rain delay and Al and David had to leave to get ready for a black tie dinner at the Kennedy Library, so I was left alone -- well, not really alone if you count the other 36,000 people in the ballpark. And I had the ballgame to keep me company. I paid strict attention as the Sox wriggled out of a bases loaded jam in the sixth and as Bogaerts hit a ringing double to score Betts with the eventual game-winner in the seventh. Chris Sale, although he had trouble with his command, struck out 10 over 5.2 innings, and the bullpen held the Astros hitless to close out the game. The other guys missed the last four innings as well as -- like I did -- most of the first five. But we'd all had a great day.

When it was over, I headed home, a happy camper. The Red Sox had beaten the fearsome Astros to avoid a sweep, and I had spent quality time with great friends. One of those friends is the game of baseball. I have never felt alone or lonely when there is a ballgame going on. Baseball has been a boon companion of mine for a long, long time. I've been frustrated by it plenty of times, and I've even occasionally been angry -- but never lonely.

As for my old friend Al Hunt, he's gone back to Washington where he has season tickets for the Nationals' games, so I know that he's frustrated.

- Dick Flavin is a New York Times bestselling author; the Boston Red Sox "Poet Laureate" and The Pilot's recently minted Sports' columnist.
Recent articles in the Culture & Events section