Culture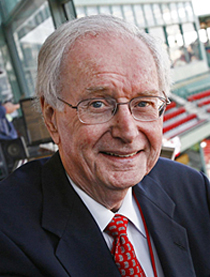 We all have regrets for the mistakes we make as we hack our way through the jungle of life. Well, I do, anyway, and I suspect that you do, too. Some of those mistakes are bigger than others, and some, though they don't matter much in the grand scheme of things, gnaw away at us. I made such a mistake recently; it wasn't something I did, it was something I didn't do. And I'm really upset with myself for not doing it.

My transgression took place at the reception following John Havlicek's memorial service.

One of the eulogists was Phil Niekro, the Hall of Fame knuckleballer who was John's best friend dating from early childhood. They lived across the street from each other in Lansing, Ohio, just over the state line from West Virginia. Lansing is one of those little townships that time seems to have forgotten; its population was about 500 when John and Phil were growing up and is not much more than that today. Neither boy's home had a television set nor indoor plumbing, so life was simple; but Phil and John had each other and were inseparable pals. They learned to fish in the nearby creek, and one can just imagine them lying in the cool grass on a summer's day, gazing up at the clouds gradually changing shapes as they rolled silently by. They both loved sports, and as it turned out, excelled at them.

In high school in the neighboring town of Bridgeport -- Lansing was much too tiny to have one of its own -- they both played football, basketball, and baseball. John was an all-state quarterback but opted for basketball when it came time for college. While he was at Ohio State, football coach Woody Hayes often lamented that the Buckeyes had the best quarterback in the Big Ten but that he played basketball, not football. Phil, armed with the knuckleball his father had taught him to throw back in Lansing, went straight into professional baseball. From there, their lives diverged, but their friendship never flagged.

John, after earning all-American honors at Ohio State and briefly flirting with pro-football (although he had never played a down in college) became a Boston Celtic, where he morphed from being the best sixth man in the league into one of the NBA's greatest superstars. Phil, meanwhile, struggled to get noticed in the minor leagues, not making it up to the Milwaukee Braves until 1964, then spending three years shuttling back and forth to the minors before making the Braves for good in 1967. By then, the Braves were in Atlanta and John had already won five NBA championships with the Celtics; he'd win eight of them before he was done. But Phil, like his pal, had learned the value of hard work and perseverance while growing up in Lansing. He had won only 31 games by the time he reached age 30, but then he went on to become the winningest knuckleballer in baseball history, racking up 318 wins by the time he stopped pitching at the ripe old age of 48.

Through it all, they never lost contact with one another. Phil would call John wondering what it was like to be matched up against the likes of Jerry West and Elgin Baylor when all the chips were on the table, and John called to find out about facing the Big Red Machine of Johnny Bench, Pete Rose, and George Foster. After finally retiring from baseball, Phil became a regular participant at John's annual fishing tournament to benefit The Genesis Foundation. That's where I came to know him and came to appreciate his wonderful, if somewhat ribald, sense of humor. I was always struck by the easy familiarity and obvious regard for the other that both had when they were together.

All that was in the background when Phil Niekro stepped to the lectern in Boston's stately Trinity Church to say his final goodbye to the first, and best, friend he ever had. His eulogy was heartfelt and filled with emotion as he reminisced about their three quarters of a century together. It wasn't replete with flowery phrases or even many three syllable words (except, of course, for the surname of his old pal), but it was filled with love, admiration, and emotion. Phil is a tough guy, but there were parts of it he had trouble getting through, but get through it he did; and he did his best friend proud.

His tribute really struck home with me, and I wanted to tell him so. I looked around for him at the reception, which was crowded with people, the great and, like me, not so great. I finally found him chatting with Jim Lonborg. Our eyes met for an instant, but, seeing that he was in the middle of a conversation with Jim, I held back, not wanting to interrupt them. I stood to the side, waiting for their conversation to abate, and while I was standing there, another acquaintance came by, and we chatted briefly about how the Havlicek-Niekro friendship was like a real-life Tom Sawyer-Huckleberry Finn story, except that Tom and Huck never became Hall of Fame legends in separate sports. John and Phil, of course, did.

After chatting with my acquaintance for no more that a minute or two, I turned back toward Phil. He was gone. He had melted into the crowd. I searched for him but to no avail. Normally, with his shock of white hair, he'd have been easy to spot, but there were a whole lot of guys there who, if they had any hair left at all, it was white. Besides, with all the old basketball players in the crowd it was hard to spot anyone of normal size.

I should have spoken to him when our eyes met for that instant, but I missed my chance. I've been kicking myself ever since. Jim Lonborg wouldn't have minded; we're old friends. It's not like I'll have the opportunity again to tell Phil how much his eulogy meant to me. The common bond we had was John Havlicek and he's not here anymore. I doubt that Phil and I will ever cross paths again.

I should have told him how much I admired what he'd said about his lifelong friend. When I had the opportunity to do so, I whiffed on it. Dammit.

- Dick Flavin is a New York Times bestselling author; the Boston Red Sox "Poet Laureate" and The Pilot's recently minted Sports' columnist.
Recent articles in the Culture & Events section