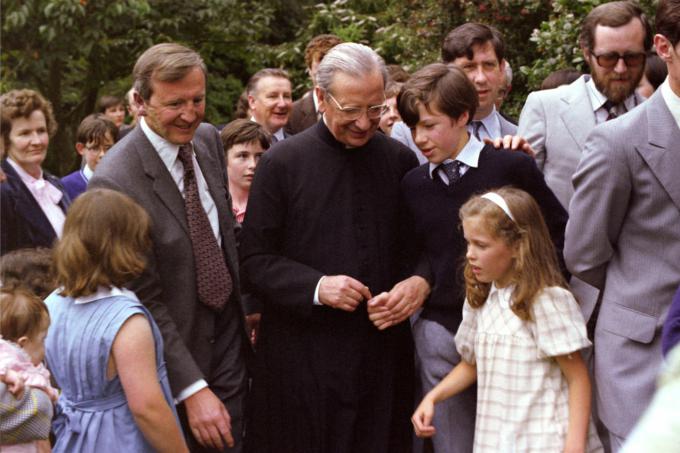 Over the course of time, Don Alvaro's writings and words began to have a big impact on me, especially with regard to sanctifying the ordinary things of life. He had superb ability to give practical advice on how to unite one's study and work to God.
We're living in an age in which many are drawn-and-quartered by workload, commitments and responsibilities.

Parents often work two or more jobs, in addition to raising their kids, serving as their taxi-drivers, taking care of the majority of house chores and more.

Young students have to use calendar programs to keep all of their extracurricular activities organized, striving to find time in all their sundry rendezvous to do their homework and get some sleep.

Priests now must do by themselves the work that several priests once shared, while shepherding more than one parish and even taking on other diocesan assignments or pastoral commitments.

In the midst of so many activities and things to get done, it's easy to begin to lose both our sense of priority and our focus on God. That's why there's a particular need in this age of multitasking and of wearing many hats for a patron saint, someone who can show us how to keep things united with God in the midst of the whirlwind and to intercede for us to follow that example.

On September 27 in Madrid, there will be the beatification of someone to whom I've always looked to help me in just that way.

Don Alvaro del Portillo -- who was born 100 years ago this March and died just after his 80th birthday in 1994 -- was a Spanish engineer, priest, bishop, Vatican II giant, author, friend of popes and paupers, and chief collaborator and successor to St. Josemaria Escriva leading Opus Dei, which was founded in 1928 to help people achieve holiness in the midst of all their ordinary duties of life.

I first heard about Don Alvaro-- "Don" is the Spanish and Italian title for a secular priest -- soon after he visited my hometown in 1988 to have a get together with thousands of Catholics at the Lowell Memorial Auditorium. When I began college a few months later and told some fellow Catholics where I was from, they asked whether I had gone to see him. I had no idea who he was or what Opus Dei was, but I soon found out. And I'm happy I did.

Over the course of time, Don Alvaro's writings and words began to have a big impact on me, especially with regard to sanctifying the ordinary things of life. He had superb ability to give practical advice on how to unite one's study and work to God.

For example, for the last 25 years, I've followed his counsel on how to make the general examination of conscience each night. I used to examine my conscience the same way I would prepare for confession, just reviewing my sins, something that sent me to bed each night feeling like a daily failure. He helped me to see that there's a better way: to review one's day in light of how one responded to God's presence. This will lead to three prayerful responses to God: "Thank you" for the gift of so many graces over the course of the day; "Sorry," for the times you hadn't been aware of them or corresponded with them; and "Help me more!," an expression of hope to do better on the morrow.

The greatest way he's helped me, however, is by teaching me how to turn even occasionally enormous amounts of work into a unified prayer, an art he learned from St. Josemaria.

When he was in his 20s, at a time when engineering was Spain's most prestigious profession, Alvaro went for two engineering degrees at the same time, something that would be akin today to going to medical school and law school simultaneously. After he finished the first, he began to work full-time while completing the second. At the same time he was traveling as a dedicated layman all over Spain, studying and sleeping in train cars, to spread the supernatural vision of Opus Dei.

After the Spanish civil war -- during which Alvaro was imprisoned, mistreated and repeatedly in danger of death for his faith -- St. Josemaria asked him whether he would consider studying to be a priest so that he could give spiritual care to fellow Opus Dei members. He agreed. While doing all his seminary studies and continuing his travels, he also obtained on the side a civil doctorate in Philosophy and Literature.

After his ordination St. Josemaria asked him to go to Rome. There he built Opus Dei's headquarters, worked on Opus Dei's legal status, supervised its expansion throughout Italy, got a doctorate in canon law summa cum laude, founded, taught moral theology at and served as the first rector of what is now the Pontifical University of the Holy Cross, and served as St. Josemaria's confessor and right hand.

St. Josemaria eventually nicknamed him "Saxum," the Latin word for "rock," because he was so steady at his side.

During the Second Vatican Council, while continuing his other tasks, Don Alvaro was appointed to assist on the Council's general congregation, as well as to serve on the Commissions for the Laity, States of Perfection, Media, Bishops and Clergy. He would eventually become the secretary of the Clergy Commission and the principal coordinator for writing Presbyterorum Ordinis, Vatican II's decree on the priesthood.

After the Council, he served on a staggering 13 different Vatican Congregations, Councils and Commissions, including a very time-consuming service to revise the Church's canon law. He did all of this while guiding Opus Dei and its 75,000 members world-wide, helping and then succeeding St. Josemaria, promoting St. Josemaria's writings and canonization, and working to establish Opus Dei as a personal prelature.

I should mention that while doing all of this he was battling crippling headaches and various other health complications.

How did he accomplish so much at the same time? It was through less sleep and more prayer!

"I have to cut back more and more on sleep," he once acknowledged, "but I'm happy to do it to fulfill the demands of my vocation." But instead of cutting back on prayer, he intensified and increased it. "To multiply our time, we need to have more presence of God. Then we will work with greater peace and greater intensity and with more desire of doing things well."

That constant time-multiplier of prayer also helped him to turn his work into the sacrifice of Abel, his desk into an altar, and his agenda into a liturgy of the hours.

It's fitting for someone who had sought to convert his life into a Mass that his last Mass would be at the Church of the Cenacle in Jerusalem, just 17 hours before he would die upon returning to Rome. It's also appropriate for one who strove to unite all of his work to the Eucharist, that his future feast day will be May 12, the anniversary of his first Communion. Even as a seven year old boy, he was a daily communicant forsaking breakfast in order to receive Jesus, the "source and summit," and "root and center" of his Christian life. He had learned from an early age how to unite his work to Jesus' saving work not just on Calvary but in Nazareth.

That's a lesson all of us can learn. No matter how busy we may be, few of us will wear as many hats, or as significant ones, as Don Alvaro wore for the last 60 years of his life. Even though we may not be able or asked to emulate his academic, organizational and pastoral fruitfulness, we can all learn from him how to sanctify our multiple tasks and convert the various hats God has given us into imperishable wreaths.

I'd encourage everyone to get to know him better by reading John Coverdale's new biography of him, Saxum, or by visiting the rich site set up for his beatification, www.alvaro14.org -- and to begin using him as an intercessor to sanctify all your life and work.
Father Roger J. Landry is a priest of the Diocese of Fall River, Massachusetts, who works for the Holy See's Permanent Observer Mission to the United Nations.
Recent articles in the Faith & Family section