Relic of true cross stolen from cathedral
---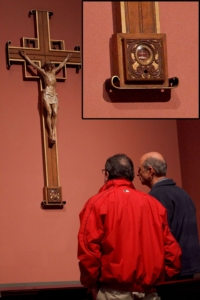 Men venerate the relic of true cross in chapel of Boston's Cathedral of the Holy Cross in April. The reliquary containing the piece of Christ's cross, shown in detail in the inset, was discovered stolen July 1. Pilot file photo/ Gregory L. Tracy
BRAINTREE -- Parishioners are still praying for the safe return of one of the holiest and historically significant relics belonging to the Archdiocese of Boston that was stolen from its mother church earlier this month.
On the morning of July 1, staff at the Cathedral of the Holy Cross in Boston's South End discovered that a relic of the true cross was stolen from the cathedral's Blessed Sacrament Chapel. The Boston Police Department was immediately notified.
Boston Police spokeswoman Jill Flynn said the investigation is still ongoing.
"I ask that Catholics throughout the archdiocese to pray for those involved, that this precious relic would be returned to the Cathedral of the Holy Cross where it has been enshrined and venerated for over two centuries," Cardinal Seán P. O'Malley said.
Father Jonathan Gaspar, co-director of the archdiocese's Office of Worship and Spiritual Life and priest-in-residence at the cathedral, said the relic was believed to have been stolen June 30 or the morning of July 1.
"It was clear it happened while the chapel was open," Father Gaspar said. "There were no signs of breaking and entering. Someone clearly came in with the specific decision to steal the relic."
The relic was contained in a reliquary embedded in the base a crucifix on the right front wall of the cathedral's Blessed Sacrament Chapel, located to the left of the building's main worship space.
The relic is believed by Catholics to be a splinter of wood from the cross on which Jesus was crucified.
Terry Donilon, a spokesman for the Archdiocese of Boston, said the true cross was discovered in the fourth century and since then its particles have been distributed to the Church throughout the world.
"The relic of the true Cross is an important sacramental that helps Christians contemplate the crucified Savior and the great suffering he endured for the salvation of the world," Donilon said.
"In the Christian faith, the Cross of Christ is an expression of the triumph of Christ over the powers of darkness."
Father Gaspar also commented on the theological significance of the relic.
"The cross is the sign of God's love for the world. On the wood of the cross, Christ shed his blood to take away our sins," Father Gaspar said.
Page 1 of 2