Obituary: His 'journey has comes to its end', Father James Field, 59
---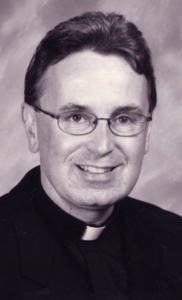 Father James Field Pilot file photo
Help us expand our reach! Please share this article
He was always a teacher at heart and he was teaching up to his last breath. The long, often painful, obviously heroic, battle with cancer waged by Father James Field ended with his death in the Melrose parish on July 12, where he has been pastor since May 3, 2002. A priest who loved to communicate, and was especially apt at doing so in the context of the liturgy, in the past months used all kinds of means to keep in touch with his people and keep them informed of his condition -- physically, emotionally and spiritually. Local and regional newspapers captured snapshots of his life; local television stations ran human interest accounts of his illness.

Born in Salem on Dec. 23, 1950, Father Field was one of the three sons of the late James and Mary (Shea) Field, both of his brothers, John and Martin, preceded him in death. He was raised in Our Lady Star of the Sea Parish, Marblehead and was graduated from Salem State College in 1974. He served as a Xaverian Brother for several years before entering Blessed John XXIII Seminary. While a Xaverian Brother he served at Xavier High School in Middletown, Conn., as Director of the Office for Worship, Diocese of Norwich, Conn., and at Malden Catholic High School. He received a masters degree in liturgy from Notre Dame in 1979.

Cardinal Bernard Law ordained him to the priesthood at Holy Cross Cathedral on June 9, 1990 and assigned him as parochial vicar at St. Paul Parish in Cambridge. In 1995 he served for one year as parochial vicar at Gate of Heaven in South Boston, the next year Cardinal Law named him Director of the archdiocese's Office for Worship and Assistant Director for Liturgical Catechesis in the archdiocesan Office for Religious education. He held both offices and lived in residence at St. Timothy in Norwood until March 2001 when he went on a period of priestly renewal. From June 2001 until his appointment as pastor in Melrose on May 3, 2002, he served as a member of the archdiocesan Emergency Response Team.

During his very short tenure as pastor in Melrose he developed a very close relationship with his people. Among those gifts which seemed to be foremost in people's minds were his reverent celebration of the liturgy, his appropriate and well prepared homilies and his welcoming style and collaborative efforts in many areas of parish life.

Cardinal Seán O'Malley was the principal celebrant of Father Field's funeral Mass at Incarnation Church in Melrose on July 16. Joining the cardinal as concelebrants were Central Regional Bishop Robert Hennessey; North region Bishop-elect Peter Uglietto; Father John Mulloy, Interim Regional Vicar of the North Region; archdiocesan vicar general, Father Richard Erikson; Father Richard Butler, present administrator of Incarnation Parish; Father Sean McCarthy who served as homilist; and priests from the archdiocese, other dioceses in Ohio and Louisiana, and classmates and friends of Father Field.

Following the funeral Mass Father Field was buried in St. Mary Cemetery, Salem.