Seven transitional deacons ordained
---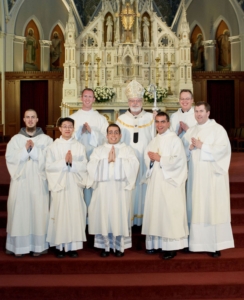 The new deacons pictured with Cardinal Seán P. O'Malley following their ordination Mass. Pictured with the cardinal are (back row) Deacons Mark Murphy, Thomas Cannon, (front row) Sean Hurley, Kwang Lee, Carlos Suarez, John D'Arpino and Michael Farrell. Pilot photo/Gregory L. Tracy
SOUTH END -- Seven local seminarians were ordained to the transitional diaconate Jan. 22 -- the last step on the road to the priesthood.

Cardinal Seán P. O'Malley ordained seven men to serve the faithful of the Archdiocese of Boston as transitional deacons at a Saturday morning Mass at the Cathedral of the Holy Cross attended by around 1,500 people.

As part of the ordination rite, the men made their promises of celibacy and obedience and are now counted among the ranks of the clergy. They are slated to be ordained to the priesthood May 21 at the Cathedral of the Holy Cross.

"A lot of time has been invested, both by myself and the seminary, to develop what God has asked of me," said newly-ordained Deacon Michael Farrell, a student at St. John Seminary. "It's a moment of joy and a hint of what will happen in May."

Other ordinandi, in addition to Farrell, were Deacons John D'Arpino, Andrew Taegon Kwang Hyun Lee, Mark Murphy and Carlos Suarez, as well as Brothers Thomas Cannon and Sean Hurley.

Brother Cannon is an Oblate of the Virgin Mary, of St. Clement Eucharistic Shrine in Boston, and Brother Hurley is a Franciscan of the Primitive Observance.

Following the ordination ceremony, the men reflected on becoming deacons as well as their upcoming roles.