Inner-City Scholarship fund holds annual gala
---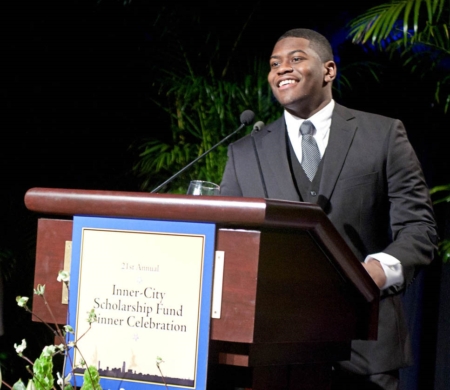 Rudy Favard delivers his keynote address at the ICSF dinner. Favard, who carries an eight-year-old boy with cerebral palsy to bed several nights each week, discussed the impact Catholic education has had on his life. Pilot photo/ Jim Lockwood
BOSTON -- Through the example of Rudy Favard, friends of the Inner-City Scholarship Fund saw firsthand the value of supporting Catholic education.
Favard was the keynote speaker at this year's Inner-City Scholarship Fund Dinner Celebration at the Boston Marriott Copley Place March 31, which raised a record-setting $2.4 million for need-based scholarships to inner-city students to attend area Catholic schools. The dinner was attended by about 850 people.
"Tonight reaffirms what it is all about, which is young people and changing lives," said Catholic Schools Foundation Executive Director Mike Reardon. The Catholic Schools Foundation operates the Inner-City Scholarship Fund.
Some schools, such as St. Mary of the Assumption in Brookline, St. Mary of the Annunciation in Melrose, Elizabeth Seton Academy in Dorchester and St. Rose in Chelsea, were represented by academic projects. Attendees were able to view the projects prior to dinner.
Entertainment for the evening was provided by students of St. Peter School in Cambridge. Students sang songs from the musical "Les Miserables." St. Peter's was the first elementary school to be granted permission to perform numbers from the musical.
Favard attends Malden Catholic, a Xaverian Brothers school, with the help of a scholarship provided by the Inner-City Scholarship Fund.
Four nights per week, Favard, a senior and captain of the Lancers' football team, visits the nearby home of 8-year-old Sam Parker and carries the boy to bed. Parker has cerebral palsy and is non-verbal.
The boy's father used to carry him upstairs to his bed daily, but recent heart surgery has left him unable to lift his son, who weighs only 75 pounds.
Speaking with The Pilot afterwards, Favard said he will continue carrying Parker to bed until he leaves for Sacred Heart University in the fall. Favard plans to study marketing and management there.
"I'm really hoping the Parker family gets the house they need," Favard said.
Following the dinner service, a clip from ABC News on Favard's background was played for attendees and he made his keynote address.
Page 1 of 2