Legal abortion must be eradicated, speaker says
---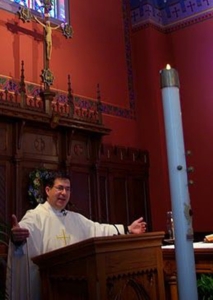 Father Frank Pavone, director of Priests for Life, delivers a homily at St. Paul's in Hingham June 4. Father Pavone gave a talk on abortion later that day. Pilot photo/Edward Boylan
HINGHAM -- Pro-lifers will not rest until abortion is "eradicated completely without exception," Father Frank Pavone, director of Priests for Life, said at St. Paul School in Hingham on June 4.
"We will see the end of legal abortion in the United States," he proclaimed to a crowd of 230.
Father Pavone added that it is essential for the movement to strategize in order to reach that goal as quickly as possible. He said the movement has had success by leading people to oppose abortion in cases where it is more obviously wrong and then work toward less obvious cases.
Politicians need to understand that their first duty is to defend life. If they cannot distinguish between serving vs. killing the public, they must be voted out of office, he said.
Father Pavone said the greatest pro-life victory since Roe v. Wade -- the 1973 case in which the Supreme Court ruled that women have a "right to privacy" with regard to having an abortion -- is the Partial Birth Abortion Ban. The law, enacted in 2003, marked the first time the United States Congress banned an abortion procedure. It was later upheld by the Supreme Court even though it did not contain a health exception.
Groups that support abortion argued that the law was overbroad and could cause abortionists to be unsure about what other similar procedures would still be acceptable under the law. Before Congress, they testified about Dilation and Evacuation (DandE). During the process, an abortionist administers medication to dilate the cervix, and then tears the fetus apart before vacuuming the dismembered body out of the womb.
Father Pavone said that testimony will help the pro life movement outlaw DandE, a step that Priests for Life is already looking in to.
Most Americans, even those who support legal abortion, do not support the dismemberment of fetuses, but no pro-life group is mobilizing those who identify as pro-choice to fight abortion, he said.
"They're not as against us as we may think," he added.
Another pro-life advance is the new wave of state laws that ban abortion after 20 weeks based on research that indicates a fetus can feel pain. The first fetal pain law was enacted in Nebraska in April of last year.
Father Pavone said these laws strengthen the authority of states to enact laws restricting abortion, and they are educational to the general public. So far none of them have been challenged despite the abortion lobby's immediate court action in almost every state that restricts abortion.
"They're afraid," he said, explaining that such laws could be upheld by the Supreme Court and cause more Americans to rethink their position on abortion.
Father Pavone encouraged everyone to continue to work for the pro-life cause and pointed them to the free resources available on their website,
www.priestsforlife.org
. Some of those resources are specifically aimed to help priests address abortion from the pulpit.
While in Massachusetts, Father Pavone also prayed outside Planned Parenthood in Boston, visited Friends of the Unborn, met with former ambassador to the Vatican Ray Flynn, celebrated all Sunday Masses at St. Paul Parish in Hingham and attended the Milton Pro-Life March.
William and Nancy Wise, parishioners at St. Paul Parish in Hingham, said they invited Father Pavone to speak at their parish because his message affirms that the pro-life movement has meaning and is effective.
"He's energizing the base," William said.
Kelsey Gallagher, 16 and a student at Montrose School in Medfield, said she was encouraged to hear about the gains made in state fetal pain laws.
"I thought it was very uplifting to know the pro-life movement is going somewhere," said Gallagher, who attended this year's March for Life in Washington, D.C.
Page 1 of 2