Legal abortion must be eradicated, speaker says
---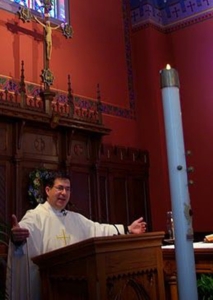 Father Frank Pavone, director of Priests for Life, delivers a homily at St. Paul's in Hingham June 4. Father Pavone gave a talk on abortion later that day. Pilot photo/Edward Boylan
HINGHAM -- Pro-lifers will not rest until abortion is "eradicated completely without exception," Father Frank Pavone, director of Priests for Life, said at St. Paul School in Hingham on June 4.

"We will see the end of legal abortion in the United States," he proclaimed to a crowd of 230.

Father Pavone added that it is essential for the movement to strategize in order to reach that goal as quickly as possible. He said the movement has had success by leading people to oppose abortion in cases where it is more obviously wrong and then work toward less obvious cases.

Politicians need to understand that their first duty is to defend life. If they cannot distinguish between serving vs. killing the public, they must be voted out of office, he said.

Father Pavone said the greatest pro-life victory since Roe v. Wade -- the 1973 case in which the Supreme Court ruled that women have a "right to privacy" with regard to having an abortion -- is the Partial Birth Abortion Ban. The law, enacted in 2003, marked the first time the United States Congress banned an abortion procedure. It was later upheld by the Supreme Court even though it did not contain a health exception.