13 permanent deacons ordained
---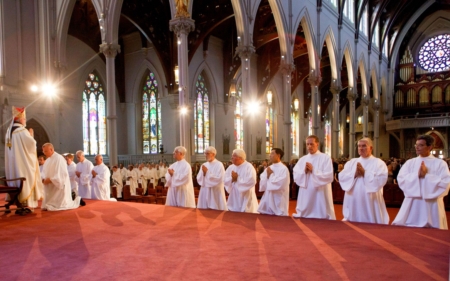 Newly ordained permanent deacons Deacons David A. Brooks, Christopher Z. Connelly, Paul David Coughlin, Joseph Bryere Guerrier, Geoffrey W. Higgins, Joseph J. Hopgood, Cheonil Kim, Paul Michael Kline, Howard C. League, Vincent James Leo, Timothy John Maher, Thomas L.P. O'Donnell Jr., and Kevin J. Winn kneel at their ordination Mass Sept. 17 at the Cathedral of the Holy Cross. Pilot photo/Gregory L. Tracy
SOUTH END -- On a crisp, sunny, September morning at the Cathedral of the Holy Cross, Cardinal Seán P. O'Malley ordained 13 men as permanent deacons for the Archdiocese of Boston.

Deacons David A. Brooks, Christopher Z. Connelly, Paul David Coughlin, Joseph Bryere Guerrier, Geoffrey W. Higgins, Joseph J. Hopgood, Cheonil Kim, Paul Michael Kline, Howard C. League, Vincent James Leo, Timothy John Maher, Thomas L.P. O'Donnell Jr., and Kevin J. Winn received the sacrament of Holy Orders Sep. 17.

All of the men ordained on Saturday are married and their occupations include an anesthesiologist, an air traffic controller, a grocery store clerk and health care interpreter, a mortgage banker, a software consultant, two professors, a retired civil engineer from the city of Boston, a director of religious education, and a high school campus minster and teacher.

"In common, they have a very deep spiritual life, a very deep prayer life -- they're all centered on the Eucharist and that's where the call came from," said Deacon Dan Burns, director of formation for the Office of Permanent Diaconate.

"They're all very connected in their families and in their parishes," he added.