1,100 turn out to honor, support priests
---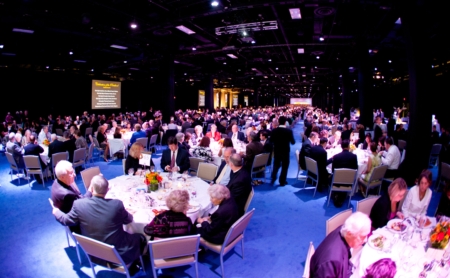 Nearly 1,100 guests fill the banquet hall of the Seaport World Trade Center for the 3rd Annual Celebration of the Priesthood Dinner to support the medical and retirement needs of priests. Pilot photo/Gregory L. Tracy
BOSTON -- Cardinal Seán P. O'Malley had another name for the dinner honoring priests on Sept. 21, one which was inspired by a youngster asking him if he was the "communion guy."

"So I'm here tonight with all of you to celebrate this 3rd annual dinner in celebration of the communion guys," he said.

Cardinal O'Malley's remarks were a part of the Celebration of the Priesthood dinner which, for the second year running, grossed $1 million for the archdiocesan Clergy Funds. There was also an additional $150,000 gift to be given over the next two years.

The Clergy Funds provides welfare and medical care for active archdiocesan priests, along with retirement, welfare, housing, and medical support for the archdiocesan senior priests.

Over 1,100 people attended the dinner held in a cavernous banquet room at the Boston's Seaport World Trade Center, whose entrance was adorned with nine priestly vestments of different colors and eras.

The evening was organized by the archdiocese's Boston Catholic Development Services (BCDS) and Clergy Funds and a dinner committee. According to BCDS, the costs of the evening were around $225,000.

Father Robert Reed, the president of the CatholicTV Network emceed the event.

Doug Kingsley, who co-chaired the dinner with his wife Joanie, delivered the evening's remarks.