Deaf Catholics strengthen ties at conference
---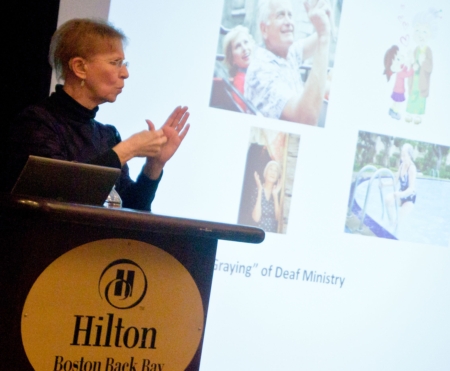 Maryann Barth, assistant principal of St. Rita School for the Deaf in Cinncinatti,Ohio, delivers her keynote address at the National Catholic Office for the Deaf's (NCOD) Pastoral Week 2012 Conference held in Boston Jan. 13 to Jan. 17. Pilot photo/ Christopher S. Pineo
BOSTON -- The Boston Archdiocesan Deaf Apostolate hosted the National Catholic Office for the Deaf's (NCOD) Pastoral Week 2012 Conference at the Hilton in Back Bay from Jan. 13 to Jan. 17.

The conference brought together the North American deaf community for multiple workshops, speakers, and business meetings to establish an agenda and a way forward for deaf Catholics.

Leaders in deaf ministry came to the conference from all over the United States and parts of Canada, including most of the ordained priests in the U.S. deaf community.

Pastor at St. John's Deaf Center in Warren, Mich., Father Michael Depcik, produces the video blog "Father MD's Kitchen Table," and spoke with The Pilot at the event. He highlighted the need to use technology to reach the deaf community and for the deaf to reach out through the use of technology.

"I'm being like a 'digital missionary' now. That's what we're doing now. It's sort of like this: We have no choice; it's what we have to do. We have to use that new media to go out and do missionary work through the new media," Father Depcik said, through interpreter Father Jeremy St. Martin of Boston's Deaf Apostolate.

"We have to be missionaries, so this new venue means we have to move into it," he added.

Father Depcik said he started his blog with two goals for deaf people who may not have access to a priest who speaks American Sign Language.