McDonough to conclude tenure as chancellor
---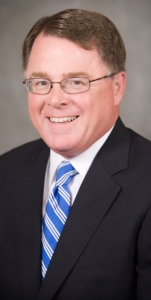 James P. McDonough Pilot file photo/Gregory L.Tracy
BRAINTREE -- James P. McDonough, widely credited with bringing financial stability to the archdiocese, has announced that he will be stepping down as chancellor of the Archdiocese of Boston.

McDonough will conclude his tenure as chancellor effective March 2. He will be succeeded by John E. Straub, currently Executive Director of Finance and Operations for Central Ministries, as interim chancellor. Cardinal Seán P. O'Malley made the announcement Jan. 31.

"Over the past six years Jim has served the Church with distinction. He faced our most challenging issues with the willingness to develop solutions that addressed the problems and respected the people we serve," Cardinal O'Malley said.

McDonough, the fifth lay chancellor in the archdiocese, achieved Cardinal O'Malley's goal of a balanced budget and led an effort to focus on the financial health of the parishes. During his tenure, he addressed the clergy pension funding and recommended the creation of an independent board to oversee its implementation.

He also oversaw the move of the archdiocese's central administration from the former Brighton campus to the Pastoral Center in Braintree in 2008.