Somerville sisters make a 'home' for elderly
---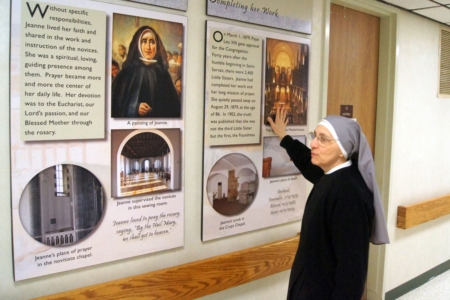 Mother Gertrude Mary Maiorino, LSP, shows the exhibit of St. Jeanne Jugan's life story that greets visitors at the Jeanne Jugan Residence in Somerville. Pilot photo/Christopher S. Pineo
SOMERVILLE -- Even as some are advocating in Massachusetts for the right of the elderly and terminally ill to end their lives, a group of sisters in Somerville is witnessing to the dignity human life can have up to the moment of natural death.

The Little Sisters of the Poor at the Jeanne Jugan Residence and the Jeanne Jugan Pavilion in Somerville continue the work of their foundress begun on a cold night in France 1839, when St. Jeanne Jugan brought an elderly, blind woman into her home and gave up her own bed.

"When they are being called home to heaven we sit with them; we stay with them; we pray with them. That is really sacred because of the fact that the next encounter they are going to have is with God," Sister Lorraine Barry said speaking to The Pilot, Feb. 6.

The facilities in the Somerville house, feed and treat elderly poor in what Mother Gertrude Mary Maiorino called a "family setting," in the tradition of the foundress opening her own home.

Mother Gertrude gave The Pilot a brief tour of the facility, where 13 nuns live with the 121 residents. The facility has a chapel and two priests who live on the premises.

"Although we have plenty of staff, we stay with them day and night," Mother Gertrude said.

The two buildings on the grounds of the home provide two different methods of serving the elderly poor.

The sisters make both assisted living and skilled nursing care available at the Jeanne Jugan Residence.