Cardinal Spellman plans leap to iPad learning
---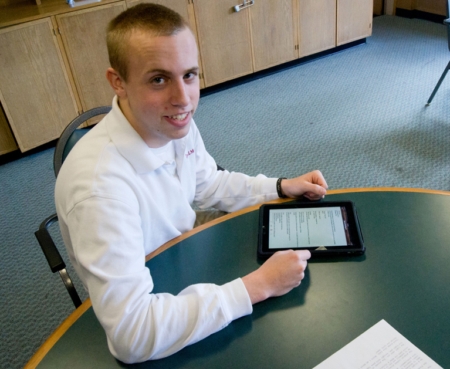 Brett Gammon, senior class president at Cardinal Spellman High School, helps test-run the school's technology initiative by using the iPad to take notes, organize his schedule, and do homework. In the fall, the school plans to put iPads into the hands of all students and make the switch to electronic textbooks. Pilot photo/Christopher S. Pineo
BROCKTON -- Apple, Inc. created quite a splash last month when they announced their move to provide electronic textbooks through their iPad device, prompting many schools to consider bringing iPads to the classroom. But Cardinal Spellman High School in Brockton is already a step ahead and is planning to put iPads in student's hands beginning this fall.
Cardinal Spellman will then become the first Catholic school within the Archdiocese of Boston, to implement such a plan.
In coordination with Apple, Cardinal Spellman will equip each one of its students with an iPad to provide a technology-centered experience throughout their Catholic education.
Lisa Briggs, a math teacher at Cardinal Spellman, said the implementation of the plan goes beyond just adding technology to the classroom as a novelty.
"I think that just trying to increase the technology in the classrooms, this is where everything is. We are in a technological world. We should have the students being ready to compete on that level. It's very competitive, and that way they have more skills, and can translate that to probably better jobs," Briggs said.
In a connected classroom, networked through a device called an Apple TV, students will be able to interact with a device called a Promethean Board -- an electronic version of a blackboard. The Apple TV is a small black box that wirelessly links the students together and to their teacher through their iPads.
Faculty and administrators at Cardinal Spellman said students who have grown up with these technologies as part of their day-to-day lives should adapt quickly to this new classroom environment.
"Granted, I am tech-savvy, but I opened the box, plugged it in, and did it without looking at any directions," said Class of 2012 president Brett Gammon, who helped the school by test driving the iPad in his classes.
Teachers have already begun iPad training sessions, which they received in December as part of a professional development course. They began the training, run by Apple, in anticipation of making the iPad a major learning tool in Spellman's daily curriculum.
Other training programs will continue throughout the year in subject-specific areas. Teachers will be able to access their Promethean Boards from anywhere in their classroom and use apps -- programs that run on the iPad -- to enhance their lesson plans.
Briggs said teachers can create lesson plans daily, and over the course of the year create a custom electronic text book for each of their classes. Eventually, this could eliminate the need for students to purchase texts for those classes.
Cardinal Spellman High School president Dr. John McEwan said the change is necessary as students move into a technology-centered working and college life.
"As the technology has changed, and as the kids have grown, the need for technology in the way that they learn and the way that we should be addressing their learning needs to be changed to," McEwan said.
In 2010, he formed a special technology committee of parents, teachers, students, administrators and community members.
The committee met to hear the latest information on the use of one-to-one technology -- one student, one device -- in the classrooms.
After assessing the opinions of education researchers, business people and the parents toward emerging technologies, they looked at laptops, iPads and other new devices.
"It was interesting. At that point we were leaning more toward laptops," McEwan said.
The group moved forward by inviting representatives from companies that could potentially provide the hardware to implement the plan.
Page 1 of 2