Cardinal Spellman plans leap to iPad learning
---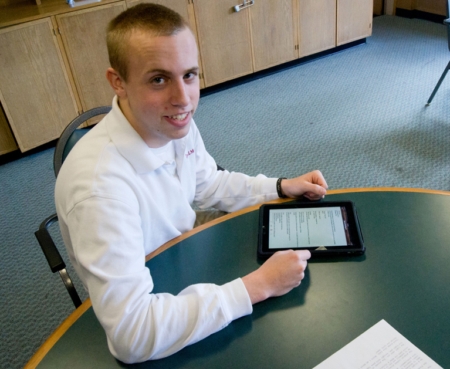 Brett Gammon, senior class president at Cardinal Spellman High School, helps test-run the school's technology initiative by using the iPad to take notes, organize his schedule, and do homework. In the fall, the school plans to put iPads into the hands of all students and make the switch to electronic textbooks. Pilot photo/Christopher S. Pineo
BROCKTON -- Apple, Inc. created quite a splash last month when they announced their move to provide electronic textbooks through their iPad device, prompting many schools to consider bringing iPads to the classroom. But Cardinal Spellman High School in Brockton is already a step ahead and is planning to put iPads in student's hands beginning this fall.

Cardinal Spellman will then become the first Catholic school within the Archdiocese of Boston, to implement such a plan.

In coordination with Apple, Cardinal Spellman will equip each one of its students with an iPad to provide a technology-centered experience throughout their Catholic education.

Lisa Briggs, a math teacher at Cardinal Spellman, said the implementation of the plan goes beyond just adding technology to the classroom as a novelty.

"I think that just trying to increase the technology in the classrooms, this is where everything is. We are in a technological world. We should have the students being ready to compete on that level. It's very competitive, and that way they have more skills, and can translate that to probably better jobs," Briggs said.

In a connected classroom, networked through a device called an Apple TV, students will be able to interact with a device called a Promethean Board -- an electronic version of a blackboard. The Apple TV is a small black box that wirelessly links the students together and to their teacher through their iPads.