Glendon addresses politics as vocation at seminary talk
---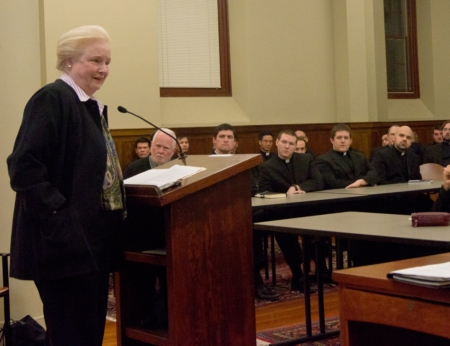 Harvard Law professor and former U.S. Ambassador to the Vatican Mary Anne Glendon delivers her talk, "Politics as a Vocation? Reflections from the lives of Cicero and Edmund Burke," at St. John's Seminary Feb. 23. Pilot photo/ Christopher S. Pineo
BRIGHTON -- In her presentation "Politics as a Vocation? Reflections from the lives of Cicero and Edmund Burke," Learned Hand Professor of Law at Harvard Law School and former U.S. Ambassador to the Vatican Mary Anne Glendon addressed an audience of priests and seminarians on the subject of pursuing public office as a vocation, Feb. 23 at St. John's Seminary in Brighton.

Describing the purpose of her talk and slide show, Glendon said she was always "struck by how forcefully Pope John Paul II urged the laity to be involved in politics to the extent they are able."

"Anticipating practically every excuse most of us would think of, he said that 'Charges of careerism, idolatry of power, egoism, and corruption, as well as the common opinion that participating in politics is an absolute moral danger, do not in the least justify either skepticism or an absence on the part of Christians in public life,'" Glendon told The Pilot.

"I think he was reminding us, based on his own personal experiences in Eastern Europe, that the work of politics -- despite all its frustrations, disappointments, and grubbiness-- is what determines whether other human activities like philosophy, art, literature, science, and commerce, will flourish or wither," she added.