Bostonians rally against HHS mandate
---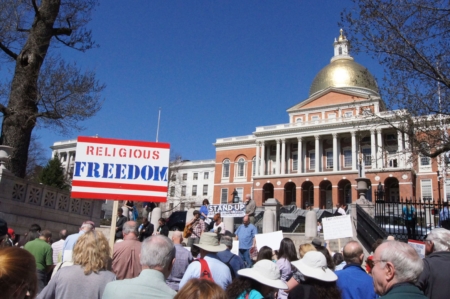 Supporters of conscience protection rally across from the statehouse in Boston against the recent healthcare mandate, March 23. Pilot photo/Christopher S. Pineo
BOSTON -- With little notice, organizers rallied roughly 300 Catholics and supporters across from the Massachusetts State House on Boston's Freedom Trail to protest against a mandate to force Catholic employers to provide employees with sterilization, birth control and abortive pills under the new healthcare law, coinciding with a series of noon rallies throughout the country on March 23.

Previously thought cancelled, the rally came together on short notice when organizers sent out an email reading, "The Rally Is On" the previous day.

"We only began this process yesterday morning at 10:00 a.m. when we heard the rally had been cancelled," said the email, forwarded to The Pilot by Massachusetts Citizens for Life, Inc.

Speakers at the event included executive director of Massachusetts Citizens for Life Edwin Shanahan, Boston Archdiocese Secretary for Catholic Media Scot Landry, and Clarivel Marin de Dragas, among others.

State Representative Jim Lyons, R-Andover, also spoke at the rally, after the email announced a "special guest to be named at event."

"Massachusetts is where our country began. We have an obligation in Massachusetts to stand up for religious freedom, and we have a responsibility to elect people who stand with us. Our goal, folks, is to hold our elected officials accountable," said Lyons.