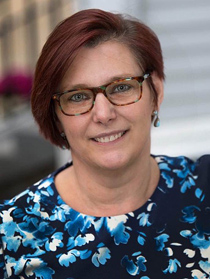 Moved along the way
---
You know you're getting older when the passage of time catches you off-guard. This year--maybe because of the winter that never came--I've found myself particularly unprepared for Holy Week. Forty days used to seem like a long time. Now I wonder if it wouldn't be a good idea to hold on to Lent for just one more week.

The events of Christ's Passion, however, teach us that any attempt to keep things as they are is not only detrimental, it is doomed to fail. Nothing expresses this more clearly than the liturgy of Palm Sunday, which opens with joyful "hosannas," but quickly pushes us along the Via Dolorosa to the Cross. Our world is passing, which is another way of saying that our world is fluid.

This is the world that the Son of God entered at his Incarnation. But this is also the world that Jesus came to transform and save. He accomplishes this when he does not try to hold onto his ministry, his friends, or even his life--when he willingly lays them all down.

It is through the act of laying it all down, that God moves. Why? Because the total offering of self as gift and sacrifice is the ultimate game changer. It is the thing that changes us. We are most like God when we give ourselves totally in love as he does. That gift gets God's attention, and God moves when he is moved.